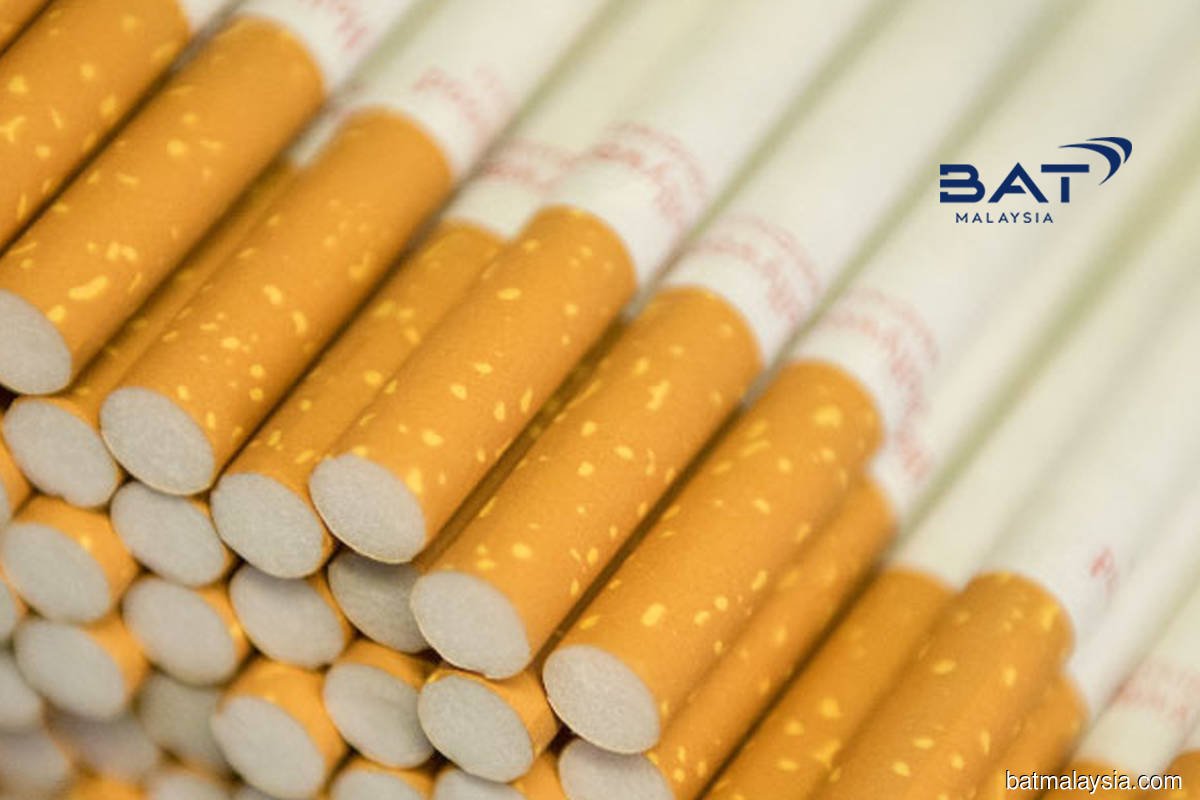 KUALA LUMPUR (July 23): British American Tobacco (Malaysia) Bhd's net profit for the second quarter ended June 30, 2021 (2QFY21) rose 31.14% to RM71.62 million, from RM54.61 million a year ago, driven by domestic volume growth.
The group's quarterly revenue increased by 9% to RM595.8 million, from RM546.59 million a year ago, its filing to Bursa Malaysia showed.
The group attributed the better performance partly to the implementation of Budget 2021 measures, such as tobacco transhipment restrictions to control the tobacco black market.
The group has declared an interim dividend of 24 sen, amounting to RM69 million, to be paid out on Aug 20 to shareholders.
For the first half ended June 30, 2021, the group's net profit climbed 27.86% to RM134.73 million, from RM105.38 million a year earlier, while its revenue grew 13.1% to RM1.16 billion from RM1.03 billion.
BAT Malaysia's managing director Jonathan Reed said in a statement that the profit growth in the first half was primarily due to the company's 14% growth in domestic volume, which outperformed the total legal industry recovery rate of 12%.
Volume and revenue growth versus the same period last year reflects a differing movement control order environment and nascent progress by the government in addressing the tobacco black market, he added.
"There are early signs that measures implemented during Budget 2021 are having a positive impact but levels of illegal cigarettes in Malaysia are still at crisis point. Over 57.9% of the tobacco market is dominated by criminal syndicates. In response to budget measures targeting transhipment loopholes, these gangs have shifted their operations to coastal smuggling. The government must enhance anti-smuggling enforcement in coastal areas.
"To effectively tackle the tobacco black market, enforcement must be accompanied by measures to address affordability pressures for consumers. There must be solutions to address the significant price difference between expensive legal and cheap black-market products," he said.
The group's total market share stood at 52.4%, registering an increase of 1.5 percentage point (ppt) compared with the same period last year.
BAT Malaysia's portfolio grew in all segments with Dunhill growing by 2.7ppt in the premium segment, Peter Stuyvesant and Pall Mall by 1ppt in the aspirational premium segment and Rothmans and KYO by 4.4ppt in the value-for-money segment.
"In addition to continuing efforts to mitigate the tobacco black market, it is also critical for the government to introduce a regulatory framework for nicotine vaping products. Regulations would provide the 1.1 million Malaysians who vape with products of known quality and safety. It would also establish a significant new revenue source for the government," said Reed, adding that BAT Malaysia would support the legalisation of the nicotine vapour category.
BAT Malaysia closed 24 sen or 1.64% lower at RM14.42 today, valuing the group at RM4.19 billion.