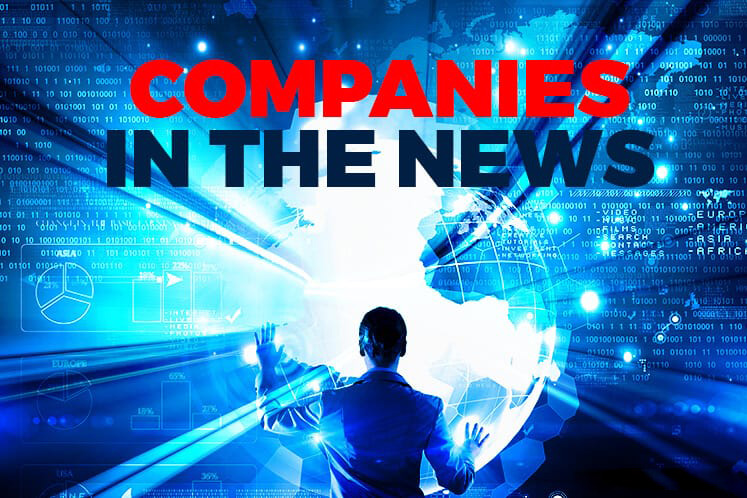 KUALA LUMPUR (Aug 21):  Based on corporate announcements and news flow today, companies in focus on Thursday (Aug 22) may include the following: Berjaya Assets Bhd's (BAssets), MSM Malaysia Holdings Bhd, Matrix Concepts Holdings Bhd, Amway (Malaysia) Holdings Bhd, Jaks Resources Bhd, Sasbadi Holdings Bhd and Box-Pak (M) Bhd.
Berjaya Assets Bhd's (BAssets) net loss widened significantly in the fourth quarter ended June 30, 2019 (4QFY19) to RM83.1 million from RM30.2 million in the previous corresponding quarter as a result of higher deferred taxes provision, mainly on fair value changed in investment properties amounting to RM59.3 million, following the recent increase in Real Property Gains Tax (RPGT) tax rates.
It said there was wider net loss in spite of the group's quarterly revenue more than doubling to RM102.25 million from RM48.49 million.
It attributed higher revenue to the recognition of the sale of several parcels of land worth RM26.1 million; higher contribution from its vehicle assembly, gaming, hotel and recreation segments; and comparable revenue from property development and investment segments.
Refined sugar producer MSM Malaysia Holdings Bhd incurred a net loss of RM67.33 million in its second quarter ended June 30, 2019 (2QFY19) — its third consecutive quarter in the red — as the group was dragged by lower average selling price of refined sugar and higher refining costs.
In comparison, the group made a net profit of RM14.33 million in the year-ago quarter of 2QFY18, when revenue came in at RM573.03 million. In its latest quarter, revenue fell 17.3% to RM474.02 million.
The weak quarterly earnings pulled the group into the red in the first half of FY19 (1HFY19) with a net loss of RM74.34 million, compared to a net profit of RM30.14 million it posted in the previous corresponding period, as revenue dropped 14.5% to RM959.46 million from RM1.12 billion.
Matrix Concepts Holdings Bhd, which saw its revenue surpass RM1 billion for the first time in the last financial year, is optimistic that its growth trend will continue in the current year despite the challenges in the property sector.
Chairman Datuk Mohamad Haslah Mohamad Amin said the company has lined up RM1.4 billion worth of new launches in FY20, comprising mainly landed properties in Bandar Sri Sendayan, Negeri Sembilan, and Bandar Seri Impian, Johor, for the mass market segment, which would support its performance in the year ahead.
Amway (Malaysia) Holdings Bhd posted a 148% jump in net profit to RM18.49 million for the second quarter ended June 30 against RM7.46 million in the same period last year, due to higher sales and lower import costs on the back of favourable foreign exchange impact.
Quarterly revenue was stagnant, inching up 1.31% to RM230.77 million against RM227.78 million previously. It declared an interim dividend of five sen per share, payable on Sept 26.
Net profit for the cumulative six months (6MFY19) grew 88.6% to RM29.11 million against RM15.44 million in the same period last year. Revenue was 3.27% higher year-on-year at RM478.26 million compared with RM463.1 million.
Jaks Resources Bhd's net profit jumped nearly three times in the second quarter ended June 30, 2019 (2QFY19) to RM37.29 million against RM12.74 million a year ago, as it recorded higher earnings in its construction division, contributed by engineering, procurement and construction works in Vietnam.
Quarterly revenue rose by 86% year-on-year to RM315.43 million, against RM169.99 million previously.
The better 2QFY19 earnings boosted the group's net profit for the first half of FY19, which surged 116% to RM65.91 million from RM30.58 million a year ago (1HFY18), as revenue increased 65% to RM613.23 million from RM372.5 million.
Sasbadi Holdings Bhd has inked a Memorandum of Understanding (MoU) with a publication under China's Ministry of Education to develop Special Education Teaching Materials to be used in Malaysia and a Situational English Learning Programme to be used by learners in China.
It said the initiative aims to bring quality educational materials that are suitable and thoughtful to the learning needs of differently-abled children, whereas the Situational English Language Learning Programme aims to expand Sasbadi's home-grown English context to be used by learners in China.
Box-Pak (M) Bhd continues to bleed, hurt by its Myanmar operations and doubtful debts as its net loss widened more than four fold year-on-year to RM7.41 million or loss per share (LPS) of 6.18 sen in its second quarter ended June 30, from RM1.71 million or an LPS of 1.43 sen previously. This is despite revenue rising 5.93% to RM157.66 million from RM148.83 million.
Box-Pak attributed its poorer performance to an initial operating loss of RM3.5 million in Myanmar and impairment of doubtful debts amounting to RM2.4 million during the quarter.
For the cumulative six months, net loss jumped 79.83% to RM13.87 million from RM7.71 million a year ago, though revenue was 7.12% higher at RM307.56 million compared with RM287.12 million previously.