This article first appeared in The Edge Malaysia Weekly, on July 29, 2019 - August 04, 2019.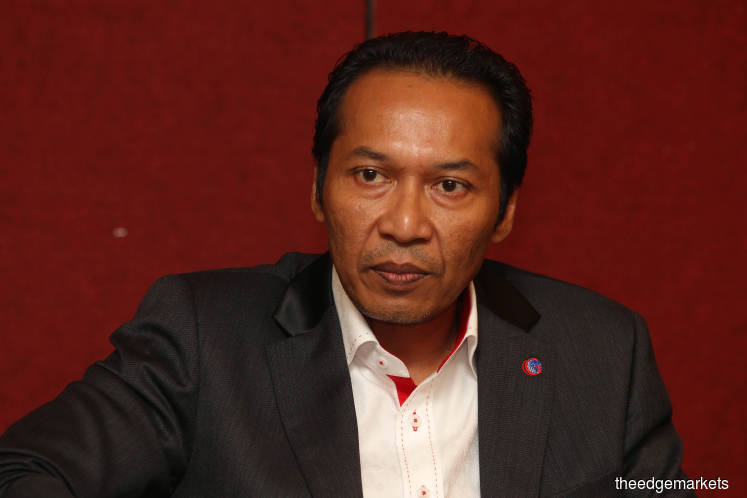 A court-convened meeting of Barakah Offshore Petroleum Bhd's creditors this Wednesday is likely to be in the cross hairs of investors. This is because the company's proposed restructuring plan hinges on the creditors' approval.
Section 366 of the Companies Act 2016 states that creditors holding at least 75% of the total value of the debts have to accept the terms in order for Barakah to proceed with its reorganisation.
According to the company's announcements, its total scheme to creditors amounts to RM106.65 million, of which it owes RM60.07 million to Exim Bank Bhd and RM46.58 million to Petroliam Nasional Bhd subsidiary PRPC Utilities and Facilities Sdn Bhd.
Barakah's wholly-owned subsidiary PBJV Group Sdn Bhd, which owns the pipe-laying barge Kota Laksamana 101, meanwhile, owes RM287.99 million in its scheme of creditors with RM90.55 million to Exim Bank, RM70.22 million to PRPC and RM127.22 million to unsecured trade and non-trade creditors.
A creditor who spoke to The Edge on condition of anonymity is certain the scheme will not go through. "No way," he says bluntly.
Barakah president and CEO Nik Hamdan Daud refused to comment on this.
The main complaint of the creditors seems to be the huge haircut and limited cash involved. According to documents, PBJV's creditors are slated to take a 66.34% haircut or RM191.04 million while those of Barakah are being offered a 65.26% haircut or RM69.6 million.
The cash portion of PBJV's repayment is only 11.11% while Barakah's repayment involves no cash at all. The remaining sums owed are to be settled in shares.
The scheme creditors will end up holding 28.34% of Barakah if the restructuring goes through.
Nik Hamdan, who is Barakah's founder, made a comeback about two weeks ago after having stepped down in April. In a brief conversation with The Edge, he says, "I am coming in at the worst time … But I know the company better than anyone else."
Earlier in July, Abdul Rahim Awang, who had replaced Nik Hamdan in April, resigned as president and CEO. His departure was followed almost immediately by chief financial officer Firdaus Edmin Mokhtar.
It is not known what led to these resignations. Abdul Rahim declined to comment when asked about his departure while Firdaus could not be contacted.
Nik Hamdan's return is indeed at a challenging time. On July 8, the company announced a regularisation plan, which involved a restructuring that revolved around the entry of ship bunkering outfit Lecca Group Pte Ltd and the sale of Kota Laksamana 101. The proposed restructuring is the result of Barakah falling into Practice Note 17 category in May.
However, on July 9, PBJV's operating licence was suspended for three months by Petronas because of non-performance in relation to a contract for the provision of underwater services to the national oil company's exploration arm, Petronas Carigali Sdn Bhd.
This means PBJV will not be awarded or allowed to bid for any jobs by Petronas or its petroleum arrangement contractors.
"We are appealing the suspension. We feel it is debatable that we should be suspended … a lot of the accusations can be defended," Nik Hamdan tells The Edge.
In a nutshell, Barakah's regularisation plan involves a share capital reduction, the disposal of Kota Laksamana 101 and a share placement that will enable the settlement of borrowings to creditors.
In October last year, Barakah and PBJV were granted restraining orders by the High Court, stopping proceedings and actions from being brought against them except with the leave of the High Court.
The share capital reduction that Barakah plans to undertake involves the cancellation of RM185.51 million in issued capital, which will trim Barakah's issued capital from RM231.89 million to RM46.38 million. The RM185.51 million obtained as a result will be utilised to set off the accumulated losses.
In early December last year, Barakah changed its financial year-end from December to June. In the quarter ended March 31, 2019, the company suffered a net loss of RM41.93 million on revenue of RM50.43 million. In the cumulative five quarters, it suffered a net loss of RM103.51 million on turnover of RM293.68 million.
As at March 31, 2019, Barakah had accumulated losses of RM75.91 million. It had fixed deposits with licensed banks amounting to RM68.98 million and cash and bank balances of RM22.51 million. On the other side of the balance sheet, it had long-term debt commitments of RM169.63 million and short-term borrowings of RM4.83 million.
Kota Laksamana 101 was sold to Lecca Group for US$21 million or about RM88 million cash, which will be utilised to partially repay the debt owed to EXIM Bank.
Other key aspects of the restructuring include a proposed placement of 375 million Tranche 1 shares or up to 44.87% of Barakah's issued capital at four sen per share, together with RM25 million in nominal value of redeemable convertible unsecured loan stocks B (RCULS-B) on the basis of five RCULS-B for every three placement shares subscribed for. This is expected to raise RM40 million, which will largely be used to repay the creditors.
Barakah's proposed placement also includes an option for Lecca to subscribe for as many as 250 million Tranche 2 shares at four sen each over five years. This will raise RM10 million, which will be used as working capital.
The restructuring will trigger a mandatory general offer as Lecca will have 42.94% of Barakah's shares but the company is seeking an exemption.
If the restructuring goes through, Nik Hamdan will have a 4.51% stake in Barakah, down from 15.7% at present.
The counter closed at six sen last Thursday, giving the company a market capitalisation of RM50.1 million.