This article first appeared in The Edge Financial Daily, on May 7, 2019.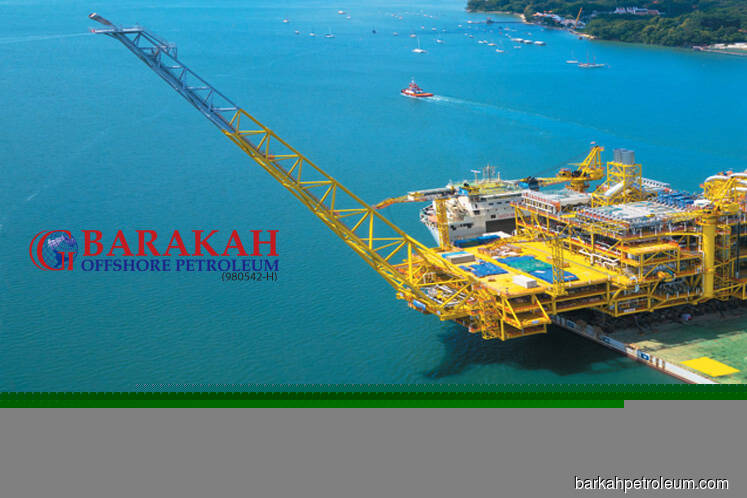 KUALA LUMPUR: Financially-stressed Barakah Offshore Petroleum Bhd has signed a heads of agreement with Minsheng Financial Leasing Co Ltd to form a strategic partnership to explore areas of collaboration in relation to oil and gas (O&G) projects under Minsheng's portfolio.
The tenure is for one year effective yesterday. The agreement serves as a strategic framework for a future definitive agreement, in which more detailed terms of the partnership will be determined later.
Under the framework of the agreement, Barakah will provide its engineering expertise and technical know-how, as well as to explore opportunities together with Minsheng's offshore leasing and ship chartering portfolio.
"The project scope covers a wide array of design and project engineering services such as front-end engineering and design management plan, operations plan review, independent verification plan, commissioning consultancy, project execution plan and review, project interface management procedure as well as cost control, among others," said Barakah.
Under separate commercial agreements, Barakah said it will carry out the operation and management of certain O&G projects under Minsheng's portfolio, as well as engage in the utilisation of Barakah's pipelay barge, Kota Laksamana 101 for engineering, procurement, construction, installation and commissioning and accommodation works.
Barakah's controlling shareholder Nik Hamdan Daud stepped down as the group's president and chief executive officer (CEO) in March.
Its acting group CEO Abdul Rahim Awang said this alliance is in line with the group's aim to enhance its core business and competitiveness.
He added that the partnership allows Barakah to utilise its competencies and assets while expanding the group's geographical reach and scope of services.
"We look forward to working together with Minsheng to deliver our engineering and operational capabilities for its fleet of offshore vessels and other O&G-related projects under its portfolio," he added.
On prospect, Abdul Rahim said the group remains focused on consolidating exercise while actively bidding for more jobs.
"Currently, the group is formulating a debt restructuring scheme to manage the group's debt, of which upon completion, will solidify our financial footing," he said, adding the group welcomes more strategic tie-ups to better position Barakah against external headwinds in addition to capturing arising opportunities.
China's Minsheng is one of the largest financial leasing companies in China with an asset size of over US$26 billion as at end 2017.
Minsheng has a sprawling line of businesses across aircraft, ships, marine engineering equipment, logistics, energy equipment, energy saving and environmental protection, medical equipment, vehicles and construction machinery, to name a few.
It is China's leading ship leasing company with more than 330 ships and Asia's largest corporate aircraft leasing company with nearly 300 aircraft under its stable.
Shares price of Barakah rose 0.5 sen or 5.26% to 10 sen, with a market capitalisation of RM83.58 million. The stock has fallen about 37.5% over the past year.