This article first appeared in The Edge Financial Daily, on July 9, 2019.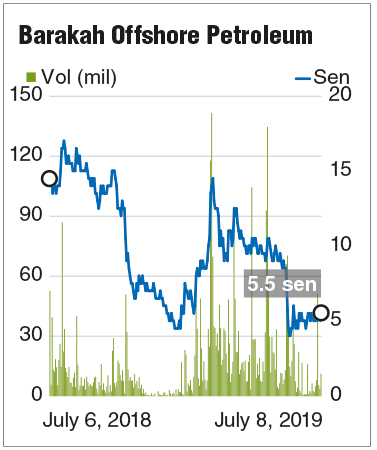 KUALA LUMPUR: Barakah Offshore Petroleum Bhd seems to have found a white knight, Singapore's Lecca Group Ptd Ltd, to revive its financial health.
The debt-laden Practice Note 17 (PN17) firm has proposed a regularisation plan that includes the disposal of a pipelay barge to Lecca Group, as well as a share capital reduction, share placements, plus debt settlements through issuing redeemable unsecured loan stocks (RULS) after a total waiver of RM153.99 million owed.
Barakah, in its filing with Bursa Malaysia, said it is proposing for its unit PBJV Group Sdn Bhd to sell the pipelay barge, a long flat-bottomed maritime vessel, to Lecca Group for US$21 million (approximately RM88 million) in cash based on market valuation.
The pipelay barge was commissioned for construction in 2009 at a cost of RM286.37 million and completed in September 2012.
In addition, Barakah intends to place out 375 million shares to Lecca Group at four sen per share under the tranche 1 placement, and RM25 million in nominal value of redeemable convertible unsecured loan stocks (RCULS-B) on a five-for-three basis.
Consequently, Lecca Group will emerge as the single largest shareholder with a 44.87% stake. Barakah's current largest shareholder Nik Hamdan Daud stepped down as the group's president and chief executive officer in March. He now owns a 15.7% stake.
The RM88 million raised from the proposed disposal, Barakah said, will be utilised as partial repayment of debt owing to Export-Import Bank of Malaysia Bhd (Exim Bank) upon completion.
Barakah's wholly-owned subsidiary, Kota Laksamana 101 Ltd (KL101), has defaulted on its instalment payments to Exim Bank. KL101 is its core unit.
In mid-May, the subsidiary received a notice of demand for the outstanding US$2.65 million (approximately RM11.08 million) owing under the Ijarah facility agreement.
A fresh RM40 million raised from the share placement and RCULS-B will used for settling debts, besides funding working capital.
Further, Lecca Group is granted an option to subscribe an additional of up to 250 million shares under the tranche 2 placement at four sen apiece, exercisable within five years.
Barakah said it will seek for an exemption for Lecca Group to undertake a mandatory general offer to acquire the remaining Barakah shares that it does not own.
Barakah has also proposed to undertake a share capital reduction entailing the cancellation of RM185.51 million of its issued share capital to RM46.38 million.
This will give rise to a credit of RM185.51 million, which Barakah said will offset the company's accumulated losses.
As for its debt settlement schemes, Barakah said there will be a cash settlement of RM32 million and a total waiver of RM153.99 million owing to its scheme creditors.
The company will also issue up to RM33 million in nominal value of RCULS-A and RM69 million in nominal value of RULS as part of the settlement.
As at May 31, the outstanding liabilities due to the scheme creditors of Barakah and PBJV totalled RM106.65 million and RM287.99 million respectively.