This article first appeared in The Edge Malaysia Weekly, on September 6, 2021 - September 12, 2021.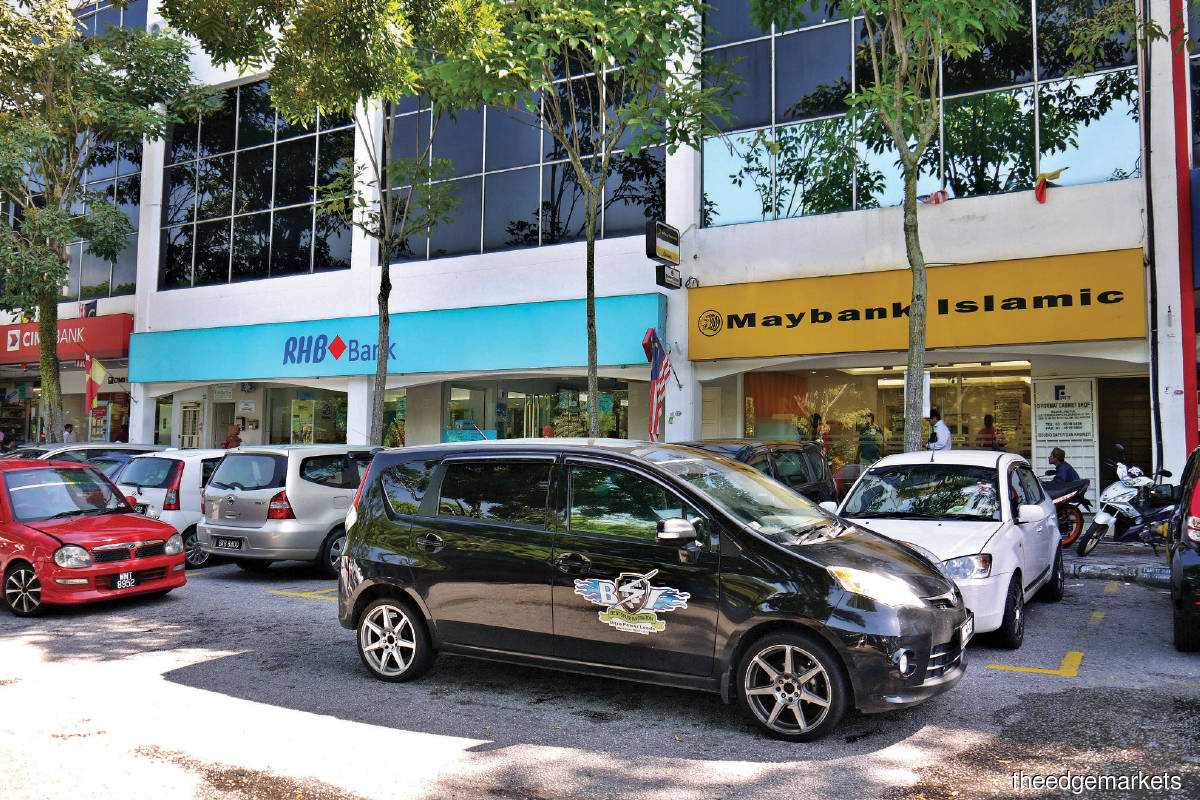 MALAYSIA's 10 public-listed banking groups turned in earnings that were largely within expectations in the April-June quarter, with two banks — CIMB Group Holdings Bhd and AMMB Holdings Bhd — beating expectations, making the sector one of the better-performing ones in the recent corporate reporting season.
However, the overall tone for next two quarters is one of cautiousness.
This is because the longer-than-expected national lockdown has led to some of the banks revising upwards their credit cost guidance for the year. Public Bank Bhd, RHB Bank Bhd, CIMB and Affin Bank Bhd were among those that guided for provisions to remain elevated in the second half of the year (2H2021).
Additionally, banks are expected to book in a modification loss (ML) in 3Q2021 as a result of the latest six-month loan repayment moratorium that began on July 7.
Nevertheless, the ML impact is expected to be moderate compared with that of last year, given that the moratorium is offered on an opt-in rather than blanket basis.
"Taken together, the general guidance seems to be: expect 2H2021 earnings to come in flat to mildly negative [compared with 1H2021], on elevated credit cost and flat net interest margins (NIMs). Loans may only pick up more strongly in 2022. It looks like, at this point of the cycle, most, if not all, banks have fully repriced their products [following the interest rate cuts last year]," says Kenanga Research banking analyst Clement Chua. Recall that the overnight policy rate (OPR) was cut by a cumulative 125 basis points (bps) last year.
Nevertheless, there is optimism that banks will do better towards the end of the year as the economy gradually reopens in phases. As it stands, investors already have their eyes on how banks might perform in 2022. Analysts expect next year's earnings to be an improvement over this year's.
"We continue to like banks as a key economic reopening thematic play, so we do recommend that investors have banks in their portfolio, going into next year. The key question for 2022 is whether or not banks can keep credit costs under control," Nomura Malaysia head of equities research and banking analyst Tushar Mohata tells The Edge.
"We like the banks that have provided sufficient overlays and pre-emptive provisions, such that when non-performing loans actually crystallise in 2022, they would be able to withstand it — in the sense that they won't need to provide significantly more. Going by that, our preferred picks are the retail banks, specifically, Hong Leong Bank Bhd and Public Bank," he adds.
A quick survey of nine research houses shows that six, including Nomura Research, have an "overweight" call on the banking sector, while three — Maybank Investment Bank Research, PublicInvest Research and Kenanga Research — have a "neutral" rating.
"Short-term volatilities notwithstanding, eventual [interest] rate normalisation in 2022 and expected economic recovery will bring about asset quality improvement and loan growth — all of these medium-to-longer-term boons to the sector. We do not see conditions getting significantly worse than 2020 levels," says PublicInvest Research.
"While we maintain our 'neutral' view on the sector, it continues to be with a positive bias given its lagging valuations relative to the broader market," it adds.
Dividends are back
Notably, banks have resumed with dividends after a break last year when they were being careful with capital amid the onslaught of Covid-19.
Five of the eight lenders that posted 2Q or final-quarter results in the April-June quarter declared dividends. (Banks generally declare dividends in the second and/or final quarters of their financial year.)
Hong Leong Bank, which was the only bank to declare a dividend last year, announced a higher dividend per share (DPS) of 35.22 sen compared with 20 sen previously. The other four banks that declared a DPS were Malayan Banking Bhd (Maybank) with 28 sen, CIMB (10.44 sen), Public Bank (7.5 sen) and RHB Bank (15 sen).
The dividends were mostly in line with expectations, says Nomura's Mohata. "I think banks can continue paying dividends as and when their regular schedule is, given the current state of economic reopening and our current expectations of profitability and capital," he remarks.
All 10 of the banking groups reported a strong year-on-year increase in net profit for the April-June quarter, which was not surprising given that the year-ago quarter was when they bore the brunt of heavy ML. Quarter on quarter, the performance was mixed.
One of the interesting trends observed in the recent April-June quarter was that banks erred on the side of conservatism by continuing to make pre-emptive loan-loss provisions — some higher than others. Public Bank, for instance, despite having the best asset quality in the sector, saw provisions rise 157.5% y-o-y and 99.5% q-o-q, to RM396 million.
Positively, what helped with banks' earnings was that NIMs improved on the back of better funding costs following the slew of OPR cuts last year.
"The earnings of most of the banks that we cover were in line with expectations. The one thing that surprised on the upside was margins. NIMs remained quite strong thanks to the unwinding of [last year's] ML and the fact that there was limited competition in the deposits space. However, a few of the banks have raised their credit cost guidance," notes Mohata. He tracks the country's six largest banking groups by assets, from Maybank to AMMB.
"Overall, I would say we did not end up changing or raising FY2021 earnings forecasts materially for most of the banks we cover," he says.
He raised his earnings forecast for CIMB by 4% for FY2021 and by 10% for AMMB for the full financial year ending March 31, 2022 (FY2022). For Public Bank, he reduced it by a marginal 2% for FY2021.
Although CIMB's and AMMB's quarterly earnings surprised on the upside, most analysts regarded them as being in line with expectations as they do not expect the remaining quarters to come in as strongly.
CIMB reported a 2QFY2021 core net profit of RM1.28 billion, up 161% y-o-y on the back of higher non-interest income and lower credit costs, but down 4.2% q-o-q. The bank guided for a weaker second half due to sequentially higher credit costs.
As for AMMB, it turned in core net profit of RM387 million (down 7% y-o-y but up 306% q-o-q) in 1QFY2022. The stronger sequential performance was due to stable NIMs, lower operating expenses and lower provisions. It raised its credit cost guidance for the year to 65bps from 50bps previously.
Notably, AMMB turned around from a reported net loss of RM4.69 billion in the preceding quarter due to a one-off hit from the 1Malaysia Development Bhd global settlement. MBSB Bank too turned around from a net loss of RM12.51 million in the year-ago quarter when it was hit by sizeable ML.