This article first appeared in The Edge Malaysia Weekly, on December 4, 2017 - December 10, 2017.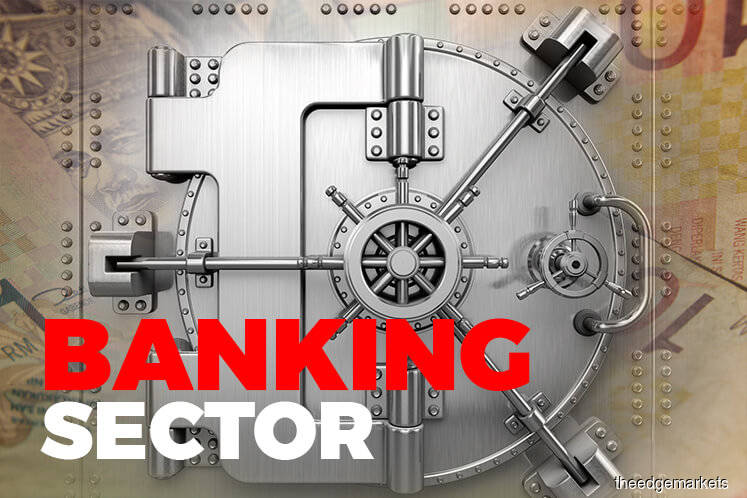 MALAYSIA's top six banks by assets turned in third-quarter earnings that were largely within analysts' expectations, but loan growth fell short, pointing to the likelihood that several are likely to miss or cut their full-year lending targets.
Malayan Banking Bhd (Maybank) last week said its group loan growth is likely to be around 3% for the full year compared with expectations three months earlier of 6% to 7% growth. CIMB Group Holdings Bhd, too, is unlikely to meet its loan growth target of 7% that was set earlier this year.
"With year-to-date loan growth only at 1%, it will clearly fall short of the 7% target set earlier this year," says Lim Sue Lin of AllianceDBS Research. While she expects loans to pick up slightly in the final quarter, she nevertheless cut her 2017 forecast for CIMB to just 3% from 5% earlier.
For now, most analysts whom The Edge spoke to say they are unlikely to make major cuts, if any, to their 2017 earnings growth estimate for the banking sector. However, several may lower their loan growth targets yet again.
Lim says she will likely lower her forecast to under 5%, from 5%-6% previously. "This year, loan growth is highly likely to  come in at under 5%, but whether it's nearer the 4% level or not is hard to say yet as potentially faster corporate loan growth could swing the number," she tells The Edge.
She is keeping her earnings growth estimate for the eight Malaysian banks, collectively, at 10%-11%. This compares against just 4% growth last year as the industry was hit by higher loan loss provisions. Given that provisions have started to normalise this year, it is a given that bank earnings will improve significantly over last year.
"For next year, so far, we've got a 11% earnings growth forecast, and that's coming mainly from expectations of improved loan growth, but margins are, at best, expected to stay flat even with a potential hike in the key interest rate because you've got to take into account some element of competition, especially in the deposits space," Lim says.
Interestingly, the subdued loan growth in the third quarter comes even as Malaysia turned in a robust economic growth of 6.2% year on year.
"Although banks had previously guided for a pick-up in corporate loan growth, that hasn't quite materialised," observes an analyst.
He points out that the fourth quarter will probably see faster loan growth, especially as corporates draw down loans, but net interest margins (NIM) are likely to be squeezed further as it is typically a period of stiffer competition for deposits, which raises the banks' funding costs. Still, just two weeks ago, Bank Negara Malaysia governor Tan Sri Muhammed Ibrahim warned banks against the usual year-end rush for deposits, calling it "disruptive behaviour" that is "damaging" for all parties concerned.
Apart from the softer-than-expected loan growth, other key trends observed of the top six banks — which include Public Bank Bhd, RHB Bank Bhd, Hong  Leong Bank Bhd (HLBB) and AMMB Holdings — in the third quarter was that NIMs held up quite well YTD despite falling on a quarter-on-quarter basis. Credit costs and asset quality were generally stable, although the banks — apart from RHB — saw their gross impaired loan (GIL) ratio deteriorate further, q-o-q.
"I don't think asset quality is a big concern, but we would keep an eye out on property loans, especially commercial property. Some banks had issues in the oil and gas sector, but this looks like it could be stabilising," RHB Research banking analyst Fiona Leong says.
Most analysts have "neutral" investment calls on the banking sector.
"It's hard to be to be more positive on the sector. While earnings are in line, at the same time, we're not getting a lot of clarity from the banks on the MFRS 9 accounting impact (which kicks in on Jan 1, 2018) on them — so it's hard to gauge how credit costs may be affected. While most banks say the Day One impact is going to be manageable, we don't have much info on the run-rate [impact]," an analyst points out.
Not surprisingly, Public Bank was the best performer of the quarter. The group's earnings accelerated in the third quarter by 13.5% y-o-y, after 6% y-o-y growth in the second, helped by stronger net and non-interest income, and it looks to be on target for a full-year loan growth of 4%-5%.
HLBB too impressed, with first quarter earnings ended Sept 30 above analysts' expectations. This was mainly because profit contribution from its associate, Bank of Chengdu, rebounded strongly, improving 65.6% y-o-y to RM148 million, accounting for 18.9% of the group's pre-tax profit.
AMMB's and RHB's results disappointed a few analysts, with some suggesting that the two may have been derailed from the distraction of merger talks that started in June but were later called off in mid-August.
"There was little to excite in RHB's latest quarter, with results coming in below (our) expectations. What is nevertheless positive is the build-up in the group's loan-loss coverage, which has traditionally been among the lowest, to 100% by year end," says Maybank Kim Eng Research. RHB's 3Q earnings, at RM488.83 million, was down 3.3% y-o-y and 2.4% q-o-q.
It is unlikely that RHB will meet some of the targets under its IGNITE 2017 strategy that comes to an end this year, including one for overseas profit contribution of 10%. For the nine months, the contribution stood at -7%.
As for AMMB, its second quarter earnings ended Sept 30 were partly driven by positive writebacks in loan loss provisions, making this the ninth straight quarter it benefitted from writebacks.
CIMB and Maybank fared decently after two years of tepid growth due to high loan provisions from their regional operations. Nomura Research has CIMB as its top banking pick as it sees the bank as the only meaningful ROE turnaround story in the sector. It estimates an ROE of 10.3% next year after 9.3% this year. Analysts however say it could face continued asset quality pressure in Indonesia and Thailand.
Maybank's 3Q earnings grew a strong 22.2% q-o-q to RM2.02 billion, helped by lower provisions.
Meanwhile, of the smaller banks, Affin Holdings Bhd reported a notably lower net profit of RM73.26 million in 3Q, down 47.5% y-o-y on higher expenses from a voluntary separation scheme and higher provisions.
Save by subscribing to us for your print and/or digital copy.
P/S: The Edge is also available on Apple's AppStore and Androids' Google Play.