This article first appeared in The Edge Financial Daily, on September 3, 2018.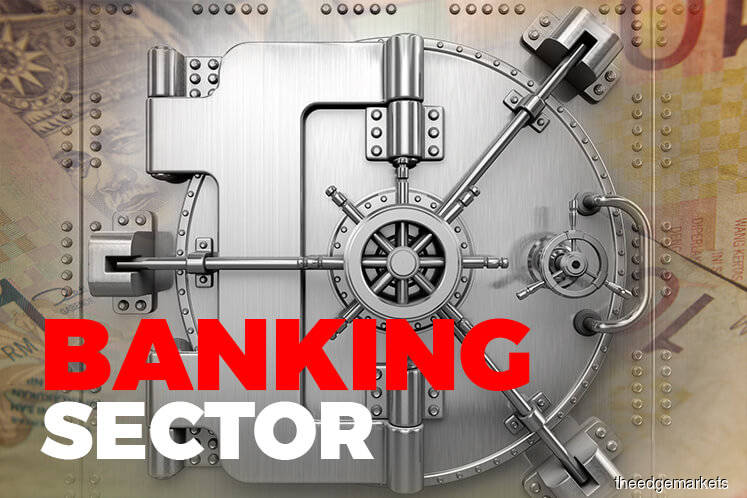 KUALA LUMPUR: Malaysian banks reported earnings that were largely in line with analysts' expectations for the April to June quarter (2Q) and are cautiously optimistic that loan growth, subdued so far, will pick up later in the year.
"The big banks in particular are still hoping for a pickup in corporate loans in the fourth quarter once there is more clarity from the government, especially after the tabling of Budget 2019, on projects and policies," a banking analyst of Kenanga Research told The Edge Financial Daily.
This is probably why most banks have maintained their loan growth targets for the year, he said. RHB Bank Bhd, which is easing its focus on large corporates to diversify its client base, and Public Bank Bhd, a predominantly retail-based bank,  are so far the only ones to have lowered their target. RHB cut its target to 3-4% from 6% earlier, while Public Bank reduced it to 4-5% from 5% earlier.
Among the key trends observed for the banks' latest quarter, apart from loan growth continuing to be weak, were a lower net interest margin (NIM) after the initial boost provided by a 25-basis-point hike in the overnight policy rate in January and lower non-interest income due to weak capital markets.
On a positive note, loan impairments were lower from a year ago, which helped prop up earnings. Of the eight local banking groups, Hong Leong Bank Bhd (HLBB) was the only one that turned in earnings that slightly exceeded analysts' expectations.
HLBB's core net profit rose by 7% year-on-year (y-o-y) to RM626 million for its fourth financial quarter ended June 30, 2018 (4QFY18), taking full-year core net profit to RM2.57 billion, accounting for 102% of analysts' consensus forecast for the year. Profit was boosted by its 18%-owned associate, Bank of Chengdu (BOC), which made up about 16% of its bottom line.
"Moving into FY19, we forecast a much milder 6.2% y-o-y growth in BOC's contribution to HLBB versus a 47% y-o-y growth in FY18 as the sharp improvement in provision trends [at BOC] tapers off," UOB Kay Hian Research said in a report last Wednesday.
On the flip side, analysts said Affin Bank Bhd and CIMB Group Holdings Bhd's earnings came in below expectations.
Affin's 2Q results were down 50.6% y-o-y to RM73.3 million due mainly to higher-than-expected impairment allowances. This brought its first-half (1H) net profit to RM214.8 million, accounting for 41% of analysts' consensus estimate.
"Its asset quality is still a concern as we understand that the higher impairment allowances were due to provisioning of an oil and gas-related account [which is secure], expected to be performing by the end of the year," Kenanga Research, which deemed the 1H results as "hugely disappointing", said in a report.
As for CIMB Group, its core net profit — excluding one-off gains totalling RM1.09 billion from the partial disposal of its asset management business and the sale of a 50% stake in CIMB Securities International — came in at RM1.04 billion for 2Q, down 5.4% y-o-y. It was lower mainly because of slow non-interest income owing to weaker capital market activities.
This took its 1H core net profit to RM2.19 billion, which made up 45% of analysts' consensus estimate for the full year. "We deem the results a miss," Nomura Research said in a report last Wednesday. It, however, kept its "buy" call on CIMB Group and expects the 3Q numbers to be better on improved capital market activities.
Including one-off gains, CIMB Group's earnings stood at a record high.
Meanwhile, Malayan Banking Bhd's (Maybank) 2Q results, up 18% at RM1.96 billion, were within expectations. Its collective loan provisions for the Hyflux group, a financially-troubled Singapore-based client, stood at S$106.3 million (RM315.1 million) for the quarter, which was also within expectations.
"I think what surprised the market was that despite the provisions for Hyflux, Maybank's overall provisions actually dropped," an analyst, speaking on condition of anonymity, remarked. Overall provisions dropped 30% to RM582.1 million for 2Q.
Maybank's total exposure to Hyflux, at S$658.6 million as at end-June, is through financing of two infrastructure projects. Its exposure is fully secured against the projects' assets.
A better second half
There are expectations that the banks will see a better 2H.
"Generally, the message we got [from our meetings with the banks] is that the second half should be better for most banks. Firstly, there is still some optimism that corporate loan growth will pick up in the second half; secondly, NIM compression should stabilise earlier as I think many of the banks had been competing to lock in their long-term funding, which raised funding costs; and thirdly, capital market activities should pick up, which would boost non-interest income," said a banking analyst of a local bank, speaking anonymously.
Most analysts, however, are likely to remain neutral on the sector.
The Kenanga Research analyst said he had trimmed down his full-year earnings forecasts for most of the banks under his coverage. His top investment picks for the banking sector remain — AMMB Holdings Bhd and BIMB Holdings Bhd — which he said are undervalued.
"AMMB's transformation initiatives are chugging along, and there is traction in its loans. As for BIMB, its asset quality is the best after Public Bank Bhd and HLBB, and it has maintained its target of an 8% financing growth, which we think is doable," he said.