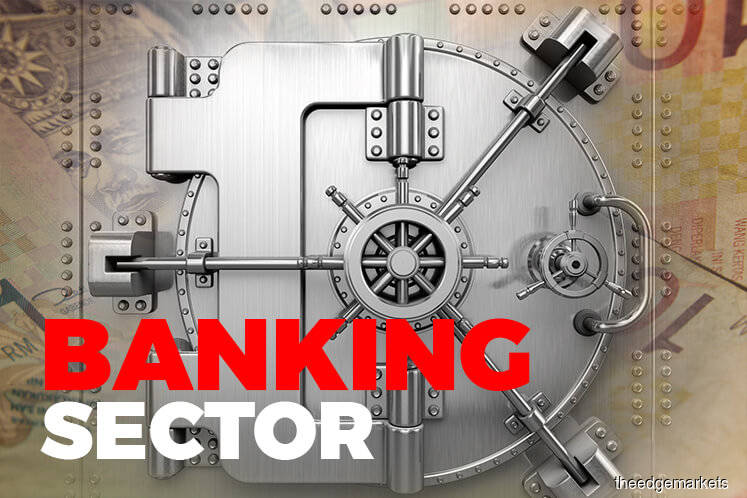 KUALA LUMPUR (Jan 2): Shares of banking counters dipped on profit-taking after a run-up from last week but the future remains bright for the sector, which is expected to maintain its earnings potential on higher loan growth in 2018.
At 11.59am, Malayan Banking Bhd (Maybank) slipped 18 sen or 1.84% to RM9.62 with 1.15 million shares done, for a market capitalisation of RM103.28 billion.
CIMB Group Holdings Bhd inched down three sen or 0.46% to RM6.51 with 2.49 million shares transacted, valuing it at RM60.33 billion.
Hong Leong Bank Bhd slid two sen or 0.12% to RM16.98, with 40,600 shares exchanged for a market capitalisation of RM34.77 billion.
Alliance Bank Malaysia Bhd shed three sen or 0.73% to RM4.05 on 72,700 shares exchanging hands, giving it a market capitalisation of RM6.31 billion.
Affin Holdings Bhd remained flat at RM2.31 with 118,600 shares done, valuing it at RM4.46 billion.
AMMB Holdings Bhd remained unchanged at RM4.41 after paring gains with 422,500 shares traded, for a market capitalisation of RM13.14 billion.
In contrast, RHB Bank Bhd grew three sen or 0.6% to RM5.03 with 147,500 shares exchanged, for a market capitalisation of RM20.01 billion.
The finance index fell 106.98 points or 0.63% to 16754.4 points.
MIDF Amanah Investment Bank Bhd analyst Imran Yassin Yusof said the dip in share prices today was not unusual, marking the end of the window-dressing, following a run-up on shares last week.
"It is the first day of market trading for the year, after the run-up last week, so we are seeing some profit-taking. It is not unusual. The fundamentals of the sector remains strong," Imran told theedgemarkets.com
In a note to clients today, Imran kept his 'positive' view on the sector with an expected 6% year-on-year loans growth for 2018, based on the current trend of applied and approved loans.
"The loans applied and approval will provide a steady loans pipeline at least in the first quarter of 2018 (1Q18). We also expect that the loans demand will continue on its current trend. This is especially for the mortgage segment, as we understand several property developers are targeting to develop affordable housing," he said.
Imran said total approved loans grew 8.8% y-o-y to RM345.6 billion up to November 2017, while the approval rate jumped to 44.1%.
"Main contributor for the strong growth was the approval for the purchase of residential properties. This segment (residential property purchase) grew 18.2% y-o-y to RM3.7 billion. We believe that this was in line with the trend we have observed in 3Q17, where banks are focusing on growing its mortgage books.
"We opine this trend of strong mortgage demand and approvals may continue into 2018, especially due to the spill over effect from 4Q17," he said, adding that continued domestic economic performance this year and stable employment environment would also drive loans growth.
In addition, the anticipated overnight policy rate (OPR) hike by Bank Negara Malaysia will give a temporary boost to margins.
"With higher demand and approval for loans, we believe the banking sector will be able to maintain its earnings potential," Imran added.
Hong Leong Investment Bank Bhd analyst Khairul Azizi Kairudin echoed MIDF's views that banks would post earnings recovery into 2018, on the back of higher loan growth expectations, stable contribution from non-interest income, continued discipline on expenses, as well as ending of the impairment programme.
"We expect further stability in banks asset quality in 2018; however, we view that certain segments may pose a risk to the potential stablility of asset quality. Banks' loan loss coverage (LLC) is expected to improve, given the slower trend of large provision.
"Liquidity is on the mend since BNM implemented forex measures that cap further liquidity outflow," Khairul said.
Khairul maintained a "neutral" call on the sector, although the bank statistics in November 2017 seemed unexciting, because of repayments and shift of funding.
"Nonetheless, we believe banks should earn another look due to positive leading incators sustained. Seasonally, the fourth quarter of the year is a stronger quarter for banks and we are positive [that] banks should end FY17 in better performance," Khairul added.
HLIB had "buy" calls on Maybank (target price RM10.70) and RHB Bank (RM5.60).