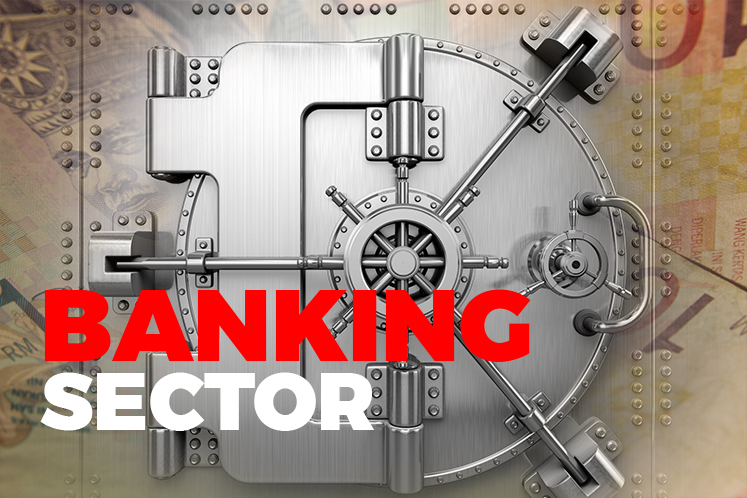 KUALA LUMPUR (March 23): The banking sector's earnings growth will contract by 7.4% this year, down from the 0.1% contraction estimated earlier, on the back of weak loan growth, more overnight policy rate (OPR) cuts, softer non-interest income (NOII) and rising net credit costs.
However, the earnings for the sector is expected to rebound in 2021, albeit at a slower pace of 1.7%, compared to 2.8% earnings growth projected earlier, said Hong Leong Investment Bank (HLIB) Research in a note today.
"Following the spread of Covid-19 along with its effect on global and local economic activity, our economics team has cut 2020 gross domestic product (GDP) forecast to 2.3% from 4.1%; this is below the [Ministry] of Finance (MoF)'s range of 3.2-4.2%. In turn, we also lowered our 2020 and 2021 sector loans growth projections to 3.5%/3.4% from 4.3%/4.2%.
"Besides, we expect Bank Negara Malaysia to cut OPR by another 50 basis points (bps) to 2.0% this year (as early as 1H20; total reduction: -100bps); we now see 2020 sector net interest margins (NIM) slippage of 10bp instead of 6bp," said HLIB.
In light of growing anxieties over the current headwinds such as Covid-19 and weaker oil price, the research house has raised the sector's net credit costs assumption from 27bps to 31bps for 2020, and further increase to 33bps for 2021 against estimation of 28bps earlier.
Every one bp increase in net credit costs could reduce sector earnings by 0.5%, it added.
Also, the research house has cut banks' NOII growth forecasts to 1.2% contraction for 2020, compared with the previous forecasts of 3.1% growth due to lower trading-related income amid challenging market climate.
HLIB has projected the sector's return on equity (ROE) to drop to 8.2% from 10.2% after the sector price-to-book (P/B) ratio has shrunk to 0.83 times in March, from its recent peak of 1.4 times in April, 2018.
"We revisit the equity price of banking sector during the global financial crisis (GFC), and find that peak P/B of 2.30 times took 21 months to decline to trough of 1.14 times (from July 2007 to March 2009); this marked a P/B de-rating of 1.16 times while at the same time, ROE fell to 12.0% from 17.4% (-5.4ppts).
"Even though the selldown has been less severe versus the GFC, we believe downside is limited, seeing the sector is trading below -2SD level to both its 5-year and 10-year mean P/B," it added.
HLIB has maintained its "neutral" call on the banking sector given near-term headwinds are being balanced out by the sector's inexpensive valuations.
The research house likes banks that were acutely bashed down and its preferred picks are CIMB Group Holdings Bhd (target price [TP]: RM4.70), Alliance Bank Malaysia Bhd (TP: RM2.50), RHB Bank Bhd (TP: RM5.40) and BIMB Holdings Bhd (TP: RM3.70).