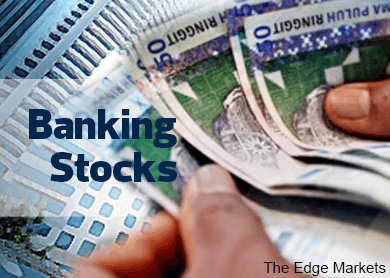 KUALA LUMPUR (Jan 5): Banking counters fell across the board today, as analysts see a lacklustre outlook for the sector amid concerns of stiffer competition on implementation of the new Base Rate (BR) mechanism.
At 11.15 am, Public Bank Bhd dropped 36 sen or 1.98% to RM17.86, Malayan Banking Bhd fell 12 sen or 1.32% to RM9.00, while Hong Leong Financial Group Bhd was down 22 sen or 1.31% to RM16.58.
However, CIMB Bank bucked the trend by climbing 1 sen or 0.18% to RM5.56.
"In our view, the implementation of the new BR mechanism will stir up competition among banks," said Affin Hwang Capital's banking analyst Tan Ei Leen in a note today.
"It is no doubt that banks which have set a lower BR and effective lending rates (ELR) such as Maybank, Public Bank and Hong Leong Bank (HLB) will have an initial edge as they tend to attract more enquiries vis-à-vis other banks," she said.
Nonetheless, she opined that the outcome would depend on the final ELR being offered to borrowers.
Bank Negara Malaysia (BNM) has mandated that effective Jan 2, the Base Rate (BR) will replace the BLR as the main reference rate for new retail floating rate loans.
While BLR-based loans prior to the effective date will continue to be referenced against the BLR, any adjustment to the BR will be reflected in a corresponding adjustment to the BLR.
"Overall, given the new BR framework, we believe that the impact on banks' profitability will be relatively immaterial, and hence banks with a strong niche for consumer financing such as Public Bank, Maybank, HLB and Alliance Bank will continue to defend their franchises," Tan noted.
Meanwhile, Maybank IB Research expects effective lending rates to be unchanged at least over the next few months to allow consumers to adapt to the change.
"The 60 basis points climb in the 3-month Kuala Lumpur Interbank Offered Rate (KLIBOR) in 2014 to 3.9% does seem excessive and some consolidation in the short term is likely.
The KLIBOR is the average interest rate at which term deposits are offered amongt prime banks in the Malaysian wholesale money market or interbank market.
"However, amid tight liquidity, we would monitor for any potential upside bias to the BR, the impact of which would be for lending rates to increase at a time when consumer demand is already softening, thus dampening further consumer loan growth," said analyst Desmond Ch'ng.
He noted that should the KLIBOR decline too sharply, banks' net interest margins may squeeze temporarily, given that there will be a lag time between the adjustment to lending rates and deposit rates.
"The BR works in favour of banks that have low funding costs such as Maybank and HL Bank, for they are in a better position to price their products more efficiently," he noted.