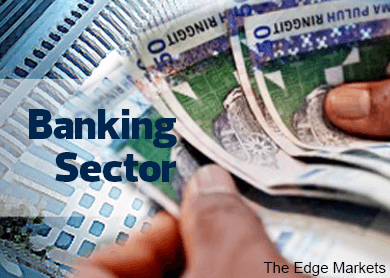 BANKING stocks, once a hot favourite among investors, won't be making a comeback anytime soon, going by the weak financial results that have trickled in for the first quarter and ongoing concerns about asset quality.
The mostly "neutral" calls that analysts have on the sector are likely to stay, even as a slew of earnings downgrades kicks in following the disappointing results of banks like CIMB Group Holdings Bhd and Affin Holdings Bhd (AHB).
AMMB Holdings Bhd, which last Friday reported its earnings for the full year ended March 31, 2015, revised downwards its growth targets for the current year to reflect the more challenging operating environment ahead.
David Chong, a banking analyst at RHB Research Institute, says there are no catalysts to prompt an upgrade of the banking sector as yet. He points out that the first quarter has seasonally been a weak one for banks.
"The environment is still challenging — loan growth has slowed, margins are still under intense pressure, and on the fee-based side,  capital market activities haven't really kicked in to give banks a boost. Additionally, asset quality — not an issue in the previous years — is now something they need to watch," he tells The Edge.
He currently has a "buy" call on only one banking stock, Public Bank Bhd.
Half of the eight Malaysian banking groups — Public Bank (fundamental: 1.8; valuation: 0.91), CIMB Group (fundamental: 1.05; valuation: 2.1), AHB (fundamental: 1.1; valuation: 2.25) and AMMB (fundamental: 1.7; valuation: 3.0) — have already turned in their results for the quarter ended March 31. Except for Public Bank's, the report cards were deemed poor.
The results of AHB, the country's second smallest lender, in particular, caught analysts by surprise. Its first-quarter net profit fell — by 79% from a year ago and by 86% from the preceding quarter (4QFY2014) — to RM30 million. This accounted for a mere 5% of analysts' consensus forecast for the full year.
The shortfall was caused by AHB's one-off loan loss provision of RM124.1 million that quarter — the highest quarterly provision the group has made since the fourth quarter of 2005 — at its commercial banking arm, Affin Bank. It had provided just RM51.5 million in 4QFY2014.
With that, AHB's asset quality, as measured by the gross impaired loan (GIL) ratio, worsened to 2% compared with 1.8% in the preceding quarter. "We observe a jump in impairment of loans extended to the finance, insurance and business services sector by RM149.3 million in 1QFY15 as compared with the preceding quarter," notes MIDF Research analyst Kelvin Ong.
The weak results prompted several analysts to lower their earnings estimates for AHB. RHB Research cut its FY2015-FY2017 net profit forecasts by 12%, to 25%. "While 2015 will see the first full-year consolidation of (AHB's) HwangDBS Investment Bank acquisition, we expect asset quality to hog the spotlight instead, following the deterioration noted in 1Q2015 results," the research house said in a recent note to clients.
Last Wednesday, CIMB, the country's second largest lender, announced a first-quarter net profit of RM580.1 million, which came in at just 14% of analysts' consensus estimates for the full year. It missed expectations largely because of high loan loss provisions at its Indonesian bank and a one-time restructuring cost of RM202 million relating to the rationalisation of its investment banking business.
The net profit was 45.6% lower than that of the previous corresponding quarter because of a 379.4% rise in loan loss provisions to RM534.3 million. The provisions in the quarter were nevertheless lower than the RM919.2 million in 4QFY2014, which helped CIMB's earnings jump 189.6% on a quarter-on-quarter basis.
Its GIL ratio worsened slightly to 3.18% from 3.09% as at end-December. CIMB told analysts that provisions for bad loans in Indonesia would remain high in the second quarter, but less than that in the previous two quarters.
"If provisions from Indonesia continue to trend lower and if there is a boost in capital market activity, then CIMB's second-quarter earnings should be better than the first. But then, there is also the question of how much restructuring costs they will take in," RHB's Chong observes.
Just two weeks ago, CIMB announced a mutual separation scheme (MSS) for its employees in Malaysia and Indonesia in a bid to reduce costs within the group. Staff costs make up 55% of the group's total cost.
CIMB had incurred a cost of RM217 million in its last MSS exercise in 2013, which saw 1,217 staff take up the offer. This time around, the cost could double, as the MSS also involves the Indonesian operations, CIMB told analysts last week.
Its weak start to the year also has analysts questioning whether it will be able to meet its return on equity (ROE) target of 11% (excluding restructuring costs) for FY2015. "CIMB cited higher-than-expected net interest margin (NIM) pressure and challenging economic conditions as key challenges to the target. While CIMB had earlier guided for NIM compression of 5 to 15 basis points, management now thinks NIM may compress by around 20 basis points," says RHB Research. It cut its FY2015 net profit forecast for CIMB by 16%.
Meanwhile, mid-sized lender AMMB reported an 8% growth in net profit for the full year (FY2015) to RM1.92 billion, but analysts point out that the earnings were boosted by exceptional gains. Underlying profit was down by 3%. The group's revenue fell by 4.8% to RM9.14 billion, while ROE came in at 13.8%.
Following the results, AMMB's management guided for a more moderate net profit growth of 3% to 5% for FY2016, and ROE of 12% to 12.5%. It had earlier eyed net profit growth of 6% to 10% and ROE of 14%. "The issue is that NIM is still expected to contract by 15 to 20 basis points in FY2016," an analyst notes.
In the fourth quarter of FY2015, AMMB's net profit grew 12% to RM519.2 million, mainly because of write-backs that mitigated the impact of lower revenue. Its GIL ratio improved to 1.79% from 1.88%.
Public Bank fared the best among the banks. Last month, it reported a 15.2% rise in its first quarter net profit to RM1.17 billion despite the tougher environment, helped by a decent increase in net interest income and non-interest income. The results came in within analysts' expectations. Its GIL improved to 0.6% from 0.7%.
According to Bloomberg data, Public Bank has performed the best among the eight banking groups in the stock market for the year to date, with a total return of 6.36%, followed by Malayan Banking Bhd (Maybank) (4.58%) and CIMB (4.26%).
This article first appeared in The Edge Malaysia Weekly, on May 25 - 31, 2015.