This article first appeared in The Edge Malaysia Weekly, on March 9, 2020 - March 15, 2020.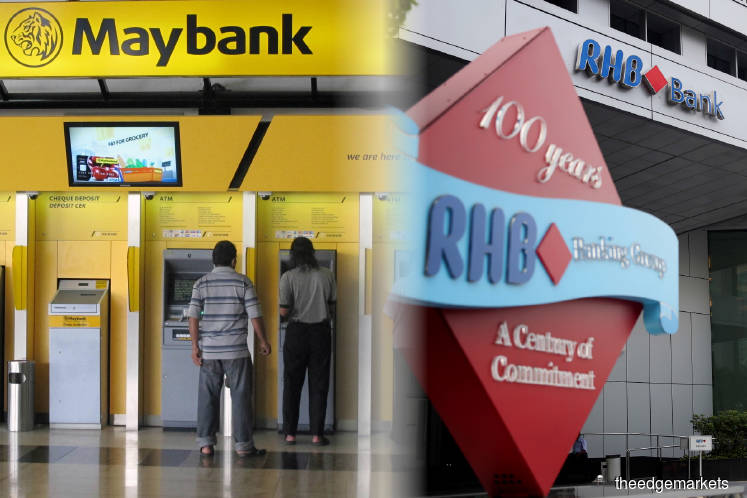 LOCAL banks, already under the spotlight after the overnight policy rate (OPR) was cut for the second time in two months, drew more attention when PAS issued a statement calling for a fresh round of bank mergers, citing tightness in liquidity in the financial system as a reason.
PAS central economic, real estate and entrepreneur development committee vice-chairman Mazli Noor says an industry-wide merger should be considered immediately, given the most recent cut in OPR by 25 basis points to 2.5% — the lowest in 10 years. He adds that in the longer run, an industry-wide adjustment such as this will see a rationalisation of costs across the board and a lowering of risks associated with non-performing loans (NPLs) for remaining entities as a result of their enlarged asset base.
Banking analysts contacted by The Edge say the liquidity in the financial system is in a comfortable position and that the asset quality of banks remains intact despite the tough operating environment. On Feb 28, Bank Negara Malaysia said the banking system's liquidity coverage ratio stood at 151.3%.
"Prior to this, there had always been rumblings in the market for a banking merger, but what is driving that speculation is the valuation of banks — which have come down making some attractive merger candidates — rather than the liquidity of the financial system here," says an analyst.
An analyst with a foreign research house says, "Banking mergers will be driven more by valuation convergence among banking players and more flexibility to rationalise cost and derive cost synergy, given the emergence of digital banks creating jobs, so conventional banks can offload staff." He adds that mergers will also be mooted when shareholders are willing to exit and move to consolidate holdings among government-linked investment companies, apart from the motivation to strengthen and consolidate their positions to be better positioned to fend off competition from digital banks.
Another analyst points out that recent attempts to merge have failed as it boils down to the willingness of both parties to transact at what they consider a fair price. "Plus, a merger does come with job cuts and redundancy ... That will be tough to do in the current climate," she says.
Banks oversold
Indeed the state of play in the banking industry has shifted amid a tough operating landscape. In spite of growing revenue, banks are grappling with stricter capital requirements, eroding margins and accelerating costs.
Meanwhile, like other businesses, they have to manage the Covid-19 uncertainty, coupled with two OPR cuts within a few months, eating into their margins. Economists are not ruling out another OPR cut this year.
Even so, banking analysts opine that it is timely to buy banking stocks.
"Banks are oversold," says a head of research at a foreign house. "At current prices, most of them under our coverage are offering yields of 5% to 7%. Looking at the recent financial results, all the banks announced a dividend payout rate of above 40% ... that's good."
Indeed, banks are dishing out dividends, judging from the latest full-year earnings announcements for Dec 31, 2019 (FY2019).
Malayan Bank Bhd's (Maybank) dividend payout in FY2019 was 88% — its highest in the last 10 years — while RHB Bank's was 50.1% — the highest ever for the group.
CIMB Group Holdings Bhd's dividend payout jumped to 56% in FY2019 from 42% in FY2018. Public Bank's full-year dividend payout in 2019 was 51.4%.
Another head of research says, "There are headwinds but banks today are a lot more ready to face them. They have guided that the direct impact from the Covid-19 outbreak on their loan books is less than 3%. The asset quality of most banks is intact today despite some industry observers raising concerns over it."
S&P Global Ratings said last week that it expects slower credit growth and a higher NPL ratio for Malaysian banks amid challenging operating conditions.
There is also the expectation that banks will face further net interest margin (NIM) compression following the recent OPR cut, in addition to lenders offering a moratorium for loans in view of the Covid-19 impact.
What are banks doing to protect their asset quality and potential hit on earnings from margin compression?
RHB group managing director and CEO Datuk Khairussaleh Ramli expects the business outlook for 2020 to remain challenging.
"We also expect the two recent OPR cuts to have an impact on our net interest income and NIM. With our robust capital and liquidity position, we are confident of the group's resilience in navigating through this difficult environment. Non-interest income is expected to be the main growth driver, especially from our fixed-income portfolio, which we have built up since early last year," he says, adding that the group is strengthening efforts to mitigate any possible adverse effects on its asset quality.
Maybank group chief financial officer Datuk Amirul Feisal Wan Zahir says the group is closely monitoring developments in the local and global markets so that proactive measures can be taken where necessary to mitigate the effects.
"Our immediate exposure to the industries affected by the Covid-19 outbreak remains small. Notwithstanding this, we are working with affected customers to offer financial relief and possible restructuring and refinancing so that they are able to better manage their financial obligations during this period. Additionally, we will continue to closely monitor our credit portfolios and step up risk management oversight to ensure that we are able to maintain asset quality at a healthy level," he says.
"With respect to pressures on net interest margin, we had factored in some expected monetary easing in 2020 into our outlook for the year and will focus on managing our overall funding structure in a disciplined manner to manage NIM compression. At the same time, we expect the stimulus packages, announced in our key markets, together with other planned ongoing development and infrastructure projects, to boost economic activity and provide growth opportunities for the group that can offset potential disruption in other sectors."
Hong Leong Bank group managing director and CEO Domenic Fuda says the group has taken early efficiency measures in its operations and cost management that has allowed it to protect its fundamentals and buffer profitability pressures.
"While we are facing the evolving issue of Covid-19 and slower growth, we are facing these from a position of strength with low NPLs, resilient lending/financing portfolios and very solid capital buffers," he says.
"We have been proactive in initiating early a Customer Financial Relief Plan to provide support to our SME and individual customers affected by the outbreak, including restructuring or rescheduling their loans and financing to help with their cash-flow situation during this period of uncertainties to ensure business continuation."
AmBank Group CEO Datuk Sulaiman Tahir says while there is a possibility of upward pressure on NPLs, AmBank's NPLs are currently at a low base and, therefore, are more likely to be contained.
"Upward pressure on asset quality will also be addressed with the restructuring and rescheduling of loans on top of a moratorium of six months to defer payments between the borrower and the financial institution. The establishment of special relief funds to ease the borrowers' cash flow will also help alleviate potential pressure on banks' asset quality," he says, adding that based on their estimates, a reduction in OPR by another 25 bps is expected to impact banks' earnings by 1% to 3% and NIMs by 2 bps to 4 bps.
Meanwhile, CIMB says it expects a 5-bps impact to the group's NIM in 2020 from the two OPR cuts and will mitigate the revenue impact by continuously looking at levers and opportunities to improve its efficiency and deepen revenue streams through its Forward 23 initiatives and investments.