This article first appeared in Personal Wealth, The Edge Malaysia Weekly, on February 17, 2020 - February 23, 2020.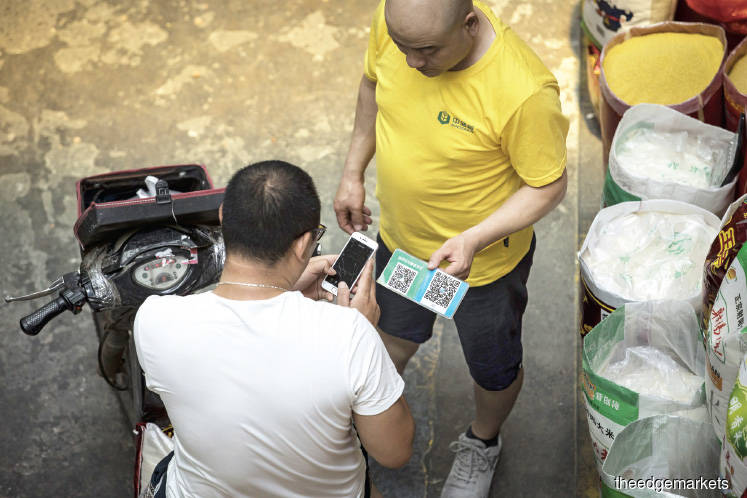 The lack of banking infrastructure, the need for minimum balances and religious issues are some of the reasons one-third of the world's 1.7 billion adults remain "unbanked" or outside the formal financial system. But unprecedented growth in financial inclusion means of digital initiatives is resolving the problem, says a recent report.
2022, some 700 million to 800 million adults are expected to be included in the formal financial system as governments and stakeholders up their financial inclusion endeavours, says the latest Citi GPS report, titled "Banking the next billion: Digital financial inclusion in action".
"Based on our analysis and current industry trends, we expect about 15% of global adults — or one billion people — to remain unbanked at end-2022. This would represent an increase of 700 million to 800 million adults who were included in the formal financial system the early 2020s compared with 2017 and an incredible 1.5 billion compared with a decade ago," says the report, which was released on Jan 29.
According to proprietary analysis based on World Bank raw data, some possible reasons for limited banking access, especially in emerging or frontier markets (EM/FMs), are the lack of banking infrastructure, poor product design, the need for minimum balances and documentation and issues related to trust and religion.
"Among the United Nations' 17 Sustainable Development Goals (SDGs), ending extreme poverty is goal No 1. According to World Bank studies, nearly 800 million people still live in extreme poverty — earning US$1.90 or less per day. Several of these SDGs, including the eradication of poverty, directly or indirectly connect with achieving universal financial inclusion," says Citi GPS managing editor Kathleen Boyle.
"The social welfare impact of financial inclusion is significant. We believe access to formal banking channels — and reaping the benefits of banking system products (for example, access to credit, opportunities for savings and government-to-person [G2P] transfers) — can play an important role in the eradication of poverty and the social mainstreaming of marginalised people."
Analysts note that about half of the world's unbanked adults reside in Asia (49%) while Africa houses 25%. percentage of population, however, Africa and Latin America are the most unbanked.
"The two markets with the largest populations — China and India — had 12% and 11% of the global unbanked adults respectively. The top 10 markets (based on the presence of unbanked population within the global mix) together comprised 60% of the global unbanked population pool at end-2017," says the report.
"On a country-wide basis, Pakistan, Myanmar and Cambodia led our sample of 27 major EM/FM markets in terms of percent of adults that remained unbanked 2017. These markets had still 70% to 80% of their population without a bank account."
Insufficient funds to maintain the minimum balance required to keep a bank account open was one of the main reasons 34% of the adults in EM/FMs are unbanked. The other reasons include the perceived cost of banking (18%), distance to a bank (13%), documentation process (13%) and trust issues (10%).
"Based on our sample of 27 markets, the UAE and Malaysia had been relatively successful in increasing banking account penetration, with 10% or lower of the population without banking access," says the report.
It adds that among the total unbanked adults globally, 46% are males and 54% are females, with some countries facing a large gender gap.
Digital financial inclusion
To bridge this gap, financial institutions and governments have embarked on several endeavours, says the report.
As the "lack of identity" has been a foundational challenge hindering banking access in many countries, even in those with extensive consumer banking services, digitalised national identity is used to tackle several of these issues head on facilitating biometric information. This may have addressed banks' Know Your Customer (KYC) requirements, says Citi.
Mobile money — the technology that allows people to retrieve, store and spend money using a mobile devices — is another alternative that has risen from necessity, replacing bank accounts and payments in several EM/FMs.
"Mobile money uptake has grown at a rapid pace, with an estimated one billion active users globally. Kenya stands out as the success story in mobile money penetration, with more than 70% of adults having used mobile money — a figure larger than those who hold traditional bank accounts (about 55% of adults)," says Citi.
Another successful means of improving access was reaching out to the unbanked via BigTech firms. "Telecoms operators have a broader reach than banks in emerging markets such as Kenya or Nigeria while in middle-income countries such as China, internet companies have the greatest presence," says the report.
As these companies have robust customer behaviour data, which in turn could feed into the KYC process, they were already active in varying degrees in providing financial products, usually starting in payments, Citi notes.
BigTech-owned mobile chat and payment apps in China now count hundreds of millions of active users, who are able to access a wide spectrum of financial services — from payments to savings products — and are now in many ways well ahead of the offerings available to their peers in developed economies.
These large technology firms have grown at such a scale that they now have a larger presence than the legacy financial infrastructure of banks. The BigTech firms have made inroads into payments, especially where mobile penetration is high, and have the potential to rapidly establish a dominant position leveraging their large user base and network effects.
"The biggest concern potentially is that of anti-competitive use of data, given the massive scale of data BigTech firms often tend to collect, which could lead to price discrimination. Other anti-competitive practices could include product bundling and cross-subsidising activities," says the report.
Microcredit, which is credited as one of the first approaches to expanding access to financial services for those excluded from the mainstream banking system, is another alternative that has gained prominence in South Asia and Latin America. According to data from local microfinance associations and central banks, South Asia is the largest market for organised microfinance alongside Latin America. India takes the lead with total outstanding loans of more than US$28 billion in 2018, followed Bangladesh with US$6.9 billion.
"Present-day microfinance institutions (MFIs) have evolved to offer a wide variety of services, with some becoming banks themselves and competing with conventional commercial banks. Some continue to offer both group lending, with forms of formal or social joint-liability, as well as individual loans and savings products," says Citi.
"designing financial products and methodologies based on an understanding of their clients' needs and capacity, MFIs overcome some of the biggest obstacles the poor face when seeking access to credit or savings products, which include a lack of documentation, collateral, formal employment or credit history, and sometimes limited literacy."
MFIs are poised to undergo more transformation as rising mobile phone and data penetration in EMs widen the scope and breadth of financial services to reach the poorest and most remote segments of society.
"However, the very advances that offer operational benefits — such as loan disbursal through mobile wallets — also pose risks as new players enter the market and new processes arise. Digital lenders, as in Kenya, utilising credit models based on limited historical or financial information can lead to adverse consequences," warns Citi.