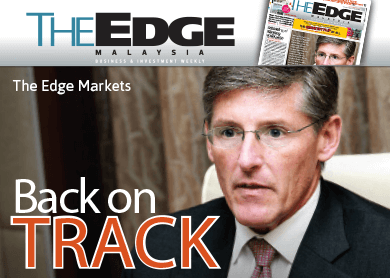 KUALA LUMPUR (May 9): Michael Corbat, Group CEO of US banking giant Citigroup Inc (Citi), says Malaysia is an important market for the group, not just from a local perspective but also in terms of its global presence, according to the Edge weekly's latest edition.
In an exclusive interview with the Edge's managing editor Anna Taing and associate editor Joyce Goh, Corbat said that with its emerging middle class, growing wealth and banking population, Malaysia was a good demographic for teh banking group to continue to target.
Corbat was in Kuala Lumpur recently on a one-day visit as part of an Asian tour that included India and Australia.
This is Corbat's third visit to Asia in 14 months, underlining the rising importance of the region, which is the group's largest market outside the US.
"Growth is slower (in Asia) but India is still growing at 7.5%, Malaysia at 5%. There are many parts of the world that we operate in ... where they will give anything for 5% growth.
"Looking forward, there will be ups and downs, but we think Asia will outpace global growth in the foreseeable future; and we are well positioned (to take advantage of that)," the Edge quoted Corbat as saying.
The weekly also cited Corbat as saying that given the importance of Asia, Citi had no plans to downsize its operations in the region where some European banks have divested their investment banking business.
"No, we are not downsizing. We went into the crisis operating in 101 countries, and we came out of the crisis operating in 101 countries ... we are not a briefcase banker, flying in and out," Corbat said.
In Malaysia, Corbat says Citi will continue to invest and grow. Apart from having a strong institutional and consumer banking business, Malaysia is important to Citi for its service centres, which employ some 6,400 employees, according to the Edge.
Its Penang hub is the largest trade processing centre in the group globally, supporting its trade, cash management and commercial cards businesses in more than 100 countries and covering a network of 3,300 banks.
The Edge cited Corbat as saying that Citi had chosen Malaysia as a centre for excellence to do a number of things on behalf of not just its regional but also its global franchise.
"If you look at the quality of the workforce that we attract, we think it's a terrific place to continue to invest in," it quoted him as saying.
For the complete interview, please get a copy of the Edge weekly edition for the week of May 11 to May 17, available at newstands now.