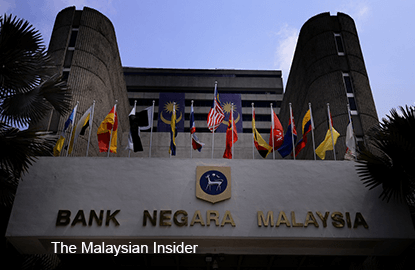 KUALA LUMPUR (Aug 7): Bank Negara Malaysia's (BNM) international reserves shrank to US$96.7 billion (RM364.7 billion) as at July 31, down 8.34% or US$8.8 billion compared with US$105.5 billion (RM398.1 billion) as at June 30.
This is the first time BNM's international reserves has fallen below US$100 billion since August 2010.
Foreign currency reserves made up US$88.3 billion or 91.3% of total international reserves.
In its statement today, the central bank said the reserves' position is sufficient to finance 7.6 months of retained imports and is 1.1 times the short-term external debt.
Concerns over the central bank's falling international reserves have weighed on the ringgit, which has depreciated for eight consecutive days.
The local currency slipped further today to 3.9265 against the US dollar — the lowest level in 17 years — compared with Thursday's closing of 3.9125.