This article first appeared in The Edge Financial Daily, on May 8, 2019.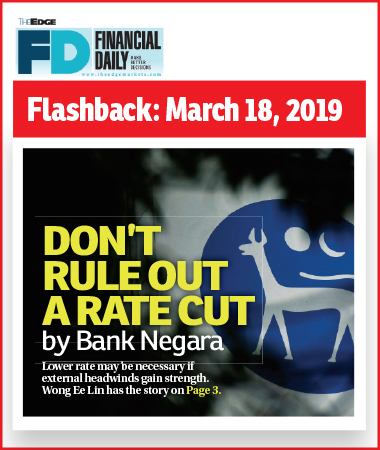 KUALA LUMPUR: In a move that took some by surprise, Bank Negara Malaysia (BNM) was the first Asean central bank to cut its interest rate this year.
Yesterday, the central bank announced a reduction of 25 basis points in its overnight policy rate (OPR) to 3% — the first rate cut since July 2016.
In a statement, BNM commented that the domestic financial markets have remained resilient, despite periods of volatility primarily due to global developments.
However, it cautioned against downside risks to growth from heightened uncertainties in the global and domestic environment, trade tensions and extended weaknesses in commodity-related sectors.
While domestic monetary and financial conditions remain supportive of economic growth, the central bank noted that there are some signs of tightening of financial conditions.
"The adjustment to the OPR is therefore intended to preserve the degree of monetary accommodativeness. This is consistent with the monetary policy stance of supporting a steady growth path, amid price stability. The Monetary Policy Committee (MPC) will continue to monitor and assess the balance of risks surrounding the outlook for domestic growth and inflation," BNM said.
OCBC Bank treasury research economist Alan Lau wrote in a research note yesterday that the rate cut was contrary to the house's expectations. "We had expected for a cut to come as early as July 2019 instead," Lau said.
Among others, Canada's Scotiabank, RHB Bank and Maybank Investment Bank Research expect this to be the only one rate cut that the central bank would have this year.
Meanwhile, Lau also projected that BNM would "stay pat for the rest of 2019, although this is barring any major downturn in global growth".
UOB Malaysia economist Julia Goh, who also expects no further cut this year, said, "We think future decisions are likely to be data and event dependent."
On the other hand, MIDF Research, which did not expect any rate cut by BNM this year, forecasts an improvement in investment and domestic consumption activities going forward.
"As long as GDP (gross domestic product) growth is more than 4% and core inflation is still positive, we opine no further change in monetary stance is required at this juncture," MIDF Research said in a report yesterday.
Many economists are now more confidently projecting a 4.3% year-on-year growth rate for the country's GDP, which is in line with the lower end of the central bank's projection for the year.
"The baseline of 4.3% (by BNM) can still apply," Lee Heng Guie, executive director of the Socio-Economic Research Centre, told The Edge Financial Daily.
While BNM has not changed its projection for GDP to grow between 4.3% and 4.8%, the government has maintained a 4.9% growth expectation this year.
Lee said that a preliminary view of the GDP growth figure, which will be announced on May 16, is likely to have given BNM the case to consider the rate cut.
"Although BNM retained its GDP forecast of 4.3% to 4.8% for 2019, it highlighted the increasing downside risks stemming from heightened uncertainties in the global and domestic environment, trade tensions, and extended weakness in commodity-related sectors," pointed out RHB Bank economist Vincent Loo Yeong Hong in a report yesterday
Loo maintained a 4.3% GDP growth forecast for Malaysia this year.
Meanwhile, Scotiabank opined that the central bank would adopt a "wait-and-see stance for the foreseeable future" as it assesses the impact of the OPR cut on economic growth prospects.
"In our view, the BNM's decision to loosen monetary policy is a pre-emptive move to provide support to the domestic economy, given that global growth prospects face downside risks due to persisting trade uncertainties," said Scotiabank head of Asia-Pacific economics Tuuli McCully in a note.
The central bank said in its statement yesterday that its adjustment to the OPR is "intended to preserve the degree of monetary accommodativeness" amid signs of tightening financial conditions. It also highlighted that heightened policy uncertainties could lead to sharp adjustments in financial markets, further weighing on the overall outlook.
Forex markets have priced in rate cuts
Although the ringgit depreciated to as much as 4.1495 against the US dollar yesterday, it closed only 0.1% higher at 4.148 against the greenback.
"The ringgit showed little initial reaction to the interest rate cut, given that markets had largely priced in [the] monetary policy decision," said Han Tan, market analyst at FXTM.
The ringgit has steadily depreciated by some 2.14% against the US dollar since late March from a year-to-date low of 4.061.
Major moves in the ringgit's recent performance indicated that the currency remains primarily swayed by external factors, including the uncertain outcome of US-China trade negotiations, Tan said.
"Should there be a deterioration in trade ties between the world's two largest economies, that will significantly curtail risk appetite and may in turn weaken Asian and emerging market currencies.
"Such an event may also see [the] ringgit breaking above its 4.15 ceiling to the US dollar, with potential gains for the ringgit harder to come by given the expected resilience of the greenback," he added.