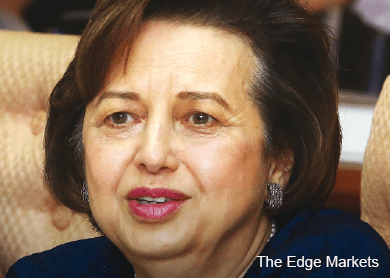 KUALA LUMPUR (Dec 1): Bank Negara Malaysia has yet to obtain "direct communication" with former 1Malaysia Development Bhd (1MDB) senior executives Casey Tang Keng Chee, 50, and Jasmine Loo Ai Swan, 42.
"We have not have any direct communications with them yet," the central bank's governor Tan Sri Zeti Akhtar Aziz told reporters, after delivering her speech at the Iclif Leadership Energy Summit Asia 2015, but declined to elaborate further.
On July 24, Bank Negara had issued a statement that indicated the central bank is seeking aid from them, and urged anyone with information on them to contact it or file a report at the nearest police station.
On the progress of 1MDB probe, Zeti said Bank Negara is not allowed to discuss the status, before the case is concluded.
"The investigation (by Bank Negara) has completed, now there is some progress in the actions that are being taken relating to some of the approvals that we have given them (1MDB), and that is in progress, so I am not in liberty to discuss the status until that is concluded," she said.
Bank Negara had on Oct 24 issued a statement to revoke three permissions granted to 1MDB under the Exchange Control Act 1953 (ECA) for investments abroad, totalling US$1.83 billion.
On top of that, Bank Negara issued a direction under the Financial Services Act 2013 to 1MDB to repatriate the amount back to Malaysia and submit a plan to the bank for this purpose.
However, 1MDB indicated it would not be able to make the repatriation, as the funds have either been spent or earmarked for a debt transfer.