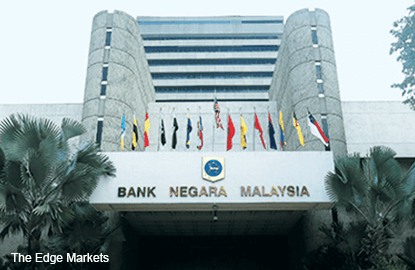 KUALA LUMPUR (March 2): Bank Negara Malaysia maintained the overnight policy rate (OPR) at 3% as the central bank evaluated risks to the country's economic growth and inflation.
Bank Negara said in a statement today its monetary policy committee (MPC) maintained the OPR at 3%, a level deemed accommodative and supportive of economic activity.
"At the current level of the OPR, the stance of monetary policy is accommodative and supportive of economic activity. The MPC will continue to assess the balance of risks surrounding the outlook for domestic growth and inflation.
"The growth momentum is expected to be sustained in 2017. With the growth of domestic demand being sustained, the more positive contribution from the external sector will lead to a better performance of the Malaysian economy. Headline inflation is projected to be higher in 2017, reflecting primarily the pass-through impact of the increase in global oil prices on domestic retail fuel prices," Bank Negara said.
Bank Negara said headline inflation would remain relatively high in the first half of this year before moderating thereafter.
"However, the projected trajectory of domestic headline inflation will be dependent on the future trend in global oil prices which remains highly uncertain," Bank Negara said.
According to the regulator, the cost-driven inflation was not expected to have a significant impact on broader price trends due to stable domestic demand.
On the ringgit, Bank Negara said the currency continued to stabilise with other emerging market currencies.
In Malaysia, Bank Negara said implementation of financial market development measures had a positive impact on domestic financial markets.
"Banking system liquidity remains sufficient. Financial institutions continue to operate with strong capital and liquidity buffers and the growth of financing to the private sector is consistent with the pace of economic activity," it said.