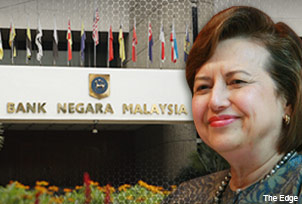 KUALA LUMPUR (Sept 18): Bank Negara Malaysia has maintained the Overnight Policy Rate (OPR) at 3.25%.
In a statement, the central bank said the decision hinged on continued steady growth in the Malaysian economy, stabilising inflation and the stability of international markets.
"The prospects are for the Malaysian economy to remain on a steady growth path. For Malaysia, economic activity has been supported by the continued growth in domestic demand and exports," the statement read.
"Going forward, domestic demand is expected to [be] moderate, but remain the key driver of growth.
"While private investment activity is projected to remain robust, private consumption is expected to moderate," the statement added.
It also said exports will continue to benefit from the recovery in the advanced economies and from regional demand, although its growth will be slower, partly reflecting the base effect in the second half of 2013.
The central bank said inflation is expected to remain relatively stable for the remainder of the year, as the effects of the price adjustments for utilities and energy have continued to diminish.  
However, Bank Negara noted that moving into next year, inflation is projected to increase to above its long-term average, due to "domestic cost factors."
"The absence of external price pressures and more moderate demand conditions are expected to mitigate the impact of these cost factors on the underlying inflation," the statement read.
Analysts have noted that the implementation of the Goods and Services Tax (GST) and subsidy rationalisation programme is likely to push inflation and consumer price index (CPI) higher, but the impact is likely to be temporary.