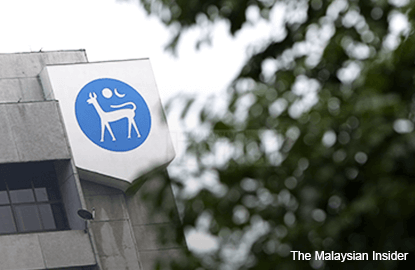 KUALA LUMPUR (Sept 11): Bank Negara Malaysia (BNM) did not spring any surprise today and kept the overnight policy rate (OPR) at 3.25% after the Monetary Policy Committee (MPC) meeting.
While the central bank maintains its forecast for the country's annual gross domestic product (GDP) growth in the 4.5%-5.5% range, it cautioned that "downside risks to growth, however, have risen amid greater uncertainty on both the global and domestic fronts."
In a statement, BNM said recent indicators suggest continued expansion in domestic economic activities in the third quarter despite ongoing adjustments to external and domestic developments.
The central bank gave the assurance that domestic liquidity conditions remain stable, although global and domestic developments have continued to affect the ringgit exchange rate and domestic financial markets.
The ringgit exchange rate is being affected by global factors that are affecting many emerging and commodity producing economies, it noted. These factors include the weaker commodity prices, the strength of the US dollar, and the uncertainty in the global financial markets.
 
"The ringgit exchange rate will reflect the underlying fundamentals of the economy when the external and domestic uncertainties recede," the statement read.
On domestic demand, BNM expects private consumption to moderate as households continue to adjust to the implementation of the Goods and Services Tax (GST) and the more uncertain economic environment.
According to BNM, household spending will, however, be supported by wage growth and stable labour market conditions. Investment activity is projected to be led by capital spending in the manufacturing and services sectors, and ongoing infrastructure projects. 
The continued expansion in domestic demand is also expected to contribute towards mitigating the weak performance of the external sector.
Of significance is that the central bank highlighted that Malaysia is entering this challenging period from a position of strength, given the diversified sources of growth of the economy, low unemployment level, manageable level of external indebtedness, and a well-capitalised banking system.
BNM noted that headline inflation averaged at 2.9% in June and July, reflecting higher domestic fuel prices and the impact of the GST.
"Despite the weaker ringgit exchange rate, the impact on overall inflation has been limited by the lower commodity prices and the generally low global inflation. Moving forward, headline inflation is expected to peak in early 2016 and it will moderate for the remainder of the year," said the statement.
On the global front, BNM expects the global economy continues to expand at a "moderate pace".
"Although growth across advanced economies has improved, it has remained modest. In most of Asia, while there has been a moderation in growth, domestic demand continues to support economic activity.
"Looking ahead, while the global economic recovery is expected to continue, the downside risks to growth have increased arising from the moderating growth momentum in the major emerging market economies, uncertainty in commodity prices and the heightened volatility in financial markets," it added.
sssd