This article first appeared in The Edge Malaysia Weekly, on July 15, 2019 - July 21, 2019.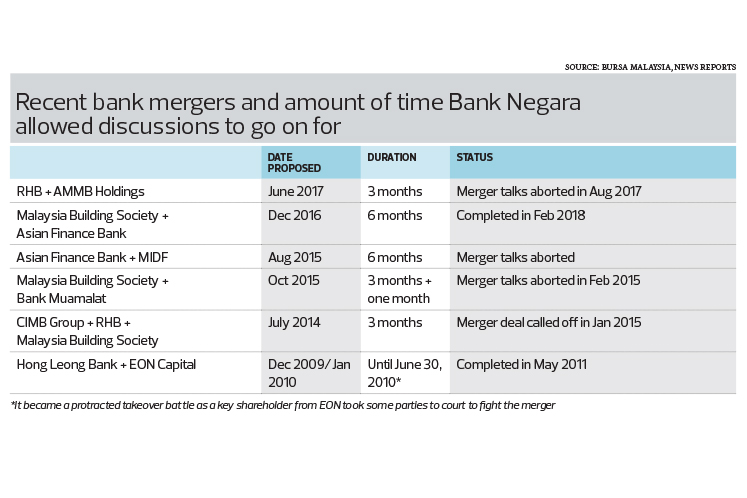 IN a rare move, Bank Negara Malaysia has allowed merger talks between two lenders to go on beyond six months — a development analysts say may signal that the central bank is keen to facilitate banking mergers after a long lull in the market.
The central bank approved a request by Malaysian Industrial Development Finance Bhd (MIDF) and Al Rajhi Banking & Investment Corp (M) Bhd (Al Rajhi Malaysia) for another three months — in addition to the six they already had — to negotiate a potential merger.
The new deadline given by the central bank is Sept 27, which means the parties would have had nine months to see if they can come up with a deal.
"These discussions are never simple and it is necessary to ensure thoroughness of the process before any decisions are made. We appreciate the approval given by Bank Negara in allowing a further extension until Sept 27 to allow sufficient time for [due] diligence and negotiations to be finalised. Both parties will continue to work closely to conclude the discussions within the extended deadline," Al Rajhi Malaysia CEO Steve Chen said in an email message to staff on July 5, sighted by The Edge.
Both parties were originally expected to make a submission to Bank Negara by June 27.
MIDF's sole shareholder is Permodalan Nasional Bhd (PNB), which is led by group chairman Tan Sri Zeti Akhtar Aziz, the former Bank Negara governor. Al Rajhi Malaysia is owned by Saudi Arabia-based Al Rajhi Bank, the world's largest Islamic lender by assets.
Analysts and bankers that The Edge spoke to say they cannot recall a time in the last decade that the central bank let bank merger talks go beyond six months. (See chart)
Recall that Hong Leong Bank Bhd's plan to acquire EON Capital Bhd in January 2010, for which Bank Negara's approval for them to negotiate was valid until June 30 that year, dragged on for over a year due to complications.  A key shareholder of EON Capital took certain shareholders and directors to court to fight the merger.
"Normally, well before six months, the parties in a prospective merger would already have a clear indication of whether they are a good match and whether they want to continue spending their time, energy and resources on coming up with a deal. In this [MIDF-Al Rajhi] case, it has been slow, but since both parties are still keen on each other, perhaps Bank Negara's thinking is 'let's facilitate this' — it could be the first of more mergers to come," a banking analyst at a local research house tells The Edge.
A Bank Negara spokesperson says the central bank does not comment on individual financial institutions.
The last banking merger in Malaysia was that of Malaysia Building Society Bhd and Asian Finance Bank Bhd in February last year. Prior to that, there was a long lull in mergers, the last one being Hong Leong's merger with EON Capital that was completed in May 2011.
It is understood that MIDF and Al Rajhi Malaysia have already come up with a business plan, but have yet to decide on the commercial terms for a deal.
"Due diligence is still ongoing," a source familiar with the matter tells The Edge.
MIDF, a development finance institution that does some Islamic banking, is keen on the merger to clinch Al Rajhi Malaysia's Islamic banking licence. It derives the bulk of its earnings from investment banking, but also does development finance and asset management.
MIDF slipped into a net loss of RM67.27 million for the year ended Dec 31, 2018 (FY2018) compared to a net profit of RM50.14 million a year earlier, even as operating revenue fell 7% to RM327.06 million. Impairment losses made on loans, advances and financing that year stood at RM111.89 million compared to a writeback of RM7.67 million in FY2017.
For the first quarter of FY2019, it made a net profit of RM12.11 million, slightly higher than the RM11.19 million it made in 1QFY2018. Its total assets stood at RM6.24 billion as at end-March.
Al Rajhi Malaysia made a net profit of RM11.73 million in FY2018, an 8.1% increase from RM10.85 million the year before. Revenue fell 7.9% to RM423.82 million. In 1Q2019, its net profit stood at 2.26 million, a 73.2% drop from RM8.42 million a year earlier. Its total assets fell to RM6.93 billion as at end-March from RM7.58 billion three months earlier.
If merged, the two financial institutions, which are not public listed, would have combined assets of RM13.17 billion — still relatively small compared with Bank Islam Malaysia Bhd, the largest standalone Islamic bank (RM63.32 billion).
The Edge had previously reported that the merger will likely be an all-share deal as Al Rajhi Malaysia's Saudi Arabian owner wants to stay on as a shareholder in the enlarged entity. (See "Al Rajhi's Saudi owner to stay, post-merger", Issue 1258, March 18.)
It was on Jan 10 that MIDF first revealed that it had Bank Negara's approval to embark on merger talks with Al Rajhi Malaysia. The central bank originally gave them three months to late March to hold discussions, but, unable to come up with a deal by then, they requested an extension and were given another three months to June 27.