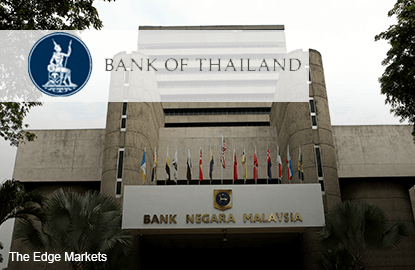 KUALA LUMPUR (Aug 27): Bank Negara Malaysia and the Thai central bank, Bank of Thailand, have signed a memorandum of understanding (MoU) to establish a framework for cooperation to promote the settlement of bilateral trade and direct investment in their respective local currencies.
"The establishment of this framework will pave the way for greater financial and economic integration in the ASEAN region.
"This bilateral arrangement would further strengthen trade and investments flows between Malaysia and Thailand as well as in fostering closer economic linkages for the advancement of the region," said Bank Negara governor Tan Sri Zeti Akhtar Aziz in a statement today.
According to Bank Negara, the MoU signifies the central banks' efforts to promote the use of the Malaysian ringgit and the Thai baht by the private sector to settle cross-border trades and direct investments.
"This arrangement would reduce the risks of exposure to the volatility of global settlement currencies and also to lower transaction costs for businesses," it said.
Bank of Thailand governor Dr Prasarn Trairatvorakul said that this bilateral arrangement marked an important milestone in supporting Thailand's commitment to promote the use of local currencies for trade and investment settlement among the ASEAN community.
"I believe this would further strengthen cooperation as well as boost economic and investment development in the region," he added.