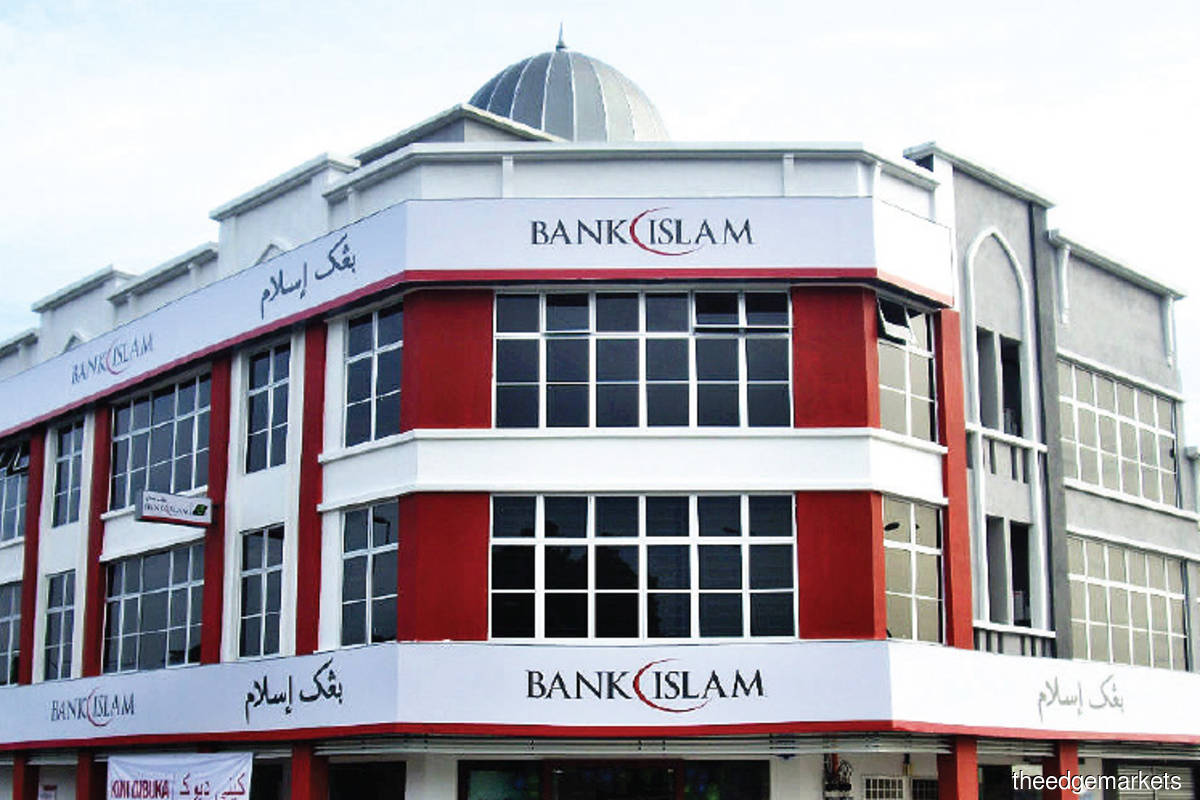 KUALA LUMPUR (Nov 29): Bank Islam Malaysia Bhd's net profit for the third quarter ended Sept 30, 2021 (3QFY21) slipped 0.6% to RM101.63 million from RM102.25 million a year ago on lower revenue.
Its quarterly revenue fell 14.82% to RM746.22 million from RM876.09 million a year ago, its filing with Bursa Malaysia showed.
Earnings per share (EPS), however, rose to 4.08 sen from 3.99 sen for 3QFY20.
The bank declared an interim dividend of 10.93 sen for the financial year ending Dec 31, 2021 (FY21), bringing total dividends declared to date for FY21 to 10.93 sen against 5.55 sen last year.
For the nine months ended Sept 30, 2021 (9MFY21), the group's net profit rose 17.26% to RM454.67 million from RM387.74 million a year earlier, while revenue slid 8.98% to RM2.35 billion from RM2.58 billion.
EPS grew to 17.71 sen from 15.34 sen for 9MFY20.
According to the bank's statement, the increase in net profit for the period was mainly due to a lower net allowance for impairment on financing and advances.
The net allowance charged for impairment on financing and advances of RM79.6 million for 9MFY21 was lower by RM132.7 million than RM212.2 million for the same period last year.
It said that higher pre-emptive impairment provision was made in management overlay for the same period of the previous year in anticipation of worsening economic conditions due to the Covid-19 pandemic.
Meanwhile, the group's total assets grew year-on-year (y-o-y) by 9.8% to stand at RM76.3 billion at the end of Sept 30, 2021. 
Its gross financing grew by 3.9% y-o-y to RM56.9 billion, while customer deposits and investment accounts stood at RM64.4 billion with a y-o-y increase of RM5.5 billion or 9.3%.
The composition of current and saving accounts and transactional investment accounts (CASATIA) was at a healthy level of 39% of total customer deposits and investment accounts.
On the other hand, its gross impaired financing ratio as of Sept 30, 2021 was 0.68%, compared with 0.6% at the end of September 2020.
As of Sept 30, 2021, the group's total capital ratio remained strong at 19.9%.
BIMB Holdings Bhd chief executive officer Mohd Muazzam Mohamed said the Covid-19 pandemic and its resulting challenges continued to feature prominently in all sectors.
"Risks to financial stability remained relatively well contained. In addition, banks made reasonable pre-emptive allowances in FY20, and credit risk has been adequately priced in by the market," he said.
As of early November, the bank had approved applications from over 142,000 customers involving over RM20.8 billion through the PEMULIH Repayment Assistance Programme from July 7, 2021 to Jan 31, 2022.
"Analysts have maintained their industry's 2021 financing growth target of 3% to 4% for now as the impending recovery from easing restrictions will translate positively into demand for financing in 4QFY21. While the average lending rate fell by three basis points, the net profit margin is expected to be under slight pressure given the brewing deposit rivalry and limited scope for further current account saving account (CASA) expansion," he added.
He said 2022 will be a critical year for Malaysia, not just from an economic recovery perspective but also the healing of industries, livelihoods and employment, particularly to those most adversely affected by the pandemic.
"As the bank that advances prosperity for all by providing solutions that deliver value to our stakeholders, BIMB is currently embarking on its five-year business strategic plan (LEAP25). The mission is to chart the group's future in becoming the champion [of] syariah-environmental, social and governance total financing solutions with digital banking and social finance leadership," he added.
At Monday's noon break, Bank Islam shares fell five sen or 1.68% to RM2.92, valuing the group at RM6.17 billion.