This article first appeared in The Edge Malaysia Weekly, on August 12, 2019 - August 18, 2019.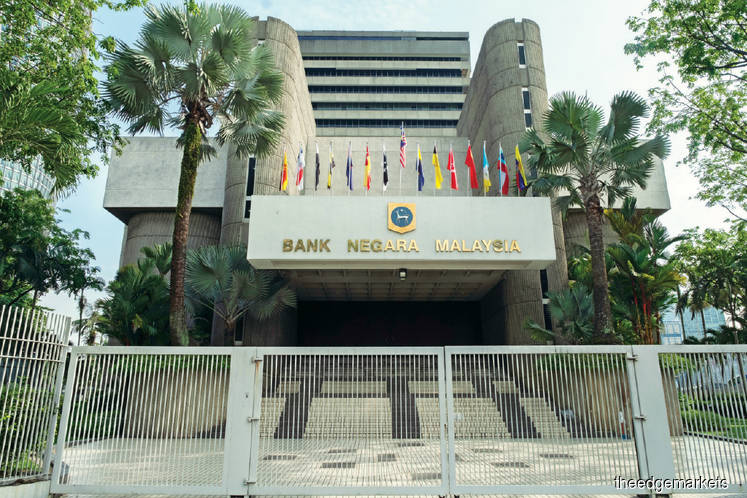 On May 7, Bank Negara lowered the OPR by 25 bps to 3%. Photo by Bloomberg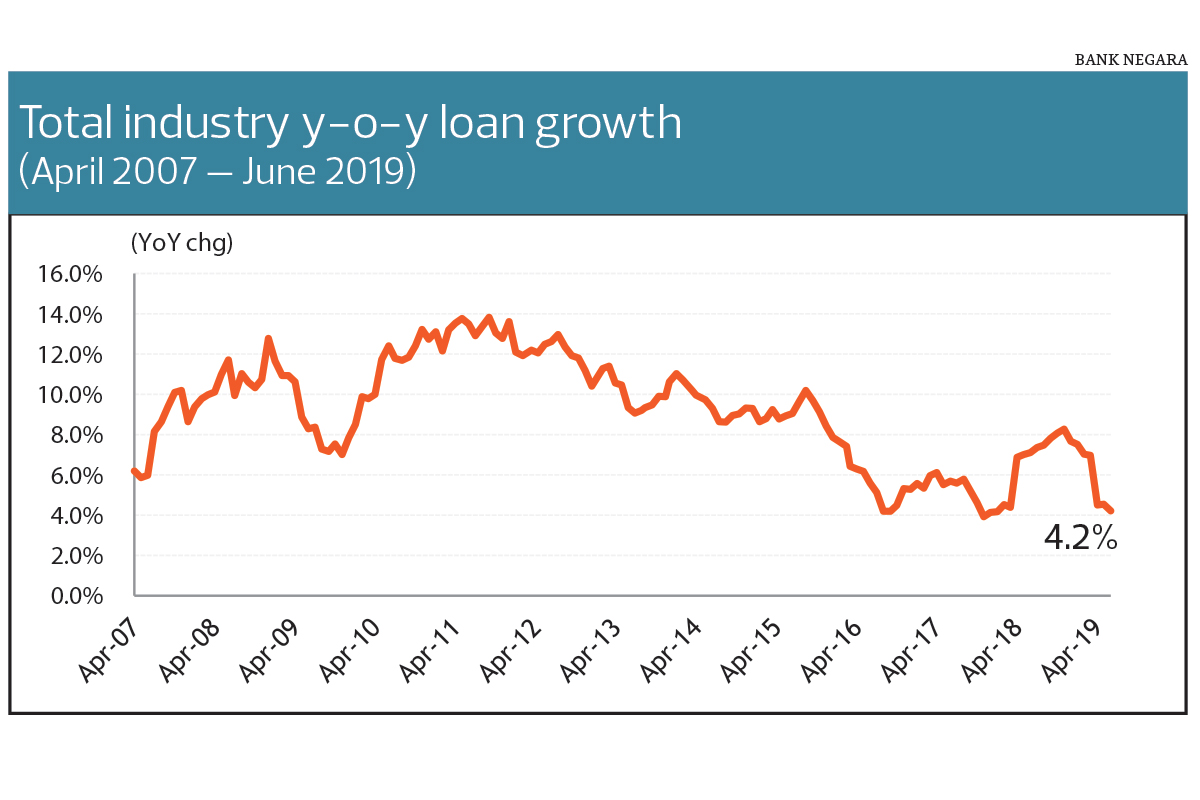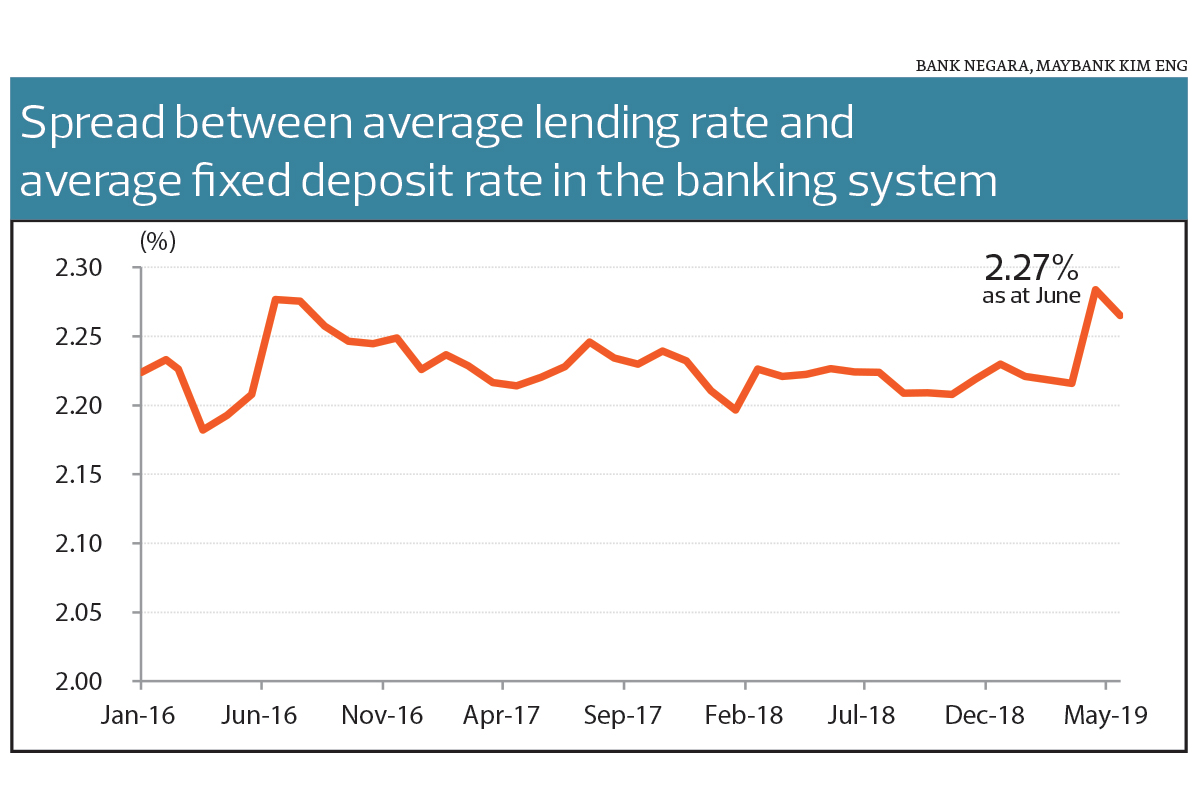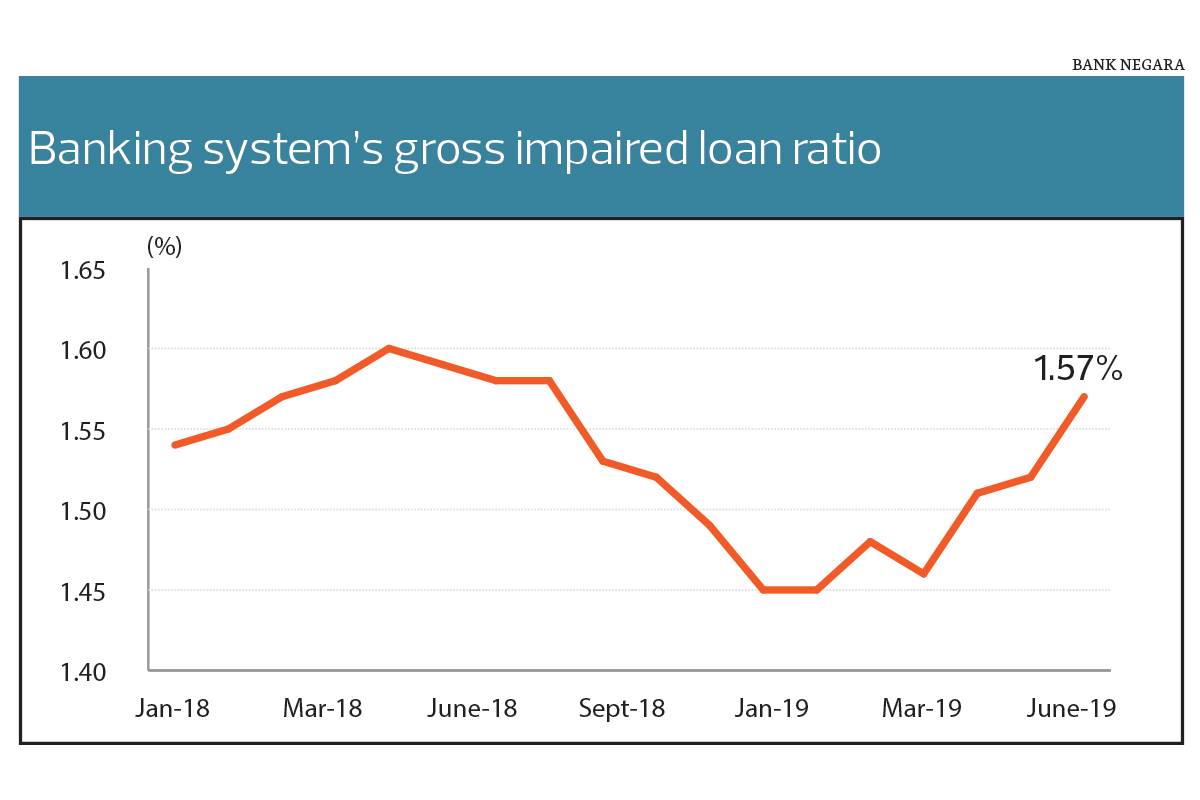 SECOND-quarter bank earnings are projected to be lacklustre owing to slower loan growth and compressed margins following Bank Negara Malaysia's decision to cut the overnight policy rate (OPR) in May.
"Our biggest concern in the upcoming reporting season is, to what extent the rate cut impacted the banks' net interest margin (NIM). NIM would have surely come down, quarter on quarter. At best, we expect the banking sector's 2Q2019 core earnings — minus any one-offs — to stay flat from the RM6.3 billion seen in both 1Q2019 and 2Q2018," says a banking analyst from a local research house.
The RM6.3 billion he cited is the cumulative core earnings of all the banks listed on Bursa Malaysia, with the exception of MBSB Bank Bhd.
On May 7, Bank Negara lowered the OPR by 25 basis points (bps) to 3% — its first rate decrease since July 2016. The move was expected to hurt NIMs over the short term given the immediate downward repricing of the banks' floating-rate loans and a lag in the repricing of fixed-rate deposits.
The two banks seen most affected by the rate cut are Alliance Bank Malaysia Bhd and BIMB Holdings Bhd, as they have the highest proportion of floating-rate loans.
Bank Negara's latest statistics on the banking system indicated two key trends that analysts say will likely be reflected in the listed banks' 2Q financial performance — a slowdown in loan growth and a deterio­ration in asset quality.
The banking system's loan growth slowed to 4.2% year on year in June from 4.5% in May, while the gross impaired loan (GIL) ratio — an indicator of asset quality — rose to 1.57% as at end-June from 1.53% a month earlier.
With capital markets still weak, it is unlikely that banks can count on non-interest income to counter a trend of falling revenue. Hence, bank revenues are expected to continue to fall in 2Q, as they have in the last three quarters, say analysts. And with limited room for banks to further reduce costs — in fact, expenses are creeping up for some — it will be tough for banks to show improvement in earnings.
"It has been a tough ride for banks. The likelihood of any upside surprise in the banks' 2Q results is remote. The downside surprise could be higher-than-expected provisioning [for impaired loans]," the banking analyst remarks.
Generally, analysts are not expecting a strong increase in bank provisioning in 2Q. All eyes will be on Malayan Banking Bhd to see if it makes additional provisions for its exposure to financially distressed Singapore water treatment firm Hyflux Ltd. In 1Q, Maybank's earnings for the quarter came in below expectations mainly because of higher provisions due to a top-up in provisioning for Hyflux.
"Based on Maybank's guidance after the 1Q results, it does not expect to have to make more provisions for Hyflux, but this remains to be seen … we can't rule out the risk [of it doing so]," says one analyst.
In 1Q2019, banks reported earnings that were below market expectations, with all banking groups except Alliance Bank seeing a decline in NIM — an indicator of profitability — due mainly to higher funding costs. On a q-o-q basis, only three — CIMB Group Holdings Bhd, Public Bank Bhd and Alliance Bank — saw their NIM improve but the improvement is likely unsustainable, say analysts.
The worst is not over for banks as there are growing concerns over the outlook for global economic growth, given the prolonged and recently escalated trade dispute between the US and China. CIMB Group chief economist Donald Hanna said last week that Bank Negara may cut the OPR again in the next three to six months.
Last Wednesday, central banks in India, New Zealand and Thailand all announced larger-than-expected cuts to their key interest rates, signalling their concern over the growth outlook. The Reserve Bank of India cut rates by 35 bps while the Reserve Bank of New Zealand surprised with a solid 50 bps cut, twice the expected level. The Bank of Thailand, meanwhile, unexpectedly cut its rate by 25 bps for the first time since 2015.
These follow the US Federal Reserve's 25 bps cut in the benchmark interest rate last month — its first reduction in 11 years.
Given the uncertainties ahead, most analysts still have a "neutral" investment stance on the banking sector.
According to CGS-CIMB Research, there is a likelihood that the GIL ratio could reach a projected 1.8% by the end of the year, with risks coming from the property and oil and gas sectors, as well as companies negatively affected by the US-China trade tensions.
"We continue to rate banks as 'neutral', premised on the concerns over margin contraction (due to the cut in OPR and deposit competition) and an uptick in credit cost in 2019. On the flip side, banks' dividend yield is attractive at 4.2% for 2019. RHB Bank [Bhd] remains our top pick for the sector," the research house says in a July 31 report on the sector.
According to Bloomberg data, banking stocks with the most "buy" calls now are RHB Bank, CIMB Group, Maybank, Alliance Bank and BIMB Holdings.