This article first appeared in The Edge Financial Daily, on December 18, 2019.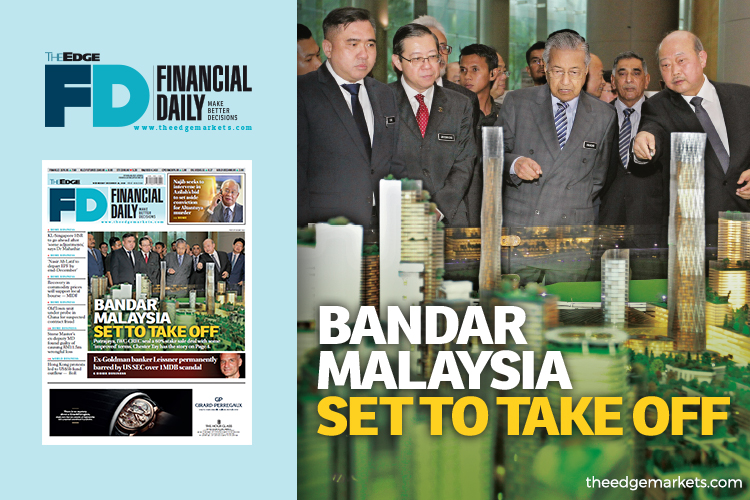 PUTRAJAYA: The massive 486-acre (196.68ha) Bandar Malaysia development, at the site of the former Royal Malaysian Air Force base in Jalan Sungai Besi, is now set to take off, following a share sale agreement and a shareholders' agreement that TRX City Sdn Bhd had signed with IWH-CREC Sdn Bhd.
TRX City is wholly owned by the Minister of Finance Inc, and IWH-CREC a joint venture between Iskandar Waterfront Holdings Sdn BHd (IWH) and China Railway Engineering Corp (M) Sdn Bhd (CREC).
With the agreements inked, IWC-CREC will take up a 60% stake in Bandar Malaysia Sdn Bhd, the project's master developer, from TRX City for RM7.41 billion. This consideration includes its commitment to take up a 60% obligation on a RM1.6 billion sukuk issued by Bandar Malaysia.
The project's expected gross development value is about RM140 billion, while the parcel for the development is estimated at RM12.35 billion, according to a statement on frequently asked questions about the project provided by finance ministry officials at the signing ceremony witnessed by Prime Minister Tun Dr Mahathir Mohamad,  Finance Minister Lim Guan Eng, Economic Affairs Minister Datuk Seri Mohamed Azmin Ali and Transport Minister Anthony Loke yesterday.
A larger advance payment, a bigger park and more affordable homes
Guan Eng said the revived deal has several "improved" terms compared with the original agreement signed on Dec 31, 2015, such as a   larger advance payment of RM1.24 billion that IWC-CREC now has to pay, following the addition of RM500 million as an advance to the original deposit of RM741 million.
In addition, the staggered payment duration has been shortened from seven years to three years, Guan Eng said in his speech at the event.
Bandar Malaysia will also have 85 acres of park and recreational area under the new agreement, in contrast to the original standard requirement of just 10% of the parcel allocated for this purpose, translating into 48.6 acres.
The 85 acres make up what will be known as the "People's Park", comprising a large park contiguous with several satellite parks, he said.
The government has also doubled the number of affordable homes within the project to 10,000 units, he said.
"Under the new deal, Bandar Malaysia will be more rakyat-centric, as opposed to [that] previously under 1MDB (1Malaysia Development Bhd), when the deal was driven by the 1MDB Rationalisation Plan aimed at paying off 1MDB's debts," Guan Eng said.
The announcement confirms a report by theedgemarkets.com on Saturday (Dec 14), which said that apart from the addition of more affordable homes and a massive park, IWH-CREC will pay RM1.24 billion as advance payment.
Meanwhile, Guan Eng said the project will also feature greater bumiputera participation, while the use of Malaysian construction materials and technologies, and local talents, will be prioritised.
As for dividends from the sale of parcels of land within the project later, Guan Eng said they will be distributed equally between IWH-CREC and TRX City under the new agreement, versus it being split based on shareholding under the original deal with 60% for IWC-CREC and 40% for TRX City.
Alibaba, Huawei indicated interest in having their hubs here
On the stake sale's completion, IWH-CREC will own a 60% stake in the Bandar Malaysia project, and the ministry of finance the remaining 40%.
With IWH-CREC being a 60:40 joint venture between IWH and China's state-owned enterprise CREC, CREC will have an effective stake of 24% in the project.
Tan Sri Lim Kang Hoo controls a 63% stake in IWH, and Johor state government's Kumpulan Prasarana Rakyat Johor Sdn Bhd the remaining 37%.
Bandar Malaysia's revival is an integral part of fostering long-term bilateral relations between Malaysia and China, he said.
"Once completed, Bandar Malaysia will attract major multinational corporations (MNCs) and Fortune 500 companies to relocate their operations here. Alibaba and Huawei had shown interest in opening their hubs here in Bandar Malaysia.  This is in line with the government's policy of attracting MNCs to Malaysia to invest in high-tech and high-value sectors and raise Malaysia's productivity and competitiveness amid a challenging global environment," he said.
In April this year, the government announced the project would be reinstated with some amendments to the original deal. It was shelved in May 2017 by the previous administration due to what the latter said was the purchasing company's failure to settle payments for the stake sale.