This article first appeared in The Edge Financial Daily, on July 9, 2019.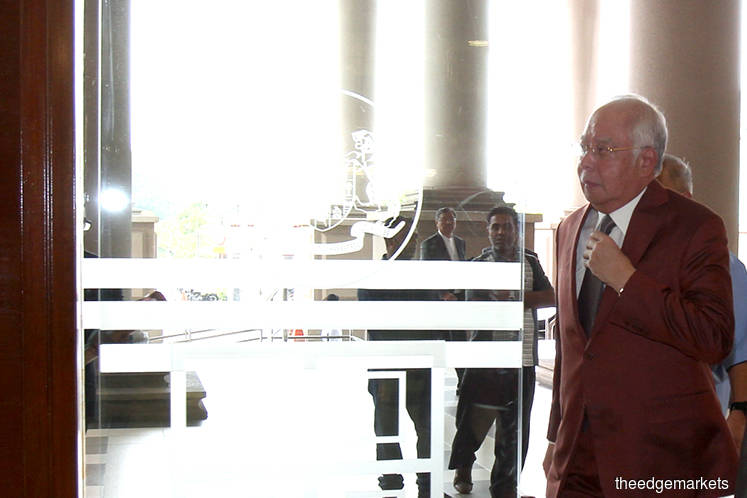 KUALA LUMPUR: A claim filed by the government seeking RM1.69 billion in additional taxes from former premier Datuk Seri Najib Razak for 2011 to 2017, has been set for further case management on July 25, while waiting for Najib to file his memorandum of appearance (MoA) in the High Court.
Najib, served with a writ of summons on July 4, must file the MoA if he wishes to contest the government's claim, to inform the court and the government of his intention to do so.
The case was called for case management yesterday before High Court deputy registrar Erry Shahriman Nor Aripin. It is said the case will be heard before High Court Judge Datuk Ahmad Bache.
The government, through the Inland Revenue Board (IRB), filed the claim against Najib after he failed to respond to IRB's initial inquiry regarding additional tax assessments of RM1.47 billion in March this year, resulting in the total tax bill rising 10% or RM147 million in April, followed by a compounded 5% or RM80 million increase in May.
Najib was named the sole defendant in the writ of summons filed on June 25.
The Edge Financial Daily first broke the news on April 1 that the IRB had slapped Najib with an extra tax bill for the assessment years of 2011 to 2017 to about RM1.5 billion. Last Friday, the daily wrote that the additional tax bill has risen to RM1.69 billion, citing court documents sighted.
This comes after Najib failed to respond to IRB's initial inquiry regarding additional tax assessments of RM1.47 billion in March, resulting in a 10% hike of RM147 million in April and another compounded 5% hike of RM80 million in May.
"The additional assessment notice was sent via registered postage to the defendant on March 25, 2019 to his last known address by the plaintiff (government) at the time. The additional assessment notice was never returned to the plaintiff," the writ stated.
The first 10% increase came in line with Section 103 of the Income Tax Act 1967 after Najib failed to pay the initial RM1.47 billion within 30 days from the date the initial assessment notice was delivered.
Subsequently, Najib failed to settle the renewed sum within 60 days under the same act, resulting in the compounded 5% hike.
"The plaintiff has the right to recoup the income tax that is still owed, as with the increases imposed on the defendant as a tax which is due to be paid," said the writ.
The RM1.69 billion claim comes together with a 5% interest per annum from the day of judgement until the sum is satisfied, together with costs, and any relief deemed appropriate by the court.