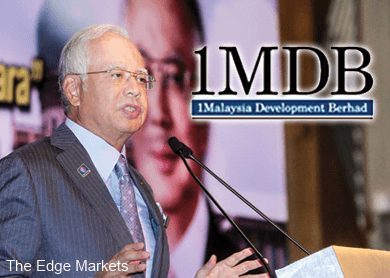 KUALA LUMPUR: Finance Minister Datuk Seri Najib Razak has disclosed that the US$1.1 billion balance claimed by 1Malaysia Development Bhd (1MDB)  from its investments in Cayman Islands is being kept in the form of cash in a bank in Singapore.
"The balance of 1MDB's investments managed by Cayman Monetary Authority of US$1.103 billion has been redeemed in the form of cash and is still kept in US dollar currency in BSI Bank Limited Singapore (BSI Singapore).
"The decision to use a bank in Singapore is to facilitate withdrawal transactions since approval is needed from Bank Negara Malaysia (BNM) for every transaction conducted above RM50 million," Najib who is also the prime minister and adviser to 1MDB said in reply to an oral question from Petaling Jaya Utara MP Tony Pua in parliament today.
To recap, 1MDB's President Arul Kanda Kandasamy had been quoted as saying that the US$1.1 billion in funds would be needed to service interest payments on US dollar-denominated debts.
In an official statement by 1MDB last month, Arul Kanda confirmed that 1MDB had redeemed in full a US$2.318 billion investment in a Cayman Islands registered fund.
1MDB had previously redeemed US$1.215 billion, representing 60% of the funds invested, and has now redeemed an additional US$1.103 billion, representing the remaining balance of the total US$2.318 billion that was originally invested.