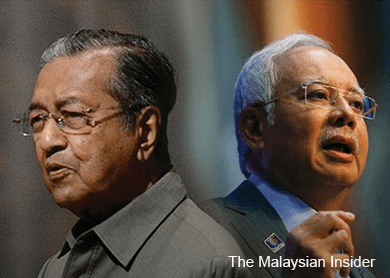 KUALA LUMPUR: Prime Minister Datuk Seri Najib Razak took to his website yesterday, the second time in 10 days, to refute allegations from Tun Dr Mahathir Mohamad, saying that most of the accusations against him were "unfair and misleading".
Insisting that he accepted the criticism with an "open mind", Najib told the former prime minister to back off, saying although elders of the nation should be respected, it was time that they let the next generation run the country.
"Malaysia is a democracy. I was elected by Umno, and by the people of this country, to lead them. Therefore, I have their mandate, and I am answerable to the party and the people, not to any one individual," Najib said in his blog, najibrazak.com.
"At the next general election and party elections, the party and the rakyat can exercise their democratic rights through the ballot box. Furthermore, many of Tun's (Dr Mahathir) criticism are unfair or misleading."
In a strongly-worded posting to counter Dr Mahathir's allegations against him, Najib said the former prime minister should first investigate if what he heard from people around him were true before speaking about them.
"He knows well that many allegations were about what happened under his administration. And always Tun's answer was: 'Where is the proof?' He should be applying the same test to what he hears."
Najib listed down several of Dr Mahathir's accusations that had been hurled at him and his administration, including the much-criticised goods and services tax (GST), his wife's (Datin Seri Rosmah Mansor) alleged purchase of a multimillion-ringgit ring, the purchase of government jets, and the 1Malaysia Development Bhd (1MDB) debacle.
On Dr Mahathir's opposition to the GST, Najib said that the idea of the consumption tax was first mooted during Dr Mahathir's administration.
Najib also took a swipe at Dr Mahathir for echoing "malicious rumours" about his wife and family.
Dr Mahathir, he said, had regurgitated a false smear, started by the opposition during the last general election, that Rosmah had bought a ring for RM24 million. That rumour, Najib said, was a lie, noting that the company that owned the ring had already clarified that Rosmah never bought the ring.
On the purchase of a replacement government jet, Najib said that the Yang di-Pertuan Agong was the first to use the aircraft for a trip to Langkawi. Dr Mahathir had previously called Najib a liar, claiming that the Agong did not use the plane.
Najib also noted that Dr Mahathir had used 1MDB's "challenges" to attack him, saying that some of these accusations had no grounding in reality.
"It is true that 1MDB is facing challenges, but not at the level being alleged. For instance, Tun's (Dr Mahathir) claim that I am responsible for a loss of RM42 billon on 1MDB's balance sheet," Najib said.
"This appears to be a deliberate twisting of the facts as 1MDB has not made a loss of this amount. This is the amount of its total debt, debt that is far exceeded by the company's assets of RM51 billion, as audited and confirmed by Deloitte. Most large companies around the world have high levels of debt; there is nothing unusual about this."
Najib also refuted Dr Mahathir's claims that he was avoiding answering issues surrounding 1MDB.
"I have gone beyond that — and instructed the Auditor-General to conduct an audit of 1MDB, the results of which will be presented to the bipartisan Public Accounts Committee. — The Malaysian Insider
This article first appeared in The Edge Financial Daily, on May 28, 2015.