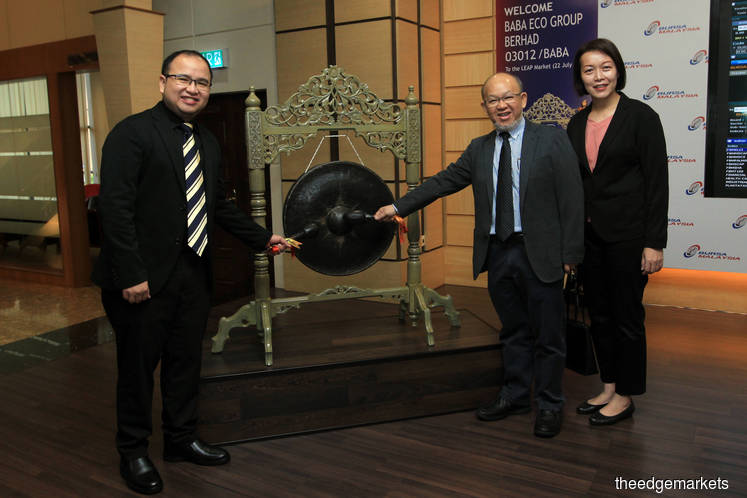 From left: Baba Eco Group Bhd executive director Leong Jyahao, Baba Eco managing director Leong Jyh Wen and Baba Eco executive director Joyce Lee at the group's listing ceremony this morning. (Photo by: Shahrin Yahya/The Edge)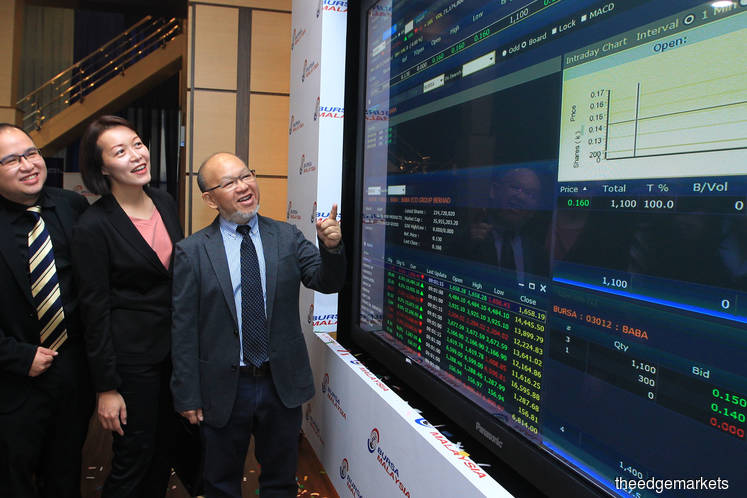 From left: Baba Eco Group Bhd executive director Leong Jyahao, Baba Eco executive director Joyce Lee and Baba Eco managing director Leong Jyh Wen looking at the Share Price Information Dissemination screen after the listing ceremony this morning. (Photo by: Shahrin Yahya/The Edge)
KUALA LUMPUR (July 22): Baba Eco Group Bhd's share price rose as much as three sen or 23% to 16 sen so far today on the gardening solutions provider's maiden trading day on Bursa Malaysia's LEAP Market. Baba shares were listed at 13 sen each.
At 9:29am, Baba shares were traded at 16 sen with 130,500 units transacted. Earlier, the stock opened at 16 sen with 110,000 shares traded.
Speaking to reporters at Baba's listing ceremony here today, executive director Leong Jyahao said the company intends "to further expand [its] overseas sales and marketing efforts" by establishing a physical presence in neighbouring countries including Thailand, Myanmar, Cambodia and Vietnam.
Leong said Baba's existing overseas markets include Australia, Japan, New Zealand and Saudi Arabia.
"We also intend to develop and introduce a new series of organic fertilisers and natural pesticides under the name 'Eco-Merchandise'," said Leong.
He said the company plans to collaborate with local universities or agro-microbial companies for research and development on competitive microbe strains.
According to Baba's information memorandum and Bursa filing, the company, in conjunction with its listing, had earlier proposed to undertake an excluded issue of 40.6 million new shares to sophisticated investors at 13 sen each.
At 13 sen, Baba has a market capitalisation of 29.21 million based on its enlarged issued share capital of 224.72 million units.