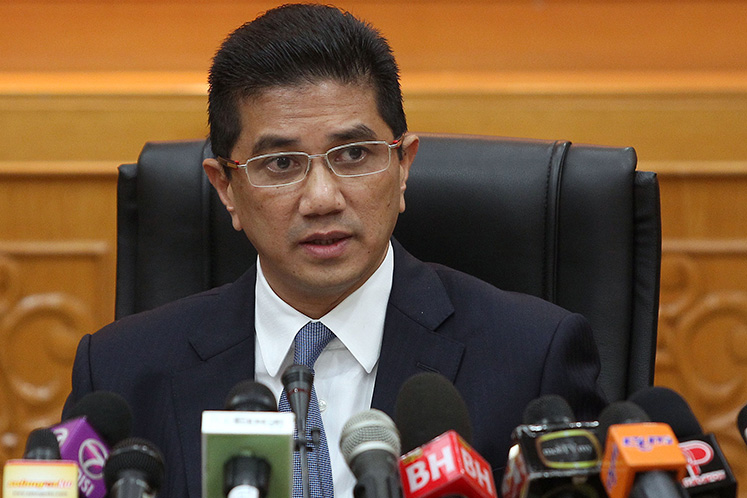 KUALA LUMPUR (Aug 30): Economic Affairs Minister Datuk Seri Mohamed Azmin Ali's meeting with Singapore Ministers on matters related to the Kuala Lumpur-Singapore High Speed Rail (HSR) was productive and promises a "very imminent win-win resolution", according to the Ministry.
In a press statement today, the Ministry said Mohamed Azmin's official visit to Singapore was completed this evening, after meeting with several Ministers of the Republic including Coordinating Minister for Infrastructure and Minister for Transport, Khaw Boon Wan, and a courtesy call to Prime Minister Lee Hsien Loong at The Istana.
"Datuk Seri Azmin met with the Coordinating Minister for Infrastructure and Minister for Transport Khaw Boon Wan on the KL-Singapore HSR project. It was a very productive meeting with the promise of a very imminent win-win resolution.
"PM Lee said he viewed positively the leadership of Tun Dr Mahathir and the approach taken by Malaysia in respect of fostering greater people-to-people exchanges.          
"He also expressed optimism of an imminent resolution to the HSR project and thanked Datuk Seri Azmin for the efforts made towards that end," read the statement.
Besides Lee and Khaw, Mohamed Azmin also met with Trade and Industry Minister Chan Chun Sing, where both shared "frank and fruitful talks" on leveraging on eath other's strengths in boosting economic growth and deepening Asean integration.
There was also engagement with Minister of Foreign Affairs Dr Vivian Balakrishnan and Deputy Prime Minister and Coordinating Minister for National Security Teo Chee Hean, discussing geopolitical concerns and bilateral matters, it added.