This article first appeared in The Edge Financial Daily, on June 13, 2019.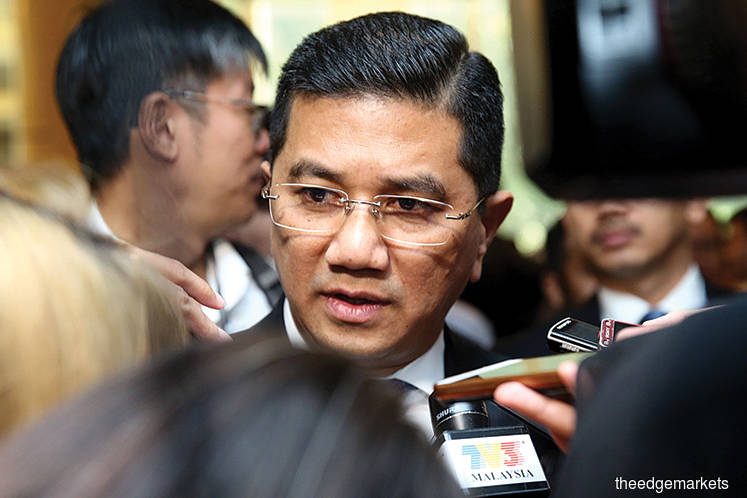 KUALA LUMPUR: Economic Affairs Minister Datuk Seri Mohamed Azmin Ali has denied that he was involved in gay sex captured in three video clips which have gone viral on social media since Tuesday.
In a statement, Azmin said it was a "nefarious plot" to assassinate his reputation and character, and an attempt to destroy his political career.
"Judging from recent political developments, this is clearly the latest in a series of concerted attempts over the past few months to vilify me, which includes intimidation against the safety of my family and I in the final week of Ramadan, and vile and baseless accusations of corruption," said the minister.
Condemning the development as "gutter politics", Azmin said he had contacted his lawyers to take appropriate legal action against those who have made the claim against him.
"I will not submit to these cowardly acts and heinous attempts to distract the public from the pressing concerns of the nation and the successes of the ministry of economic affairs in the planning and implementation of national development policies that are sustainable and inclusive," said Azmin.
Earlier yesterday, an individual named Haziq Aziz made "a sworn confession" that he was one of the parties depicted in the video, claiming the other party was a federal minister.
Haziq said the video was filmed without his consent, and that it was taken at Hotel Four Points in Sandakan on May 11 during the Sandakan by-election.
In connection with the issue, UEM Group Bhd has denied its involvement in an alleged transfer of about RM3.1 million to a cabinet minister.
"UEM Group would like to state on record that it does not have an account at Maybank's KL main branch, neither does it have an account with the alleged account number as claimed by various social media sites," it said in a statement.
To clear its name, the group said it had lodged a police report regarding the allegation, adding that it is ready to cooperate with relevant authorities.
A series of pictures have been circulating on social media implicating UEM of transferring funds from a Maybank account amounting to US$741,440 (around RM3.1 million) to Azmin's alleged Deustche Bank account in December 2017.
Bernama reported that the police will be conducting an investigation into the video clips, quoting Deputy Inspector-General of Police Datuk Mazlan Mansor.
"We are investigating the authenticity of the video clips," he told Bernama, saying that a police report was launched on Tuesday.
Newly-minted Malaysian Anti-Corruption Commission (MACC) Chief Commissioner Latheefa Koya said the commission would be investigating the report lodged by Umno Supreme Council member Datuk Lokman Nor Adam against a senior cabinet minister.
"The investigation in this case will be handled under my deputy and his investigation team," Latheefa said in a statement.
"I will not be involved in any way, whether in investigations or decision-making," she said.
Latheefa was a PKR member and had once held the post of central committee member before resigning the party post to take up the position of MACC chief commissioner.
Asked for his comments on the confession video, former prime minister Datuk Seri Najib Razak told journalists not to query him.
"Why ask me? Don't ask me; ask the person concerned. Why ask me?" he said when asked after the SRC International Sdn Bhd trial yesterday.
"I'm not responsible for it," he said.