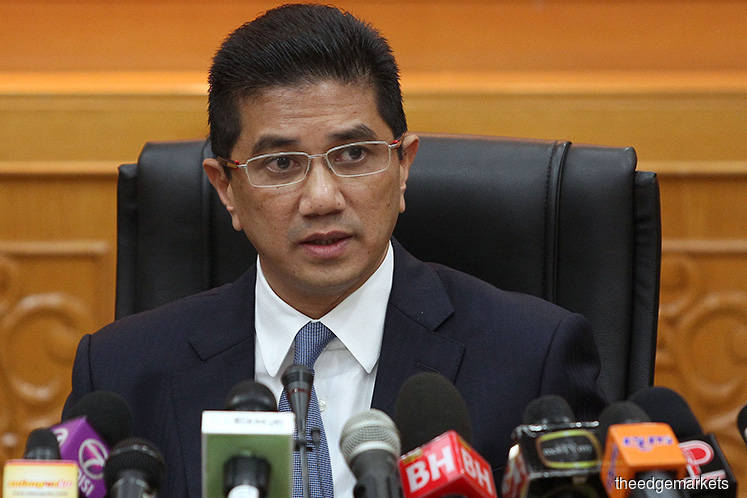 KUALA LUMPUR (March 11): Economic Affairs Minister Datuk Seri Mohamed Azmin Ali will request sovereign wealth fund Khazanah Nasional Bhd to review Malaysia Airlines Bhd's (MAB) aircraft purchase agreement with Boeing Co. Khazanah is the sole shareholder of MAB. 
This follows the crash of a Boeing 737 Max-8 plane belonging to Ethiopian Airlines shortly after take-off yesterday (March 10), killing all 149 passengers onboard. Another plane of the same model was involved in a similar mishap less than five months ago, when a Lion Air flight crashed into the sea near Indonesia, with nearly 190 people on board.  
Azmin said that the agreement between MAB and Boeing must be reviewed in light of safety concerns arising from the crashes, involving planes manufactured by the company.  
"Certainly the management of Khazanah has to look into this matter urgently, to ensure that the safety of the airline is paramount. They have to revisit whatever agreements that they had in the past," he told reporters at the Parliament lobby today. 
In 2016, the national carrier had ordered 25 737 MAXs. In the following year, Boeing and Malaysia Airlines had announced a decision to convert 10 of the national airline's current 737 MAXs on order to 737 MAX 10s.  MAB does not have any 737 MAXs in its fleet currently; however, it will take delivery of 25 of 737 MAXs starting next year.
In 2017, MAB also signed a high profile Memorandum of Understanding (MoU) with Boeing to acquire 787 jets valued at US$2.25b at list prices during a visit to Washington by former prime minister Datuk Seri Najib Razak. 
The MoU includes Boeing's Global Fleet Care service to maintain the national carrier's current and future Boeing aircraft. 
Following yesterday's crash, the Chinese government has grounded all flights involving the Boeing 737 Max-8 jets.