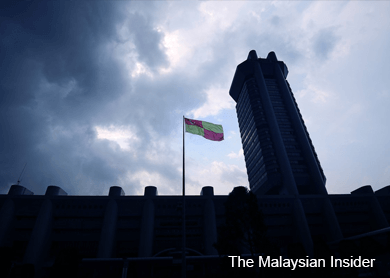 SHAH ALAM: The collapse of Pakatan Rakyat is bound to have an impact on the Selangor state government and is putting pressure on Menteri Besar Mohamed Azmin Ali, while exco members from PAS face the possibility of being sacked.
The political bureau of PKR met on Tuesday night to discuss Pakatan's demise. Although no official announcement was made after the meeting, The Malaysian Insider understands that discussions were centred on collaboration with DAP.
PKR is the lynchpin party of the seven-year-old opposition pact, now struggling to keep together after DAP went ahead to declare that the pact had ended since PAS' decision to cut ties with it.
A source said Mohamed Azmin did not attend the meeting as the PKR deputy president was away in Kelantan for work.
A few considerations are being looked into before PKR comes out and makes a stand on the fate of the coalition.
One scenario might see PAS exco members being sacked or asked to resign voluntarily.
Mohamed Azmin is under pressure to make a decision, more so because it is said that PAS president Datuk Seri Abdul Hadi Awang was among those who supported his candidacy for Selangor menteri besar over PKR president Datuk Seri Dr Wan Azizah Wan Ismail during the imbroglio last year.
"There is no statement from Azmin; negotiations are still ongoing.
"In the current climate, Azmin is in a [tight] spot and whatever choice he makes will have an impact on the party and also the state government," the source added.
But circumstances might force Mohamed Azmin to sack the three PAS exco members as DAP could pressure him to do so.
Although DAP has not openly called for it while waiting for PKR to make an announcement, the same outcome has already transpired in Penang, when Chief Minister Lim Guan Eng said PAS representatives in the DAP-led state government and its agencies should quit.
A PAS member who was an information officer at the Chief Minister's Office was removed, and the PAS whip in the Penang Island City Council has resigned. Separately and on their own initiative, former PAS leaders Datuk Dr Mujahid Yusof Rawa and Mohamad Sabu quit their Penang government positions soon after PAS adopted a motion without debate to cut ties with DAP at its muktamar (general assembly) earlier this month.
All this has turned up the heat on Mohamed Azmin to make a choice: If he is for DAP, he needs to sack his PAS exco members.
But according to a source, forming a state government with DAP will not be an easy task.
It is understood that the palace is closely watching developments on the state's political scene.
There might be mediation if the state government is formed by just PKR and DAP, which will cause the state exco line-up to cease having a Malay majority, the source said.
As such, the advice of political observer and constitutional expert Dr Abdul Aziz Bari is for state elections to be held as the best way to end the impasse faced by PAS, DAP and PKR. — The Malaysian Insider
This article first appeared in The Edge Financial Daily, on June 18, 2015.