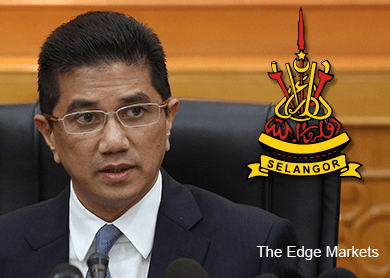 KUALA LUMPUR (Feb 27): The Selangor state government will not reconsider its decision to cancel the proposed Kinrara-Damansara Expressway (Kidex), said Selangor Menteri Besar Azmin Ali.
The proposed elevated highway project will not be taken into account during preparation for the draft of Selangor's State Structural Plan 2035, he said in a statement today.
This latest development in the controversial Kidex project puts a cork in efforts by Putrajaya and Works Minister Datuk Seri Fadillah Yusof to seek a solution to the issue, after the Selangor government decided to cancel the conditional approvals for the RM2.42 billion project on Feb 17.
The project was called off by Selangor on grounds that the highway contractor for Kidex had failed to comply with conditions. Kidex is one of the six highways planned by the Works Ministry.
"The state government has directed the Selangor's Department of Town and Country Planning, that all matters relating to the proposed development of Kidex, is not to be taken into account during the preparation of the draft for the Selangor State Structural Plan 2035.
"The publicity hearing meeting on the results feedback report study with regards to the Kidex project that was set on March 10, 2015, is also cancelled. The hearing on others, however, will continue," said Azmin in the statement.
He noted that the proposed Kidex was one of the projects being included in the study for the state's structure plan, after it was submitted by the federal government through the Malaysian Highway Authority (LLM).
However he noted that a decision was made by the Selangor state executive council on Feb 25, 2015, not to consider it, but cancel the construction of the proposed Kidex.
"The decision is consistent with the establishment of the state government to take a decisive action against the developer's failure to meet the conditions that have been set to ensure the welfare of the people of Selangor," he added.
To recap, Azmin had earlier announced that the concessionaire, Kidex Sdn Bhd, had failed to fulfill three special conditions set by the state government, which is the independent traffic assessment, social impact assessment and environmental impact assessment by the Feb 14 deadline.
But two days after Selangor made the decision to cancel the project, Fadillah had come to defend the concessionaire, saying that all processes, procedures and prerequisites concerning the project had been met and submitted to the Petaling Jaya City Council (MBPJ) and the Selangor Economic Action Council.
He had also said that the concessionaire had received a conditional approval from the state government on Feb 23, 2012.
Fadillah had also pointed out that the Traffic Impact Assessment, Social Impact Assessment and Environmental Impact Assessment had been submitted on July 7, 2014.