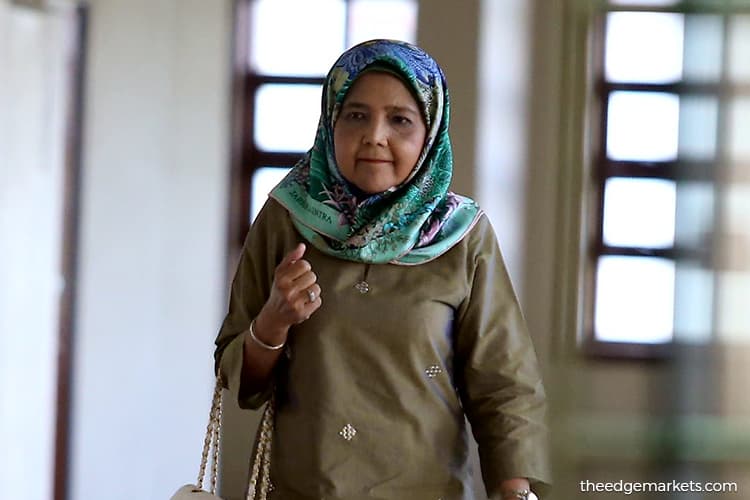 Prosecution witness no. 38: Former KWAP CEO Datuk Azian Mohd Noh. Photo by Mohd Suhaimi Mohamed Yusuf/The Edge
KUALA LUMPUR (June 10): Former Pensioners Trust Fund (KWAP) CEO Datuk Azian Mohd Noh said the former prime minister and finance minister Datuk Seri Najib Razak was her "ultimate boss", thus she cannot say that there is no influence over KWAP's decision to approve loans to SRC International Sdn Bhd.
The 66-year-old told the High Court today that the word compulsion was used in reference to the SRC's RM3.95 billion loan application letter dated June 3, 2011, where Najib made a note on supporting SRC's loan, was no legal notation for compulsion.
Azian, however, testified that she cannot say that the note has no influence as the annotation in the letter came from Najib, who is also responsible for KWAP.
"The letter came from my ultimate boss (Najib) and I cannot deny that there was any influence," she said.
When re-examined by deputy public prosecutor Datuk Ishak Yusoff, the prosecution's 38th witness said Najib still wielded a certain degree of influence, given that he was the finance minister whose ministry owned SRC.
Najib's lead counsel Tan Sri Muhammad Shafee Abudllah continued to question Azian on whether she was compelled or influenced to approve the loan.
Shafee: Was this influence self-induced by you?
Azian: The question was whether I was compelled or influenced. I do not think this is a strange reaction if they get a request from their superior.
Shafee: Is it because of the hierarchical relationship?
Azian: Yes.
Shafee: Would you have made a wrong decision based on that?
Azian: It has to do with the fiduciary duty we facilitate in approving the loan.
Shafee: Neither you as a responsible CEO would make a decision based on the hierarchical influence?
Azian: Whatever influences that I perceive, I would not do something that would breach any law or any Act.
Shafee: Not breach any law or any Act. I think that's good enough, thank you very much Datuk.
Earlier, she also testified that the Finance Ministry's advice for SRC to get additional financing from KWAP in 2012 was not a direction.
She disagreed that the words articulated in her witness statement which reads: "In my experience in working with KWAP, both loans to SRC totalling RM4 billion were among the biggest loans agreed to by KWAP", were the same uttered by the prosecution's 34th and 35th witnesses, Dr Amirah Muhamad Nor and Azlida Mazni Arshad respectively.
To recap, before the Hari Raya break, Azian had testified that a total of RM4 billion loans were given to SRC in August 2011 and March 2012 despite the fact that the application did not meet the requirement of KWAP's investment policy, or that the fund was not obliged or requested to approve the loan.
See also: Ex-SRC chairman: Najib directed bulk of RM2b funds from KWAP to be transferred overseas
See also: Ex-SRC chairman: Corporate governance issues made me quit