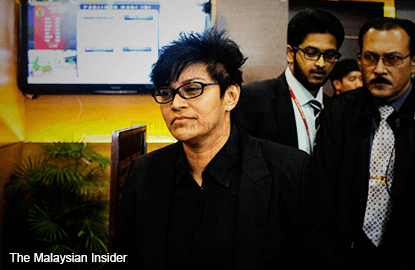 (Dec 3): Prime Minister Datuk Seri Najib Razak will not personally answer queries in Parliament today on the RM2.6 billion deposited into his bank accounts in early 2013, sources told The Malaysian Insider.
Instead, that task is believed to have been given to Minister in the Prime Minister's Department Datuk Seri Azalina Othman.
The Wall Street Journal (WSJ) reported in July that Malaysian investigators had traced hundreds of millions of dollars of deposits into Najib's personal bank accounts after the movement of cash among agencies, banks and companies linked to state investment firm 1Malaysia Development Bhd (1MDB).
After the WSJ exposé, there has been a clamour for the prime minister to explain where he got the money from and what it was used for.
The Malaysian Anti-Corruption Agency (MACC) had said the money in Najib's account was a donor contribution that originated from the Middle East.
The prime minister was supposed to answer those questions in Parliament today, more than five months after the WSJ exposé, but critics argued that even if he turned up, there will not be enough time to answer all queries.
Azalina had previously said that the issue would be answered during question time but it was noted that there will be little chance for the MPs to seek clarifications on any explanations given, as today is the last day of the Parliament sitting.
"If the prime minister answers today, there will be continuous questions. Don't you think it is fairer to accumulate all the questions on the last day?" she reportedly had said.
"Whether the prime minister will answer or anyone in the Prime Minister's Department, it is still the prerogative of the prime minister."
Najib's chief critic, Tun Dr Mahathir Mohamad, had also rubbished the claim that the money was a donation from the Middle East, saying it was "bullshit".
"Arabs are generous, but not that generous. I could not raise even a single dollar from them for the Malaysian International Islamic University or for the Oxford Islamic Centre.
"This claim that Arabs donated billions is what people describe as hogwash or bullshit. Certainly I don't believe it and neither can the majority of Malaysians if we go by the comments on social media. The world had a good laugh," Dr Mahathir wrote in his blog.
Another critic, former deputy prime minister Tan Sri Muhyiddin Yassin was removed from Cabinet after he had openly questioned Najib about the RM2.6 billion.
On the day he was sacked, Muhyiddin had reportedly said in a leaked video, that Najib had admitted that RM2.6 billion was transferred into his account.
In the video, Muhyiddin appeared to be informing his guests at his home that he had confronted Najib on WSJ's report.
The Malaysian Insider had reported earlier today that MACC was set to record a statement from Najib today on the 1MDB subsidiary SRC International Sdn Bhd and the RM2.6 billion donation.
This latest development into the probe comes after MACC officers had, over the weekend, recorded statements from businessman Low Taek Jho (better known as Jho Low), and SRC International Sdn Bhd (SRC) director Datuk Suboh Md Yassin.
SRC was a subsidiary of 1MDB until it was placed directly under the Finance Ministry in 2012.
Last month, in an interview with The Malaysian Insider, Attorney-General Tan Sri Mohamed Apandi Ali had said that he had given the MACC until the end of this year to record Najib's statement on the RM2.6 billion, adding that the investigation into that controversial donation must also be wrapped up by then. – The Malaysian Insider