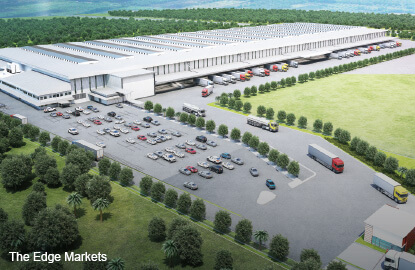 This article first appeared in
The Edge Financial Daily
, on October 10, 2016.
KUALA LUMPUR: Axis Real Estate Investment Trust (REIT) chief executive officer Leong Kit May knew that the trust has a "gold mine" waiting to be excavated in its 50-acre (20.23ha) property in Klang. So much so that the first development on this land can generate a net yield of nearly 10% over 10 years.
At a plot ratio of 60%, Leong said the land — dubbed Axis PDI Centre — can easily house one million sq ft of single-storey industrial properties.
The timing could not have been better for the Securities Commission Malaysia (SC) to propose a liberalisation of the country's REIT sector, where one of the major propositions is to let the managers develop greenfield properties.
As soon as Konsortium Logistik Bhd's lease for the PDI Centre expired in September last year, Axis REIT quickly worked on a plan to convert the pre-delivery centre into an industrial warehouse park, said Leong in an interview with The Edge Financial Daily.
Being aware that some investors have expressed concerns about Malaysian REITs entering the realm of property development, she said Axis REIT has adopted appropriate measures to mitigate the risks associated with property development.
In its announcement in August on the first phase of the PDI Centre's development, the trust said the 515,000 sq ft warehouse will take 18 months to construct. But Leong reckons the actual timeline should be shorter, so any potential delay in construction should have been taken into account.
"We cannot afford to have any risk, so we are putting a very comfortable timeline for the fund to develop this warehouse. When you look into some of the multistorey buildings, they need two to three years of construction.
"But here, [for] a single-storey warehouse, we are looking at an actual active construction period of just 12 months, so that we have a buffer on that," said Leong. "And even if there is any further delay in the construction, there are recourses in Axis REIT's contract with the contractor, such as [a] liquidated and ascertained damages clause, to mitigate earnings loss.
The contractor for the warehouse, Leong revealed, is AME Construction Sdn Bhd, "the pioneer in construction of industrial warehouse space in Iskandar Malaysia. It just completed the recent BMW parts distribution centre in Senai — with a similar size (as Axis REIT's upcoming warehouse development) — and [email protected]."
Once the warehouse is completed, a Nestle Bhd subsidiary will immediately move into the building. Thus, Leong said, the industrial warehouse will be a yielding property from the get-go.
In fact, Nestle signed a 10-year lease agreement with Axis REIT, with the option to renew it for two three-year terms. It is a triple net lease kind, said Leong, "where the maintenance and upkeeping are all taken care of by the tenant itself."
Consequently, she said the 7.6% annual rental yield stated in Axis REIT's stock exchange filing is almost as good as the net yield. The initial rental fee of RM19.22 million per annum will increase every three years, and Leong said it will result in an average yield of almost 10% throughout the lease agreement.
Industrial properties tend to have yields of 6% to 7%. Axis REIT managed to command a better yield because of the lower land cost.
"Remember, we bought the PDI Centre six years ago," she pointed out.
The 50-acre PDI Centre cost Axis REIT RM85 million then, or RM39.03 per sq ft. Nearby industrial land tracts, she said, would cost RM150 to RM200 per sq ft today.
All in all, Leong said Axis REIT has a plan to bring its assets under management to RM3 billion. No hard deadline has been imposed on the team to achieve that target, but she did say that now is a good time to buy properties.
"At the end of the day, we always say location is important. Tenants' credentials, too, and the potential upside to the property [are also important]," she said.
After years of lobbying by REIT managers, the SC this year proposed to allow them to develop their own properties as long as the development value does not exceed 15% of a REIT's total enlarged assets. The regulator is still seeking the public's feedback on the amendments to the REIT guidelines, but Leong is confident that investors are viewing these proposals positively.
"The REIT is matured enough; it has been in the market for 11 years. The managers have demonstrated the ability to retrofit and enhance assets, as Axis and other REITs have done. So, it's time for REITs to develop and create value for unitholders," she said.
With a cost of RM210.93 million, Axis REIT's development, Leong said, will take up nearly 10% of the total enlarged asset size.
Bloomberg data shows that analysts' average projection for Axis REIT's distribution per unit for the financial year ending Dec 31, 2017 is nine sen, which will give investors a yield of 5.23% based on last Friday's close of RM1.72.