This article first appeared in The Edge Financial Daily, on July 19, 2019.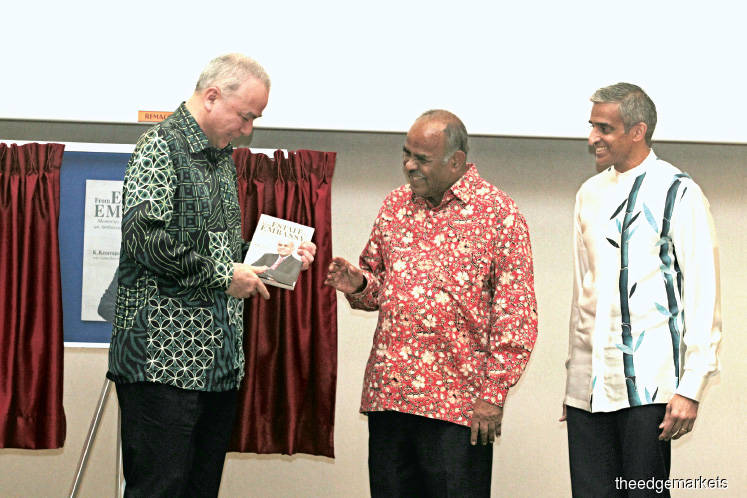 (From left) Sultan Nazrin, Kesavapany and Singapore Ambassador to Malaysia Vanu Gopala Menon at yesterday's book launch. Photo by Suhaimi Yusuf
KUALA LUMPUR: Former Singapore high commissioner to Malaysia K Kesavapany yesterday launched his memoir entitled From Estate To Embassy; Memories Of An Ambassador, which chronicles his journey from the Malayan estates in the 1930s to holding the most important position in the volatile bilateral relations between Singapore and Malaysia.
Sultan of Perak Sultan Nazrin Muizzuddin Shah graced the ceremony with his presence at the Singapore High Commission here, and presented Kesavapany with a token of appreciation for his significant contribution as a liaison between the two countries.
The book, with over 180 pages spanning 20 chapters, traces the life of the 82-year-old veteran diplomat, from growing up in the Malayan plantations to joining the Singapore civil service in the 1970s, and subsequently entering the foreign ministry, and continues with his sojourns around the world including Australia, Turkey, Switzerland, Jordan, Indonesia, Russia, the UK and Malaysia.
After retiring from his last post in the foreign ministry, he became director of the Institute of Southeast Asian Studies, before his retirement and continued social works.
Published by Marshall Cavendish Editions, the book was co-authored with Nanyang Technological University applied linguist Dr Anitha Devi Pillai.
Kesavapany, who served as the high commissioner to Malaysia from 1997 to 2002, shared his views on the future of Singapore-Malaysia relations during his speech at yesterday's event.
"Bound by geopolitical, economic and cultural ties, we are destined to be the proverbial Siamese twins. There will be moments of discomfort, but there will be loads of moments of shared happiness.
"It is important that we minimise the share of discomfort, and increase the share of happiness. I am comforted that the relationship will be intact in light of the recent bilateral developments," he said.
Kesavapany shared that Prime Minister Tun Dr Mahathir Mohamad will be attending Singapore's national day celebrations in the city state on Aug 9.
"Let us take heed of Tun Dr Mahathir's advice that whenever there are problems between states, they should be resolved through negotiations or arbitrations," he said.