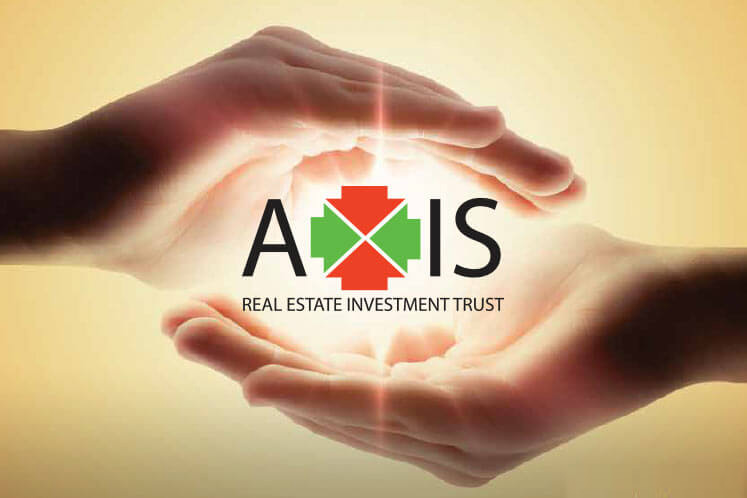 KUALA LUMPUR (Jan 22): Axis Real Estate Investment Trust's (Axis REIT) net property income (NPI) grew 50.3% to RM55.11 million in the fourth quarter ended Dec 31, 2018 (4QFY18), from RM36.67 million last year, on higher realised property income.
According to its filing with Bursa Malaysia, realised property income rose 41.5% to RM59.3 million in 4QFY18 from RM41.91 million a year ago.
During the quarter under review, Axis REIT completed the acquisition of Senawang Industrial Facility on Dec 5, 2018, which increased the size of its property portfolio to 45 as at Dec 31, 2018.
The trust's total revenue increased 40.2% to RM59.48 million from RM42.42 million a year ago, while its realised net income from operations grew 21.11% to RM36.06 million from RM22.45 million a year ago.
The trust announced a final income distribution per unit (DPU) of 2.45 sen per unit for FY18, payable on Feb 28. The payout represents a 99.8% payout from its realised income available for distribution generated from operations for the fourth quarter of 2018, said Axis REIT.
For the full year ended Dec 31, 2018, the REIT's NPI rose 25% to RM182.76 million versus RM146.2 million last year, while revenue grew 21.1% to RM204.36 million from RM168.75 million.
Its realised net income from operations was 24.9% higher at RM113.44 million, compared with the previous year's RM90.8 milliono.
Going forward, the manager of Axis REIT is optimistic that in view of the current satisfactory performance of the REIT's existing investment portfolio and its growth strategy to actively pursue quality acquisitions, it will be able to maintain its current performance for the coming FY19.
Axis REIT'S unit price closed unchanged at RM1.66 today, valuing the trust at RM2.05 billion. In the past year, the REIT's unit price has grown nearly 25%.