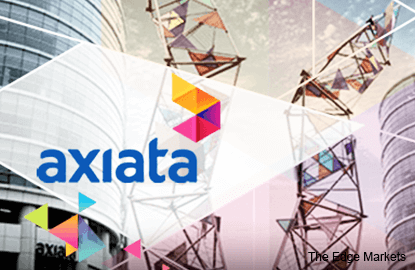 KUALA LUMPUR (Feb 17): Axiata Group Bhd reported a 22% drop in fourth quarter net profit from a year earlier as the mobile telecommunication network provider registered weaker numbers from its Malaysian and Sri Lanka units.
In a statement to Bursa Malaysia today, Axiata said net profit fell to RM467.24 million in the fourth quarter ended Dec 31, 2015 (4QFY15) from RM599.24 million. Revenue was higher at RM5.36 billion versus RM4.81 billion in 4QFY14.
"Group revenue increased by 11.4% to RM5,360.4 million in the current quarter from RM4,813.4 million recorded in the fourth quarter of 2014 due to higher revenues in Indonesia, Sri Lanka, Bangladesh and Cambodia and weaker Malaysian ringgit.
"Profit after tax (PAT) in the period decreased by 16.9% to RM515.2 million mainly due to higher depreciation and amortisation charges as well as higher net finance costs, one-off expenses and taxes," Axiata said.
Axiata's full-year (FY15) net profit rose to RM2.55 billion from RM2.36 billion a year earlier. Revenue was higher at RM19.88 billion compared to RM18.71 billion in FY14.
The company plans to pay a dividend of 12 sen a share for 4QFY15, bringing full-year dividends to 20 sen a share.
During 4QFY15, Axiata said its Malaysian unit's revenue fell 6.8% on lower voice income. Higher data income, however, mitigated the impact of lower voice revenue. PAT fell 35% due to lower earnings before interest, taxes, depreciation and amortisation, and share of losses from associates.
In Sri Lanka, Axiata reported a loss after tax of RM30.1 million, mainly on higher depreciation and amortisation charges besides recognition of one-off levies and taxes.
In a separate statement, Axiata president and group chief executive officer Datuk Seri Jamaludin Ibrahim said data investment would stay as a crucial growth factor for Axiata as smartphone usage increased.
Jamaludin said its data investment plan came amid anticipation of more competition in the Malaysian, Bangladesh and Cambodian markets.
"As smartphone penetration continues to dominate consumer demand, data and investment in data infrastructure remains a priority in driving significant data growth across all our markets.
"In 2016, the group expects continued and heightened competition in Malaysia, Bangladesh and Cambodia. Other regulatory and market challenges remain, include pricing and fee structure uncertainties as a result of spectrum reallocation in Malaysia," Jamaludin said.
At 12:30pm today, Axiata shares rose 11 sen or 2% to settle at RM5.91 for a market capitalisation of RM8.82 billion. The stock had fallen 7.8% this year versus the FBM KLCI's 1.5% decline.