This article first appeared in The Edge Malaysia Weekly, on July 8, 2019 - July 14, 2019.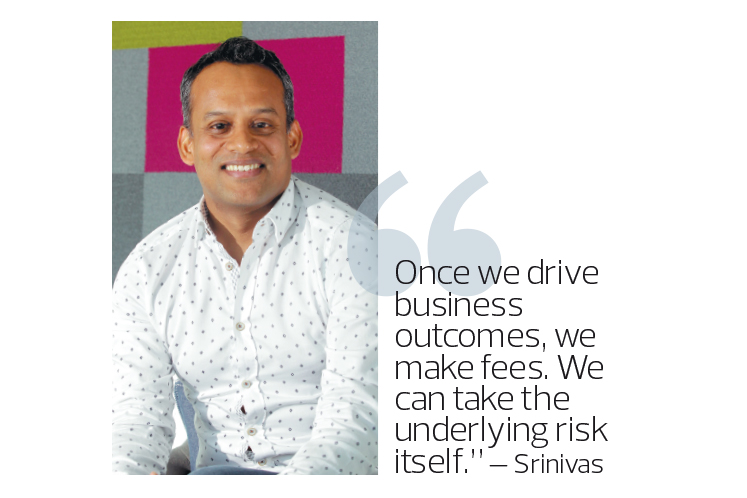 Photo by Haris Hassan/The Edge
AXIATA Group's integrated digital advertising business — analytics. data. advertising. (ada) — plans to shake up the advertising industry using tech data and business model innovation.
Brands have to keep up with "consumers becoming extremely 'digital'", ada's CEO Srinivas Gattamneni observes, "Hence helping them with digital marketing, data science and building and enabling platforms is key."
ada — 81.7% owned by Axiata Digital, a subsidiary of listed Axiata Group — sees itself as the agency of the future— being part data science, part consulting, part agency.
Given its parentage, Srinivas believes ada has the backing and heft to advance its lofty ambitions. Last year, the company received a US$20 million investment from Japan-based Sumitomo Corp for an implied valuation of about US$110 million.
"We want to build a unicorn out of ada within the next four years. We are a quarter of the way there already after Mitsui & Co's recent investment into Axiata Digital," he tells The Edge.
"We're not profitable yet because we are aiming for growth. This year (financial year ended December), we will be PAT (profit after tax)-positive. We are on track to achieving that. At the same time, we are on track to grow 100% top line ... We are targeting to cross US$100 million this year topline."
Srinivas spent most of his career in the venture capital industry and believes disruption is "best done by people from the outside rather than inside the industry". He also thinks ada's business model will appeal to clients as it is value-driven and ada only gets paid when the client sees an outcome.
"We feel that the whole agency world is skewed towards more value going to the agencies and less to the clients. How can we disrupt that whole space by shifting the risk fundamentally to the agencies and that forces you to deliver at least 10 times' value to your clients?
"As for the business model, if you look at the traditional agency business model, it's very much geared as a percentage of the media spend. This, I think, is insane because the more media you buy, the more revenue the agency makes. It should be the other way around — how the industry is geared towards driving more ROI (return on investment) and more value by spending less on media.
"Also, a lot of times, we take media risk ourselves and we tell the clients, you only pay us once we have generated a generating client for you … it's value driven. Once we drive business outcomes, we make fees. We can take the underlying risk itself. That's a business-model innovation itself," he explains. "That's why I think the whole agency world is waiting to be disrupted by us."
When it comes to the ROI, Srinivas says it is industry dependent but claims that generally, ada's clients enjoy ROIs that are about 30% to 40% higher than in taking the traditional agency route.
"It's outcome driven. Whether it's revenue uplift or number of customers, based on that, our fees kick in, as opposed to being a plain vanilla buy percentage," he asserts.
"We focus less on the platform — that's less important. What's important is where the consumer for that particular product is consuming it and which medium drives maximum engagement as well as ROI.
"We also analyse a consumer's behaviour — which type of media does a consumer engage with better in terms of product and industry?"
Headquartered in Kuala Lumpur, four-year-old ada is in eight other countries — Singapore, Indonesia, Thailand, Cambodia, Philippines, South Korea, Sri Lanka and Bangladesh. Its expansion strategy is "to go deeper into every market and be in the top 3 digital agencies of that market" rather than merely going into more countries.
Given the importance of technology, it allocates about a fifth of its revenue to tech investments. In the past year, ada has ramped up its operations, doubling its staff to 400 regionally, with 20% of them in engineering and data science.
Data-driven
To win in advertising, Srinivas believes it all "boils down to data". "The publishing industry has been disrupted from long back. It's been disrupted by the Googles and Facebooks of the world. Why? That's because the Googles and Facebooks can garner far more cost point per impression — their impressions are more valuable because they come with deep data. They come with the behavioural information of consumers and they are also high-engagement platforms.
"So where the publishers have deep data sets about their consumers and also high-frequency and high-engagement platforms, they are able to generate far more dollars for every impression then a long-tail publisher that has limited content or info about its consumers.
"So, if you want advertisers to pay more ad dollars, you have to enable them to be more targeted. Hence, publishers need to work with other data sets that they can get, link them to theirs… This will provide a better and enhanced view of who their consumers are and who comes to read their content," he adds.
Moving forward, Srinivas sees a shift towards programmatic and automated ad buying through platforms.
This means it breaks every ad impression into a unit level as opposed to doing a big media buy to engage the consumers.
But it is not without problems. "That comes with certain issues — as that's where a lot of bots and fraudulent traffic come in," he acknowledges.
To counter that, ada has built machine-learning algorithms to recognise when something is a bot or when there's a real user behind it.
Another advertising trend Srinivas predicts is more clients looking at ROI when it comes to offline purchases. "Generally, for the last few years, digital spending has only been responsible for driving ROI on digital channels. Increasingly so, digital needs to be responsible for offline purchases too," he says.
At present, ada's fees are about double that of traditional agencies but Srinivas argues that they are justifiable because ada provides more targeted advertising compared with the usual, run-of-the-mill, plain vanilla buys and demographic-based buying.
ada has more than 1,500 clients in its regional portfolio and is in sectors such as telecommunication, banking, automotive, retail and fast-moving consumer goods (FMCG).
It is also growing its bank of profiles from the current 280 million.
How did ada accumulate this many profiles in just four years? Srinivas says ada looks into a customer's app usage and infers from there. "We profile and build segments and we constantly test and measure."
ada also works with publishers by leveraging their data sets as well as obtaining data from vendors. The fees are then split between them.
"The data is anonymised, of course. We won't know your name but will know your behaviour based on data such as consumption patterns of apps, locations you've been at and more," Srinivas maintains.
"We don't own the data sets. These are owned by the vendors or the publishers. What we do is collect the signals and use them to build the profiles of users, which allows us to service our clients."
He is for the regulating of data usage. "There needs to be more regulation around the usage of data. Our markets are not geared up for regulating data use. There needs to be a more black-and-white approach. Now, it's very grey, so it creates more issues."