This article first appeared in The Edge Malaysia Weekly, on September 23, 2019 - September 29, 2019.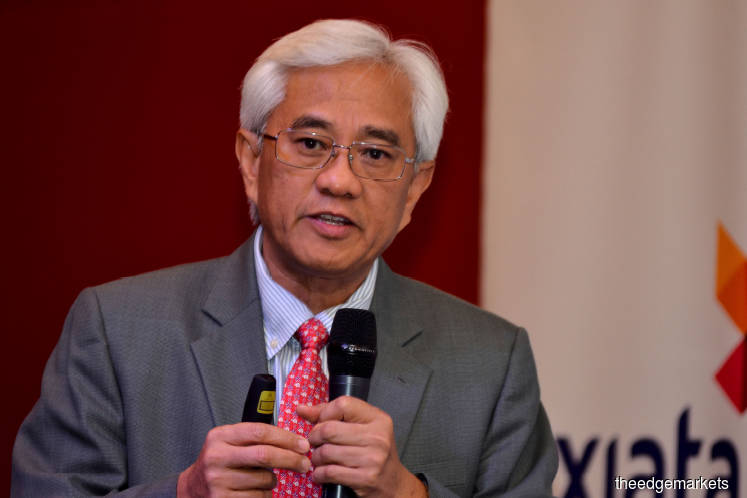 Jamaludin: It's just that we decided that it was too complex. Photo by Shafiq Suhaimi/The Edge
ITS proposed mega merger with Telenor Group is off for now, but Axiata Group Bhd remains on the prowl for potential mergers to ensure its survival in the long term, says its president and group CEO Tan Sri Jamaludin Ibrahim.
In fact, Axiata has already had informal approaches from interested parties, although "nothing is serious" at this point, Jamaludin tells The Edge in an interview.
Hong Kong-based CK Hutchison Holdings has expressed interest to join forces in Indonesia, according to reports, while IHS Towers — the third largest telecommunications tower company globally — has bid for Axiata's 60% stake in its telecoms tower unit, edotco Group Sdn Bhd, sources say.
On Indonesia, Jamaludin says "everyone is talking to everybody else", but declines to confirm or deny the IHS bid. He acknowledges, however, that Indonesian authorities are pushing hard for industry consolidation.
He says edotco will receive relatively more attention now that the mega merger no longer occupies his time.
He adds that edotco's potential listing will be revisited "more seriously" early next year, especially if there is need for a large acquisition. He continues to qualify that edotco has other avenues of raising funds without going for an initial public offering. edotco is also the only unit in Axiata free to go beyond the group's existing geographical footprint in search of mergers and acquisitions (M&A), although Indonesia and India are unlikely to be on its radar.
Jamaludin also acknowledges that he does not think there will not be another deal like the proposed Axiata-Telenor merger, hinting that future M&A may be on a smaller scale.
Axiata's appetite for M&A remains despite the collapse of what would have been the largest merger exercise in Asia in two decades, excluding North Asia.
It was an interesting proposal in many ways, including its scale and the fact that both Axiata and Telenor had promised there would not be any forced retrenchment in Malaysia.
In hindsight, was that a realistic promise, given that staff savings would have yielded significant synergies had the merger happened?
"It was realistic, although it did make life tougher. We discounted people savings [when estimating the synergies]," Jamaludin insists.
So, will Axiata still insist on the same conditions in future mergers? The short answer is yes.
"Let's say there is a deal at the operating company level in Indonesia or Malaysia, would I impose a no-retrenchment [requirement]? Probably. In fact, I would say it's very likely I will impose something like that," Jamaludin stresses.
He remains tight-lipped over why exactly talks were mutually ended on Sept 6 despite repeated questioning. He reiterates that both Axiata and Telenor had agreed to leave the reason at "complexities" to avoid undermining future prospects.
"I know it is very frustrating and that, to some extent, a lot of people were not happy with our answer. But that's what was agreed upon by both parties," says Jamaludin.
"To be very clear, there was zero political interference, contrary to some speculation. No one called me to say 'don't do it'."
Prior to the cancellation, the official sound bites had been positive. A week prior, on Aug 29, Jamaludin told reporters that he was "optimistic" about the deal happening, with the commercial aspects "90% concluded".
Naturally, observers would be wondering if there was a non-commercial red line that both parties could not agree on, which broke the deal. In particular, certainty of control would have theoretically been high on both parties' minds.
Recall that post-merger, the merged company would have been 56.5%-owned by Telenor and 43.5%-owned by Axiata. Telenor would have got one more board seat than Axiata, although the latter would appoint the chairman.
It would have been interesting to see how both parties put the various control-related safeguards in print, particularly with a view to prevent future erosion of the safeguards for either party once the 56.5:43.5 shareholding structure was set in stone.
When the question of control and safeguards was put forward, Jamaludin declines to comment. He points out that even on the commercial aspect, there was still 10% that was not yet concluded.
Speculation was rife. Unconfirmed rumour has it that there was a desire to relocate the merged operations to Singapore, a prospect that could draw political ire on top of potential job losses.
Jamaludin says relocating to Singapore was never on the table. He adds that both parties had agreed that there would be no forced retrenchment in Malaysia, although a voluntary separation scheme for employees who wish to leave was not ruled out.
Jamaludin also denies that control was the issue. "No, it was not about control ... we have given up the issue [when announcing the proposal]. To offset the control issue, we had all the terms that we were discussing."
Yet, apart from equity control, there were the more sensitive parts of control in non-commercial areas, including guaranteeing something like the future CEOs would be from Malaysia.
The market did not take the cancellation well. On Sept 10, the first trading day after the announcement, Axiata's shares fell 15.8% to RM4.11 — its biggest single-day drop since listing in 2008, which wiped out RM7.03 billion in market value.
Since then, the stock has recovered by 4.14% to close at RM4.28 last Friday, giving the company a market capitalisation of RM39.07 billion.
The unexplained "complexities" also did not sit well with minority shareholders. In a statement to The Edge, the Minority Shareholders Watch Group criticised the ambiguity and called for a "more meaningful explanation".
It highlighted that the cancellation led to Axiata and Telenor losing a combined market capitalisation of RM9.29 billion on Sept 10 — "a material reduction of shareholder value".
"Minority shareholders are left wondering and speculating as to what these 'some complexities' could be. What could possibly be so confidential that the complexities cannot be revealed in the interest of transparency?
"We may be creating a dangerous precedent if we accept 'some complexities' as a valid reason for aborting a proposed transaction, especially when the share prices had run up due to the announcement of the proposed transaction."
At the heart of it, there were just too many matters to sort through in an extremely complex deal, says Jamaludin. Consequently, "we made a judgement that it was too difficult to close the deal".
"It's not like there was one issue where we went, 'wow, I'm surprised, never thought about that'," he explains. "We have to put it in context. This involved 14 entities and nine countries ... that's complex — the sheer size of it."
However, if it was just a question of going through a long checklist of matters before a deal is inked, why not extend the discussion period?
"We could [have done that], that's not an issue. It's just that we decided that it was too complex [and decided to end the talks]," says Jamaludin.