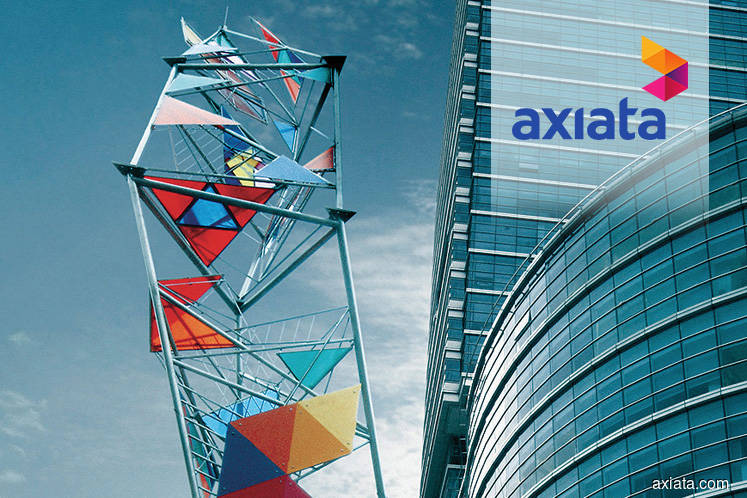 KUALA LUMPUR (Aug 24): A one-off non-cash impairment provision of RM3.38 billion resulted in Axiata Group Bhd posting a second quarter net loss of RM3.36 billion, which is its second consecutive quarter in the red after the group incurred a net loss of RM147.41 million in the first quarter.
The provision was a result of the de-recognition and reclassification of Idea Cellular Ltd from associate to simple investment, as the group announced on July 27.
Consequently, the group recorded a loss per share of 37.1 sen for the quarter ended June 30, 2018 (2QFY18), versus an earnings per share of 4.5 sen in 2QFY17, when it recorded a net profit of RM407.21 million.
Quarterly revenue dipped 3% year-on-year to RM5.87 billion from RM6.06 billion, as the ringgit strengthened against all regional currencies leading to an adverse forex translation impact on the group's headline performance.
The group also maintained its interim dividend payout at five sen for the financial year ending Dec 31, 2018 (FY18), which is the same as what it announced for the June 30 period last year.
The board also determined that Axiata's dividend reinvestment scheme would apply to the interim dividend, which gives shareholders the option to elect to reinvest all or part of the dividend into new ordinary shares of the company. Details will be announced later.
For the first half period (1HFY18), Axiata posted a RM3.50 billion net loss against a net profit of RM646.22 million a year ago, while revenue slipped 3% to RM11.62 billion from RM11.94 billion.
In a statement, Axiata said its 2QFY18 normalised profit after tax and minority interest (PATAMI) was at RM263.7 million versus RM462.6 million last year, due to higher depreciation and amortisation charges attributable to aggressive investments in data over the last two years, higher tax benefits in 2017 and higher investments in digital businesses.
The group said for the purpose of actual comparison, normalised PATAMI excludes Idea's operational losses, non-cash technical impairment and loss in dilution, forex gains/losses, XL tower gains and one-off impairments of digital services non-core businesses.
Axiata president and group chief executive officer Tan Sri Jamaludin Ibrahim, who described 2QFY18 as having been "an eventful quarter in many ways", said Idea is at the final stages of regulatory approvals for its merger with Vodafone India Ltd to create the largest telecommunication company in India.
"It was a quarter where our subsidiaries performed well in revenue and EBITDA (earnings before interest, tax, depreciation and amortisation) growth and gained market share, and where the success of one of our three major digital companies was validated with a significant investment from Sumitomo Corp for an implied valuation of US$109 million.
"But it was also a quarter where the group's financials have been clouded by the non-cash, technical impairment due to the reclassification and de-recognition of Idea, adverse impact from the strengthening of the ringgit by approximately 10% against all our operating companies (OpCos) local currencies and changes in the MFRS (Malaysian Financial Reporting Standard) accounting standards," he said.
Nevertheless, 2QFY18's results set the stage positively for the future, he said.
"As we have ceased equity accounting of Idea, we expect PATAMI (profit after tax and minority interests) to return to its normalised run rate each quarter," he added.
Looking forward, Jamaludin said efforts to ensure continued growth and profitability of its digital businesses includes building a sustainable business portfolio as its mid- to long-term strategy to address competition, costs and digital disruption.
At 3.59pm, Axiata shares were unchanged at RM4.62, giving it a market capitalisation of RM41.90 billion.