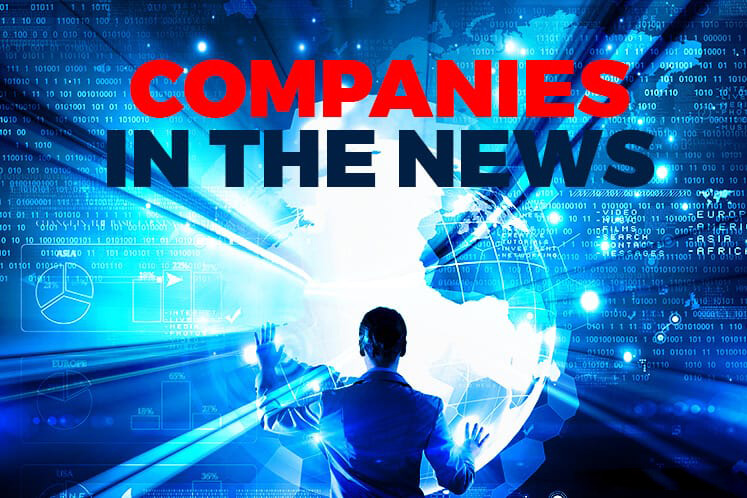 KUALA LUMPUR (May 3):  Based on corporate announcements and news flow today, companies that may be in focus on Monday (May 6) may include the following: Axiata Group Bhd, Malakoff Corp Bhd, Tenaga Nasional Bhd, Daibochi Bhd, YFG Bhd, Dynaciate Group Bhd, FGV Holdings Bhd, PRG Holdings Bhd, Seacera Group Bhd, Malaysia Smelting Corp Bhd and Milux Corp Bhd.
Mitsui & Co, one of Japan's largest trading houses, is making a strategic minority investment in Axiata Group Bhd's digital service arm Axiata Digital Sdn Bhd (AD) that gives AD's core digital businesses a pre-money enterprise value of US$500 million.
AD chief executive officer Mohd Khairil Abdullah said Mitsui would become a strategic shareholder and business partner at AD's core business verticals, adding that "the funds raised will be earmarked to fuel the next phase of growth for AD's core businesses".
The core digital business includes Boost, the e-wallet service; analytics.data.advertising, the largest independent digital agency in the region; and Apigate, an emerging global application program interface platform provider.
Malakoff Corp Bhd said its subsidiary Green Biogas Sdn Bhd (GBSB) and Tenaga Nasional Bhd have entered into a renewable energy power purchase agreement, under which GBSB will sell electricity from its planned Johor power plant project to TNB for 21 years.
GBSB will sell electricity generated from its proposed 2.4MW Sungai Kachur biogas power plant in Kota Tinggi, Johor, to TNB.
Daibochi Bhd has proposed to acquire plastic packaging printer and manufacturer Mega Printing & Packaging Sdn Bhd for RM125 million cash, which allows the group to horizontally expand within the plastic packaging sector
It said that once the acquisition is complete, the group would have access to MPP's manufacturing plant in Melaka. This would result in an increase in production capacity to 1.01 billion metres from 792.53 million metres.
YFG Bhd's unit YFG Engineering Sdn Bhd has bagged an RM20.84 million contract to undertake mechanical and electrical works for the construction of a 41-storey office suites in Bandar Sunway, Selangor from O&C Construction Sdn Bhd
The project involves works in fire protection services, cold water & sanitary plumbing services, electrical and telephone services, air-conditioning and ventilation, swimming pool filtration system and electrical low voltage services.
Dynaciate Group Bhd (previously known as Tatt Giap Group Bhd) has bagged two contracts worth a total of RM35.62 million to undertake construction works.
It said the contracts were awarded to its unit Dynaciate SPI Sdn Bhd by MIE Industrial Sdn Bhd and Oncogen Pharma (Malaysia) Sdn Bhd.
FGV Holdings Bhd is liquidating two companies by end-2019 as part of its transformation programme and the renewed focus on efficiency, accountability and profitability.
It said the two companies that will be liquidated are Felda Engineering Services Sdn Bhd and Felda Properties Sdn Bhd, neither of which are part of its core business.
"FGV has about 100 companies, of which 93 are active and operational, although several are not profitable or well-managed," it added.
Felda Engineering and Felda Properties were incorporated in 1994 and 1995, respectively, mainly to support internal housing and construction projects for the Federal Land Development Authority (Felda).
PRG Holdings Bhd's 63%-owned Hong Kong Stock Exchange-listed subsidiary Furniweb Holdings Ltd has issued another earnings warning, this time saying it may be reporting losses, mainly due to decrease in sales order of higher profit margin products, and increase in cost of sales and higher administration expenses.
It said based on the preliminary review of the audited consolidated management accounts of Furniweb, the company is expected to record a net loss of approximately RM1.2 million for the three months ended March 31, 2019.
This is compared with net profit of some RM200,000 in the same quarter a year ago.
In the latest twist in the boardroom tussle in Seacera Group Bhd, substantial shareholder Datuk William Tan Wei Lian and six other shareholders have called for another extraordinary general meeting to remove eight existing directors and appoint new ones in their place.  
It said has received a notice of the EGM, to be held on May 29, from the seven shareholders who claim to hold a combined stake of at least 10% in the company.
Tan and other shareholders had previously issued two notices to call for EGMs on March 28 and April 15, but withdrew both notices without giving any reason.
Tin miner and metal producer Malaysia Smelting Corp Bhd (MSC) saw its net profit jump 87.6% to RM8.6 million in the first quarter ended March 31, 2019 (1QFY19) from RM4.58 million a year ago, on higher contributions from both its tin smelting and mining divisions.
Quarterly revenue, however, fell 13.9% to RM307.45 million from RM356.95 million a year ago, due to lower sales volume of refined tin.
Going forward, MSC group CEO Datuk Dr Patrick Yong said the group is cognisant of the challenging business landscape and will enhance its operational and cost efficiencies in order to remain competitive.
    
Milux Corp Bhd's new major shareholders have launched a cash offer to buy out other shareholders of the loss-making gas and electrical appliance maker for RM23.14 million or 80 sen per share.
Milux said it has received a conditional mandatory take-over offer from Topspike Holding Sdn Bhd and Asia New Venture Capital Holdings Sdn Bhd (ANVCHSB) — which collectively own 46.83% of Milux's shares — to buy the rest of the company's shares.
Topspike is jointly owned by Datuk Wira Ling Kak Chok (50%+1 share) and Gan Boon Lay (50%), while ANVCHSB is a wholly-owned subsidiary of Asia Capital Fund Ltd, a private fund company. Yee Carine owns an 80% stake in Asia Capital Fund, while the remaining 20% is held by Teh Sok Hoon.
 
Topspike and ANVCHSB today acquired 25.48 million shares or a 46.83% stake in Milux for RM20.39 million or 80 sen per share. Out of this total, Topspike owns 16.21 million shares or a 29.78% stake in Milux, while ANVCHSB owns the remaining 9.28 million shares or a 17.05% stake.