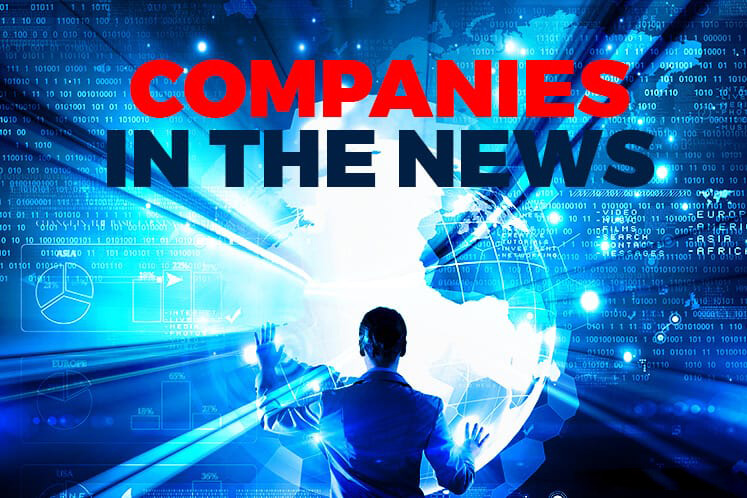 KUALA LUMPUR (Sept 27): Based on corporate announcements and news flow today, companies in focus on Friday (Sept 28) may include: Axiata Group Bhd, FGV Holdings Bhd, KIP Real Estate Investment Trust (REIT), Daya Materials Bhd, Malaysia Smelting Corp Bhd, Kim Loong Resources Bhd, Crescendo Corp Bhd, Hiap Teck Venture Bhd, Harrisons Holdings (Malaysia) Bhd, AWC Bhd, Perisai Petroleum Teknologi Bhd and Tropicana Corp Bhd.
Singapore-listed M1 Ltd, in which Axiata Group Bhd owns 28.69%, received a pre-conditional offer of S$2.06 per share from Keppel Corp Ltd and Singapore Press Holdings Ltd (SPH) to buy out all shares they do not own in the telco.
Based on the offer price of S$2.06 per share — about 26% premium over the last traded price of S$1.63 — Axiata's block of 265.41 million shares is worth S$546.7 million or RM1.658 billion.
FGV Holdings Bhd announced the appointment of Mohd Hassan Ahmad as non-independent and non-executive director, while Datuk Siti Zauyah Md Desa has ceased to be a government-appointed director of the plantation group. Prior to the cessation of office, Siti Zauyah was a non-independent and non-executive director.
KIP Real Estate Investment Trust (REIT) said it has options on the table to acquire more third-party ready assets, upon the successful addition to its portfolio of its first external asset, AEON Mall Kinta City in Ipoh, Perak.
This is in preparation for any acquisition opportunities that may surface in the next 12 months.
Practice Note 17 company Daya Materials Bhd bagged a RM19.98 million contract to build a factory and warehouse in Seberang Perai Tengah, Penang. The project will be for a period of 10 months, to start on Oct 9 and be completed by or before Aug 9, 2019.
Malaysia Smelting Corp Bhd (MSC) has teamed up with its parent, The Straits Trading Company Ltd, to jointly explore options to unlock the value of land owned by both parties in Butterworth, Penang.
Straits Trading also owns neighbouring land in Butterworth totalling 26.2 acres in addition to the 13.9 acres on which MSC's tin smelting plant is located. On a combined basis, the land amounts to a sizeable 40.1 acres.
Kim Loong Resources Bhd's net profit more than halved to RM12.01 million in the second quarter ended July 31, 2018 (2QFY19), from RM26.26 million in the corresponding quarter last year, due to lower fresh fruit bunches (FFB) production and palm oil prices.
Revenue fell 19% to RM210.29 million from RM260.46 million a year ago.
The company's net profit for the first half of the financial year (1HFY19) fell 36% to RM32.14 million from RM49.99 million a year ago, while revenue contracted 13% to RM446.78 million from RM516.11 million.
Kim Loong declared an interim single-tier dividend of three sen per share, payable on Nov 22.
Crescendo Corp Bhd's second quarter net profit fell 36.7% to RM10.99 million from RM17.37 million a year ago, due to higher sales of affordable housing, which has a lower profit margin.
Quarterly revenue rose 9.17% to RM94.91 million versus RM86.94 million a year ago, following higher sales of mid-market landed residential properties.
The group has declared an interim dividend of three sen per share, payable on Nov 22. The ex-date is Oct 29.
Crescendo said total net profit for the first two quarters dropped 32.7% to RM14.23 million from RM21.14 million in the previous corresponding period. Revenue grew 10.8% to RM149.37 million from RM134.79 million.
Hiap Teck Venture Bhd posted a lower net loss of RM19.98 million in the fourth quarter ended July 31, 2018, from RM137.87 million a year earlier, due to reduced operating costs.
Revenue was 42.5% higher to RM325.32 million from RM228.28 million previously, underpinned by higher sales across all divisions.
For the full financial year, Hiap Teck posted a net profit of RM27.95 million against a net loss of RM102.98 million in the previous year, as revenue grew 5.05% to RM1.13 billion from RM1.07 billion.
Harrisons Holdings (Malaysia) Bhd has confirmed its venture into the retail business in Singapore via the acquisition of the Famous Amos cookies business there for S$5.7 million.
Upon completion of the sales and purchase agreement, Amos will become a 68% indirect subsidiary of Harrisons. It previously announced the planned acquisition in May after entering a preliminary agreement with the sellers.
AWC Bhd, which recently secured approval from shareholders to purchase a 60% stake in Trackwork & Supplies Sdn Bhd (TWS), has proposed to issue up to 61.63 million free warrants on the basis of one warrant for every five existing shares held.
The proposed issuance has taken into consideration the new AWC shares to be issued in tranches as part settlement for its proposed acquisition of the stake in TWS.
For the second year running, the external auditor of Perisai Petroleum Teknologi Bhd has warned of a material uncertainty concerning the group's financial statements.
Messrs Baker Tilly Monteiro Heng issued the "Material Uncertainty Related to Going Concern" statement in respect of Perisai's audited results for the financial year ended June 30, 2018 (FY18).
Together with two other parties, Tropicana Corp Bhd plans to jointly develop two plots of land it owns in Selangor into a residential development.
Its wholly-owned unit Tropicana Harapan Sdn Bhd (THSB), which holds the title to the plots, together with THSB's unit Vivascape Sdn Bhd, inked a joint venture agreement with Matrimont Development Sdn Bhd, under which Matrimont will take a 49% stake in Vivascape and THSB 51%.