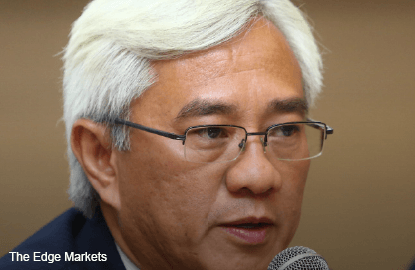 KUALA LUMPUR: While stepping up efforts to restructure its foreign currency-denominated loans in Indonesia, Axiata Group Bhd's president and group chief executive officer Datuk Seri Jamaludin Ibrahim warns that the telco may not be able to achieve a 4% growth target due to foreign-exchange (forex) risks exposure as a result of a weak ringgit and rupiah.
Jamaludin noted that it was challenging to meet its key performance index of 4% growth on revenue and earnings before interest, taxes, depreciation and amortisation.
"XL (Indonesia's PT XL Axiata Tbk) must recover rapidly for the second half of 2015. If it recovers rapidly, we might be able to achieve the revenue. Similarly, Celcom Axiata [Bhd] must do the same thing. We need these two companies to recover but not just recover, but to have a nice uptake of revenue rapidly," Jamaludin told a media briefing yesterday.
He said Celcom has not recovered yet, but there are early signs of recovering. One indicator would be the increase of 61,000 in the number of subscribers for the second quarter ended June 30 (2QFY15).
Meanwhile, Axiata group chief financial officer Chari TVT said the group is trying to bring down its foreign borrowings substantially to shield itself from currency fluctuations.
Chari said the group has total loans of RM14 billion, of which RM6.2 billion is in US dollars, which is equivalent to US$1.6 billion.
According to him, of the US$1.6 billion loan, US$823 million is unhedged including US$590 million in Indonesia's XL. Year to date, the rupiah has depreciated 12.08% against the US dollar.
He said the remaining US$234 million was borrowed by Sri Lanka unit Dialog Axiata Plc (US$134 million) and Bangladesh unit Robi Axiata Ltd (US$100 million). He added that it would be difficult to carry out the similar exercise there as the domestic debt market is not big enough.
Nonetheless, Chari said the weakening ringgit bodes well for the group as 60% of its business is out of Malaysia.
"When I take the currency and convert it into Malaysian ringgit, it will be positive. So, the actual growth for the company is higher. In terms of profitability, expenses or revenue, overall profits are better," he said.
It reported forex gains of RM8 million for the six months ended June 30 (1HFY15).
Axiata recorded a 34.2% increase in net profit for its 2QFY15 to RM610.76 million or 7.1 sen per share from RM455.01 million or 5.3 sen per share in 2QFY14, mainly due to smaller losses from XL.
In its filing with Bursa Malaysia yesterday, Axiata said higher profits were also recorded by its Sri Lanka operations Dialog Axiata and Cambodia operations Smart Axiata Co Ltd, and share of profits from its associate company in India, Idea Cellular Ltd, had also increased significantly.
The group also proposed an interim dividend of eight sen per share.
Revenue for 2QFY15 was flat at RM4.71 billion compared with  RM4.73 billion a year ago, due to lower revenue achieved in Malaysia and Indonesia.
For its 1HFY15, Axiata's net profit went up 5.8% to RM1.2 billion from RM1.13 billion in 1HFY14, because of higher profits from its Sri Lanka and Cambodia operations. Revenue for 1HFY15 increased by 2.3% to RM9.46 billion, from RM9.25 billion a year ago.
This article first appeared in digitaledge Daily, on August 21, 2015.