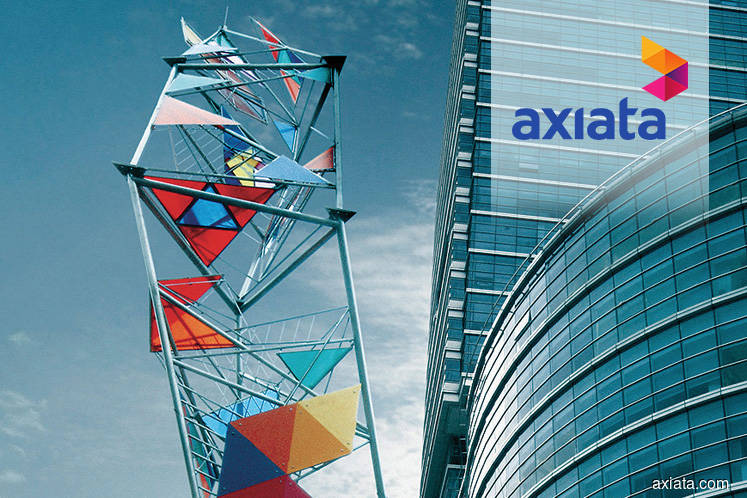 KUALA LUMPUR (Sept 11): Shares of Axiata Group Bhd and Digi.Com Bhd climbed this morning as bargain hunting emerged after yesterday's plunge.
At 11:24am, Axiata's share price was seven sen or 1.7% higher at RM4.18, valuing the group at RM38.16 billion. The stock saw 2.66 million shares traded.
Digi shares traded unchanged at RM4.60, valuing the company at RM38.77 billion. The counter saw 2.28 million shares transacted.
Axiata and Digi tumbled 15.8% and 5.93% respectively yesterday, as investors reacted to news that merger talks were called off between Axiata and Digi's largest shareholder, Telenor ASA. Some RM9.28 in combined market capitalisation from Axiata and Digi was wiped out.
In a note this morning, AmInvestment Bank Research's Alex Goh said the research house was upgrading Axiata to a Buy, from Hold previously, with an unchanged fair value (FV) of RM5.
"The current share price offers a 22% upside to our unchanged sum-of-parts-based fair value of RM5 share which implies a forecasted financial year 2020 (FY20F) enterprise value to earnings before interest, tax, depreciation and amortisation (EV/EBITDA) of 5.5 times — 1 standard deviation (SD) deviation below its three-year average of 6.2 times. This also implies a 20% discount to our sum-of parts valuation of RM5.88 a share," Goh said.
He added that Axiata currently trades at a bargain of a forecasted financial year 2019 (FY19F) EV/EBITDA of five times, as compared to Maxis' 12 times and three-year average of 6.2 times.
Goh noted that it was not surprising that Axiata had been preliminarily approached by Victor Li-backed CK Hutchison Holdings Ltd for a potential combination of their Indonesian telco operations.
News reports yesterday had indicated that the Hong Kong-based conglomerate has expressed an interest in combining its own wireless business with Axiata's 66.5%-owned XL Axiata.
"We are not surprised by this development as the group is currently reprioritising its investments with long payback, as well as strategising and monetising existing investments for cash. Hence, there may be fresh interest in the listing of edotco in the medium term.
"Additionally, Axiata aims to accelerate structural changes through industry consolidation and network sharing," said Goh.
Meanwhile, Affin Hwang Capital's Isaac Chow has upgraded his call on Axiata to Hold from Sell with an unchanged target price (TP) of RM4.25, based on a 10% discount to the research house's sum-of-total-parts (SOTP) valuation.
"We believe the steep decline in Axiata's share price has largely priced in investors' disappointment on the termination of the Axiata-Telenor merger discussion.
"Upside risks to our Hold rating on Axiata are stronger-than-expected overseas earnings and the undertaking of value accretive mergers and acquisitions (M&As). Downside risks are earnings disappointments and overinvestment in business ventures with a long gestation period," said Chow.
The analyst added that most investors are not keen to sell their Axiata shares at this juncture, as he viewed their reluctance to dispose of their equity in Axiata is largely due to the sharp price decline seen yesterday, rather than confidence over Axiata's earnings and business outlook.
"A few investors cited benchmarking or a lack of big cap alternatives as the reason to hold on to the stock. We sense that investors may reduce their holdings on Axiata on any relief rally," Chow said.
Chow had said in a note yesterday that the research house was downgrading Axiata to a Sell, from Hold with a lower TP of RM4.25, from RM5.20 previously.
"In the absence of a value-accretive M&A, we expect the group to trade at a discount; lower EV/EBITDA multiple of 10 times for Celcom (from 12 times). Without a business combination, we expect Celcom's business performance to continue to lag Maxis and Digi and hence, the lower valuation multiple," Chow said yesterday, while also noting that the disappointment on the termination of the merger would overshadow operational improvements in Indonesia and Bangladesh, leading to its share price being de-rated.
This comes in as last Friday Axiata announced that its discussions with Telenor for a potential merger had been called off, due to complexities in the transaction involved. Telenor is the largest shareholder in Digi.
In a note today, CGS-CIMB Research's Foong Choong Chen maintained the research house's Hold call on Digi, while lowering its TP to RM4.60 (from RM4.70).
"The cancellation of the proposed merger was a negative surprise, as reflected by the 6% drop in its share price yesterday. As its share price is at our target price, we maintain our Hold rating on Digi. Key upside risk is stronger-than-expected postpaid revenue market share gains. Key downside risk is more intense market competition," said Foong.
Meanwhile, Chow has maintained his Hold call on Digi, and kept his TP on the counter at RM4.55.
"Digi is trading near its five-year average of 25 times, looks fair. Digi's attractive dividend yield of 4.1% should compensate for its lacklustre earnings growth. Key upside/downside risks to our call on Digi are stronger/weaker-than-expected profit growth," the analyst said.