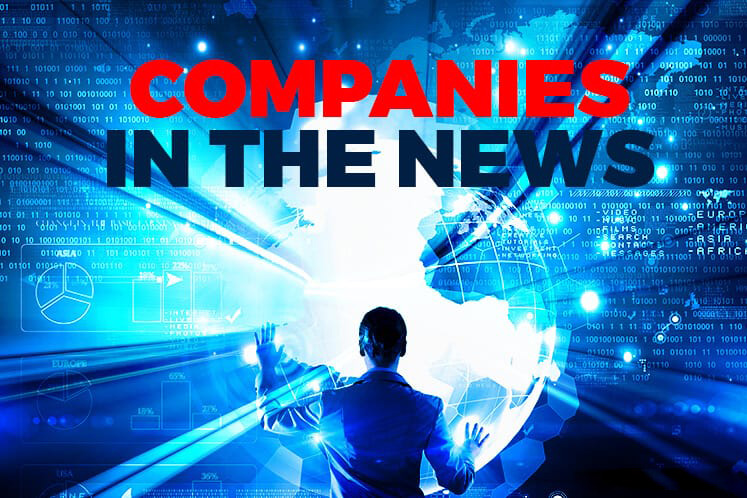 KUALA LUMPUR (June 8): Based on corporate announcements and news flow today, companies in focus on Monday (June 11) may include: Axiata Group Bhd, Dialog Group Bhd, Nova MSC Bhd, Eco World International Bhd, UOA Real Estate Investment Trust, APFT Bhd, Asdion Bhd, Pharmaniaga Bhd, Malaysia Airlines Bhd, Lien Hoe Corp Bhd, MISC Bhd and My EG Services Bhd.
Axiata Group Bhd has appointed Dr Lisa Lim Poh Lin as independent non-executive director of the company effective immediately.
Axiata said Lim, 41, has over 18 years of experience in management consulting, academic research and investment management. Prior to this, she was a fund manager at Columbia Threadneedle and was also the sector leader for global telecoms research.
Dialog Group Bhd has taken full control of two firms that provide centralised tankage and tank terminal facilities to the oil, gas and petrochemical industry, after acquiring the remaining 20% stake in both firms for RM62.6 million.
The group said its wholly-owned subsidiary Dialog Terminals Sdn Bhd paid RM43 million for the stake in Langsat Terminal (One) Sdn Bhd and RM19.6 million for the stake in Langsat Terminal (Two) Sdn Bhd. The vendor is Puma Energy Asia Pacific B.V.
Nova MSC Bhd has secured a 20-month contract from Singapore's Public Utilities Board to provide building information modelling services worth S$5.17 million or RM15.4 million.
The group said the contract was awarded to its wholly-owned unit, novaCITYNETS Pte Ltd.
The group said the contract will contribute positively to its overall results for the financial year ending March 31, 2019.
Eco World International Bhd and Willmott Dixon Holdings Ltd have officially launched EcoWorld London at the Institute of Directors, Pall Mall in London.
The launch will see the two companies delivering over 10,000 much-needed new homes across London and the South East.
Under the new joint venture, EcoWorld London will be developing 12 sites in Greater London and the South East of England, with an estimated GDV of over £2.6 billion (RM13.9 billion).
UOA Real Estate Investment Trust (UOA REIT) is disposing of Wisma UOA Pantai to CIMB Bank Bhd for RM120 million.
UOA REIT said UOA Asset Management has entered into a sale and purchase agreement with CIMB Bank for the proposed disposal.
The disposal is expected to be completed by the second quarter of 2018.
Datuk Faruk Othman has ceased to be a substantial shareholder in APFT Bhd, after disposing of a 0.8% stake in the flight training company.
APFT said Faruk had sold 10.835 million shares in the company on June 5 through a direct business transaction.
Asdion Bhd said today its 49%-owned associate Renox Stainless Steel Co Ltd has obtained the right to distribute automotive clean-in-place (CIP) equipment for the food and beverage industry in Indo-China for three years.
Asdion said Renox had entered into an agreement with Thai turnkey engineering solution firm Engisoul Co Ltd for the CIP equipment distributor right.
Pharmaniaga Bhd is not the sole concession holder supplying medicines to public health facilities, Health Minister Dr Dzulkefly Ahmad said.
He said about 33.4% (RM1.1 billion) of the Ministry's pharmaceutical purchases was from the concessionaire company, while 66.6 % (RM2.2 billion) were purchases by the facilities through central contracts or quotations.
From these figures above, it is strictly incorrect to state that Pharmaniaga acts as a monopoly because there are also other vendors supplying directly to all MoH health facilities, he said.
Malaysia Airlines Bhd reported a year-on-year (y-o-y) revenue growth of 2% for the first quarter ended March 31, 2018, as the airline achieved an improved cost base while making progress on the execution of its recovery plan.
The group, which did not provide the revenue figure, said its yield improved 6.6% y-o-y, while revenue per available seat kilometre grew 3.5%.
This was despite the significant competition in both international and domestic sectors.
Lien Hoe Corp Bhd executive director Christine Yap Tse Yeeng has been redesignated as chief executive officer of the company effective immediately.
Tse Yeeng, 39, is the daughter of Lien Hoe's managing director and substantial shareholder Datuk Yap Sing Hock.
MISC Bhd said the charter contract awarded to its wholly-owned petroleum shipping unit AET Tanker Holdings Sdn Bhd recently is valued at US$645 million over a charter period of 10 years.
On May 25, AET Tanker was awarded a contract to own and operate four specialist DP2 Suezmax size shuttle tankers from Petróleo Brasileiro SA, or Petrobras, of Brazil for operations in international and Brazilian waters.
The firm charter period is expected to commence in 2020. These new vessels will be in addition to the two AET DP2 ships currently on charter in the Brazilian Basin for Petrobras.
My EG Services Bhd has launched Volvo Car Leasing, a leasing service that will let customers enjoy stress-free Volvo ownership, minus the usual financial strain of a hire-purchase agreement.
MyEG said the launch follows the Leasing Service Agreement signed between its sub-subsidiary My EG Finance Technologies Sdn Bhd (MyEG Fintech) and Volvo Car Malaysia Sdn Bhd on May 2.
Volvo Car Leasing is the first for Volvo Cars in Southeast Asia and it offers customers an opportunity to drive a Volvo, worry-free with the insurance, road tax, maintenance cost and warranty covered.