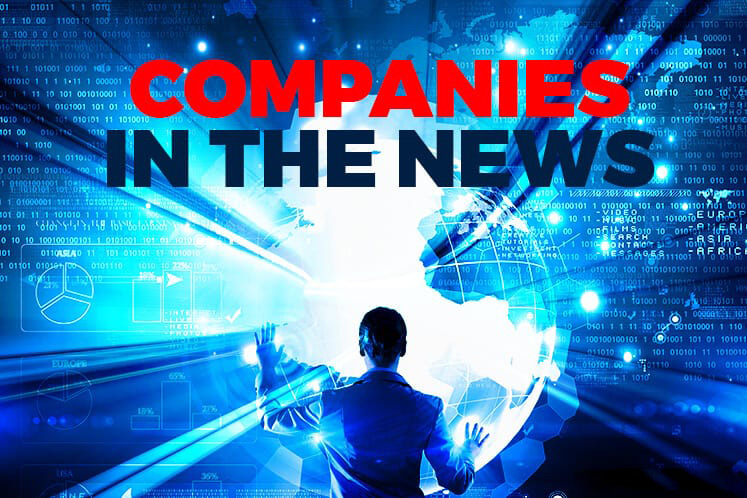 KUALA LUMPUR (Feb 21): Based on corporate announcements and news flow today, stocks in focus on Monday (Feb 24) may include: Axiata Group Bhd, Dayang Enterprise Holdings Bhd, GDB Holdings Bhd, Heineken (M) Bhd, Kossan Rubber Industries Bhd, Kumpulan Powernet Bhd, Malaysia Steel Works (KL) Bhd, Pestech International Bhd, Pharmaniaga Bhd, PLB Engineering Bhd, Rhone Ma Holdings Bhd and Telekom Malaysia Bhd.
Axiata Group Bhd posted a net profit of RM332.56 million in the fourth quarter ended Dec 31, 2019 (4QFY19) compared to a net loss of RM1.46 billion in FY18. Revenue was flat at RM6.26 billion. For the full FY19, the firm returned to the black with a net profit of RM1.46 billion against a net loss of RM4.76 billion in FY18, while revenue rose to RM24.58 billion from RM23.89 billion.
The company has proposed the listing of its Bangladesh outfit Robi Axiata Ltd on two stock exchanges in the South Asian country. It is also in talks with as many as 11 parties for a possible tie-up to bid for a digital banking licence.
Separately, it is planning to spend RM6.6 billion as capital expenditure, the bulk of which will be used for the expansion of its Indonesian business, XL Axiata.
Dayang Enterprise Holdings Bhd posted a record net profit of RM236.28 million in its FY19, up 43.9% y-o-y from RM164.22 million, thanks largely to higher profit margins. Revenue grew 11.6% to RM1.05 billion — exceeding the RM1 billion mark for the first time — from RM937.64 million in FY18.
This is despite recording a 20% y-o-y fall in its 4QFY19 net profit of RM78.23 million from RM97.72 million previously, while revenue dipped to RM285.02 million from RM285.65 million.
ACE Market-listed construction services outfit GDB Holdings Bhd expects to transfer its listing to the Main Market of Bursa Malaysia by the first half of 2020 after receiving the nod from shareholders. Its group managing director Cheah Ham Cheia said the plan to graduate to the Main Market within just two years of its ACE Market listing reflects its larger scale of operations now.
Heineken (M) Bhd's net profit in the fourth quarter ended Dec 31, 2019 fell 8.83% y-o-y to RM91.17 million from just under RM100 million the year before, due to higher commercial spending in the period. The weaker performance came in spite of a 2.68% increase in quarterly revenue to RM680 million from RM662.28 million.
For FY19, Heineken's net profit grew 10.8% y-o-y to RM312.97 million supported by solid revenue growth combined with improved cost efficiency in the year. Annual revenue grew 14.32% to RM2.32 billion from RM2.03 billion. The brewer declared a dividend of 66 sen per share for the quarter, bringing the full-year dividend to RM1.08 per share, versus 94 sen for FY18.
Kossan Rubber Industries Bhd's net profit increased marginally to RM61 million for 4QFY19 compared with RM59.5 million in FY18. Quarterly revenue stood at RM578.34 million, down 1.87% y-o-y. For FY19, the rubber glove maker's net profit grew 13.4% y-o-y to RM224.78 million on the back of slightly higher revenue of RM2.22 billion compared with RM2.14 billion in FY18.
Kumpulan Powernet Bhd posted a net profit of RM1.86 million in its second quarter ended Dec 31, 2019, compared to a net loss of RM1.13 million the year before, lifted by its property development segment and its new construction business. Quarterly revenue jumped more than 16 times y-o-y to RM13.64 million.
For the first six months ended Dec 31, 2019, Powernet booked a net profit of RM2.81 million, in contrast with a net loss of RM1.44 million in the year-ago period. Half-year revenue rose over 10 times to RM24.8 million from RM2.31 million.
Malaysia Steel Works (KL) Bhd posted a net loss of RM8.3 million for FY19, its first annual loss since 2015, impacted by lower margins resulting from the lower selling prices and higher finance charges from increased borrowings during the year. Revenue came in at RM1.2 billion. In FY18, the group reported a net profit of RM6.7 million on revenue of RM1.5 billion.
For 4QFY19, the group registered a net profit of RM688,000, compared to a net loss of RM24.87 million in 4QFY18. Quarterly revenue increased marginally to RM349.86 million from RM348.93 million, on higher sales volume.
Pharmaniaga Bhd — whose shares fell to a more-than-eight-year low of RM1.86 earlier today after reporting its first full-year loss since 1999 — remains confident of its prospects ahead on the back of newly extended concession contracts with the Government. Its managing director Datuk Farshila Emran said the two concession contracts will boost the group's sales further, and that the group is expecting to post another year of double-digit growth in revenue.
PLB Engineering Bhd has signed a conditional joint development agreement (JDA) with the Penang State Government and its development arm to undertake rehabilitation works for the Jelutong dumpsite along Lebuhraya Tun Dr Lim Chong Eu in Penang in exchange for three-fourths of the rehabilitated land.
The firm said it will be undertaking rehabilitation works of the existing dumpsite — currently used for the disposal of various types of waste — on State land measuring approximately 84 acres, and additional area in excess of the existing area.
Pestech International Bhd's net profit in the second quarter ended Dec 31, 2019 fell 43.78% y-o-y to RM8.13 million despite registering a 6.84% increase in revenue to RM190.86 million. The firm's profit was muted by higher finance costs and taxes paid in the quarter.
For the six months ended Dec 31, 2019, Pestech's net profit rose 12.43% y-o-y to RM27.45 million as higher operating profit more than offset higher net finance costs and tax expenses in the period. Half-year revenue jumped 24.94% to RM378.22 million from RM302.72 million in 2018.
Rhone Ma Holdings Bhd is acquiring a 49% stake each in three companies for RM7.84 million to expand its footprint in the ruminant segment and to participate in the business of dairy farming. The three are: One Lazuli Sdn Bhd (OLSB), Nor Lazuli Nutrition Sdn Bhd (NLN) and Nor Livestock Farm Sdn Bhd (NLF).
Telekom Malaysia Bhd (TM) posted a net loss of RM51.09 million in the fourth quarter ended Dec 31, 2019 against a net profit of RM69.66 million a year earlier, on the back of lower revenue and fair value adjustment on medium-term notes issued by a subsidiary. Revenue slipped to RM3.03 billion from RM3.09 billion in 2018.
For FY19, TM's net profit quadrupled to RM632.66 million from RM153.15 million a year earlier, mainly because the previous year had recognised a provision of RM982.5 million for impairment of fixed and wireless network assets. Annual revenue retreated to RM11.43 billion from RM11.82 billion. The firm expects a further revenue drop of up to 5% this year in the face a challenging business environment.
TM declared a first interim dividend of 10 sen per share for FY19 to be paid on April 3.